#1172: Rice Is Nice by Lemon Pipers
Peak Month: April 1968
5 weeks on Vancouver's CKLG chart
Peak Position #7
Peak Position on Billboard Hot 100 ~ #46
Youtube.com: "Rice Is Nice"
Lyrics: "Rice Is Nice"
The Lemon Pipers were an Oxford, Ohio, about 40 miles northwest of Cincinnati, Ohio, along the border with the state of Indiana. Their genre was sunshine psychedelic pop, and the group formed in 1966. Their sunshine pop sound gave them a number one hit called "Green Tambourine". The band consisted of Ivan Browne on vocals and guitar, Bill Bartlett on vocals and guitar, Steve Walmsley on bass, R.G. Nave on keyboards and drummer Bill Albaugh.
Initially, they formed as student musicians and began to jam together. During the first year their sound was a mix of blues, hard rock and folk rock. At a live concert they'd play songs by The Byrds and The Who. In the city of Oxford, with its population at the time of around 10,000, they were regulars at a local pub called The Boar's Head. They also performed at several of Cincinnati's garage band venues, The Mug Club and The Ludlow Garage. In 1967 they competed in the Ohio Battle of the Bands at the Cleveland Public Auditorium. They came second to the eventual winner, the James Gang.
Shortly after, the band hired Ivan Browne to provide the vocal sound they were looking for. They got a contract with Buddah Records, run by Neil Bogart. Their first single with the label was a regional hit in Ohio (Cincinnati, #2, and Cleveland, #7) called "Turn Around And Take A Look". Since it failed to make the Billboard Hot 100, a songwriting team from the Brill Building in Manhattan was asked to write a tune for the Lemon Pipers. They were Paul Leka and Shirley Pinz. The band felt the tune was too akin to Bubblegum pop for them to record. However, Buddah Records told them if they didn't record "Green Tambourine" the record contract would be cancelled. "Green Tambourine" told a story of a street musician begging for passers-by to give him money. He offers a bargain: coins for playing his green tambourine. Instrumentally, the song featured tambourine and electric sitar which was a common signature of what was being coined the psychedelic sound. An additional feature in the song was the heavy use of psychedelic tape echo applied to the word play in each chorus. The word was also repeated at the end, fading into a drumroll "Listen while I play play play play play play play my green tambourine."
"Green Tambourine" went to number one the third week of January, 1968, in Vancouver and the first week of February in the USA. With the song a two million seller, the Lemon Pipers performed at Bill Graham's Fillmore West in San Francisco. Sharing the stage on March 21, 1968, were Traffic, Moby Grape and Spirit. Though the Lemon Pipers had more of a psychedelic rock sound they'd been developing, Buddah Records envisioned the band as a bubblegum pop group. Buddah Records other Bubblegum pop artists included The Ohio Express ("Yummy, Yummy, Yummy"), the 1910 Fruitgum Company ("1,2,3 Red Light") and later Gallery ("Nice To Be With You").
In this milieu, the Lemon Pipers acceded to Buddah Records wishes and released a follow up tune called "Rice Is Nice", which was as pleasant as it sounds. The rice in the song was a reference to people throwing rice to a newly married couple after a wedding ceremony. It cracked the Top 50 on the Billboard Hot 100.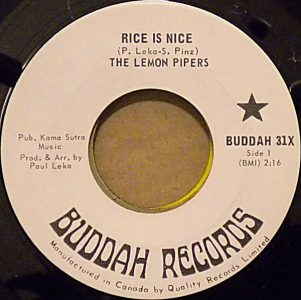 The tradition of throwing rice goes back centuries. Ancient Romans would shower a newly married couple with wheat, which symbolized fertility. By the Middle Ages, wheat had been replaced with rice, which was also considered to be a symbol of fruitfulness. Showering a new couple with rice was believed to help them have children. In these times, the act of throwing rice was also believed to help keep evil spirits away from the bride and groom. To throw rice or at least some kind of grain at the happy couple helped to appease the spirits by feeding them. Satiated and duly distracted, the spirits allowed the happy couple to make their vows and getaway. The spirits themselves, even after they feasted, did not ruin the grain. Often after a wedding ceremony the grain would be collected, cleaned and donated to a local family who were struggling in order to help bring prosperity back into their lives as well. This would help propigate the cycle of prosperity for the entire village, camp or area where the newlyweds were to live. (It is false that throwing uncooked rice at a wedding is harmful to birds. Rice will not expands in their stomachs or cause them to internally rupture and expire. Birds routinely eat grains as part of their everyday diet. Scarecrows first were introduced in ancient Egypt and Greece to scare away quails and crows from eating grain in fields of wheat, corn or rice).
In Italy, guests customarily throw candy at the couple to give them a sweet marriage, while in France guests still use the ancient Roman tradition of showering the couple with wheat. Newly married couples should be glad they didn't live in England during the Tudor era, when guests would throw shoes at the couple.
"Rice Is Nice" was the second of three Top Ten hits for the Lemon Pipers in Vancouver in 1968, peaking at #7. The song did best in North America in Sarasota, Florida, where it peaked at #1, and second best in Vancouver, Washington. But in most radio markets the song's chart performance was unremarkable, and so it peaked at #46 on the Billboard Hot 100.
A third Lemon Pipers single, like the other two, was also co-written by Paul Leka and Shirley Pinz. (Paul Leka was especially successful as a songwriter and is credited with a few Top Ten hits. Aside from "Green Tambourine", Leka is best known for writing "Na Na Hey Hey Kiss Him Goodbye" by Steam. He went on to produce records in the 70s for REO Speedwagon).
The Lemon Pipers third and final single on the pop charts was "Jelly Jungle (Of Orange Marmalade)". This tune, resembled the first with its heavy use of psychedelic tape echo applied to this time to the third syllable in the word marmalade in each chorus: "In the Jelly Jungle of Orange Marmalade-lade-lade-lade-lade-lade-lade-lade-lade-lade."
If the Lemon Pipers got a hit with "Green Tambourine," maybe they could get another hit referencing a different color in the rainbow, in this case, orange. The tune was another sunshine psychedelic pop song fused with bubblegum pop. The imagery was fanciful and some concerned parents may have thought the song was about being on an acid trip. Here were people climbing a rainbow ladder, flying to a yellow ball of butter, going to the jelly jungle of orange marmalade, bouncing on a pogo stick, beating a pumpkin drum and playing carrot trumpets. Well, it just wasn't very practical was it?
After their third single the group disbanded in 1969, losing interest in the musical formula Buddah Records envisioned for them. In an interview with Cincinnati Magazine in 2012, one of the Lemon Pipers two vocalists, Ivan Browne spoke with the magazine's Rick Kennedy. Browne, who now lives in rural California, said "We got famous for playing crap!" The sting of Buddha Records coercion to play bubblegum music still bothers Browne. Meanwhile, Bill Bartlett worked on a song titled "Black Betty", which he first heard by a folk trio. The song ended up being recorded by Bartlett's band, Ram Jam, in 1977. It became a Top 20 hit across the USA.
March 12, 2017
Ray McGinnis
References:
Jon Kutner, Rice Is Nice (Lemon Pipers), Jon Kutner.com, April 9, 2017
Rick Kennedy, Off The Charts, Cincinnati Magazine, Cincinnati, Ohio, May 11, 2012
Tara Ward, A Look Into the Man Behind Black Betty, Miami University, Oxford, Ohio.
"Boss 30," CKLG 730 AM, Vancouver, BC, April 20, 1968.
For more song reviews visit the Countdown.