#1045: Right Before Your Eyes by Ian Thomas Band
Peak Month: March 1977
8 weeks on Vancouver's CKLG chart
Peak Position #11
Peak Position on Billboard Hot 100 ~ did not chart
YouTube.com: "Right Before Your Eyes"
Lyrics: "Right Before Your Eyes"
In 1950, Ian Thomas was born in Hamilton, Ontario. Once he began to play piano at the age of six Thomas fell in love with the world of music. He later learned the guitar. By 1969 he was in a folk group called Tranquility Base which began to tour across Canada. They had a #3 hit in Hamilton in 1970 called "If You're Looking". This led to an album, but further success eluded them. Thomas became a producer at the CBC. By 1973 he got his own record deal with GRT Records and released "Painted Ladies". The song climbed to #9 in Vancouver and #34 on the Billboard Hot 100. His self-titled album went Gold. Thomas won the 1974 Juno Award for Most Promising Male Vocalist and toured with April Wine. He got exposure on a number of TV variety shows in Canada which included both his musical and comedic talents.
In 1974 Ian Thomas released his second album, Long Long Way. The title track from the album climbed to #17 in Vancouver. However, unlike his previous Top 40 success in the USA, "Long Long Way" became the first of twenty-five single releases to fail to crack the Billboard Hot 100. While "Long Long Way" was on the charts in August and September 1974, America was going through a political crisis. Richard M. Nixon had resigned from the presidency on August 9, 1974, due to the Watergate scandal. The introspective tune questioning the notion of progress was out of synch with sentiment given the political crisis south of the border.
Ian Thomas' third album called Delights was released in 1975 to praise from the music critics, though the singles "Julie" and "The Good Life" were minor hits. Still, the album became a Gold record in Canada. Then in 1976 Thomas' fourth album, Calabash, got him back on the radar in Vancouver with the hit singles "Liars" and "Right Before Your Eyes". That year he also went on an extended tour across North America and Western Europe.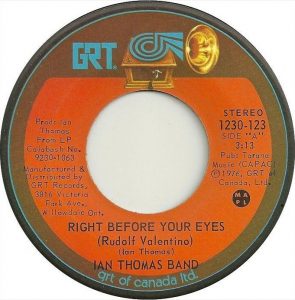 Ian Thomas' "Right Before Your Eyes" is a song about a guy who is fantasizing about getting up the courage to tell a girl he sees on a bus on his daily commute in Manhattan's Madison Avenue. He is trying to get up the courage to introduce himself to her and let her know what his name is. But instead he spends time inside his mind pretending that he is a great lover like the Silent Film era heartthrob, Rudolph Valentino, that he is going to make an impressive entrance and win her heart. He imagines that the girl on the Madison Avenue bus will than stare into his eyes the way Greta Garbo first did with her heartthrobs on screen in the 1920's and 1930's. However, the guy in the song is too aware that he is just a guy who works in a big gray store with revolving doors. By the end of the song he still hasn't drummed up the courage to introduce himself to the girl on the bus.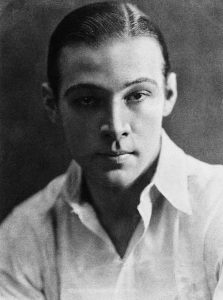 Rudolph Valentino (circa 1919)
During his film career from 1914 to 1926, Rudolph Valentino played opposite numbers of leading starlets of the Silent Film era including Marguerite Namara, Katherine MacDonald, Alice Terry, Alice Lake, Agnes Ayres, Alla Nazimova, Dorothy Dalton, Gloria Swanson, Nita Naldi, Bebe Daniels, and Vilma Banky. He starred in 38 films. Greta Garbo starred in 32 films between 1920 and 1941. She played opposite many leading stars including Nils Asther (known as "the Male Greta Garbo"), "latin lover" movie idols Ricardo Cortez, Antonio Moreno and Ramon Novarro (but not Rudolph Valentino), John Gilbert, Conrad Nagel, Clark Gable, Melvyn Douglas. Greta Garbo was known initially as a vamp playing leading roles in Flesh and the Devil (1926) and The Temptress (1926).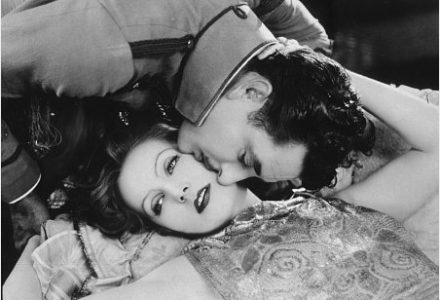 Greta Garbo with John Gilbert in the 1926 film, Flesh and the Devil

Today many self-help authors and speakers on tour invite their audience to live in the present moment. Living in the present and paying attention to what is happening right in front of us is a catalyst for making our dreams come true. In the case of Ian Thomas' guy on the bus, even though he can fairly accurately predict that the female he is attracted to will be riding on the same bus as him, he never gets up the nerve to introduce himself and strike up a conversation. Instead he creates a fantasy in his mind portraying himself as the Silent Film latin lover from Italy, Rudolph Valentino, and his love interest like the Swedish-born Greta Garbo. As much as he builds a scenario, it isn't helping him make any actual progress in getting to know who this woman on the bus is, or even if she's interested in him. It may be that the guy on the bus wishes he was as attractive as Rudolph Valentino and senses that he is not actually attractive enough to speak to the his heartthrob, and the potential rejection would be more than he can bear.
Madison Avenue in New York City has a storied history and is associated in the first six decades of the 20th Century with staid gray flannel suits, advertise ring, motivational research on the general public, radio and television broadcasting, and cooperation with the American government to promote American enterprise. By the 1950's, Madison Avenue became synonymous with the Advertising Industry and those who worked there were referred to as the "Mad Men." So the guy in Ian Thomas' song, "Right Before Your Eyes", is a guy who is making his way adjacent to one of the most competitive, cut-throat work environments in America. As he works in a "big grey store with a revolving door," it seems he is employed at a department store and not one of the mad men of Madison Avenue working in advertising.
Ian Thomas wrote "Right Before Your Eyes" and it peaked on Vancouver's charts at #11 in 1977. The song was covered by the US pop group, America, in 1982. At that time their remake of the song reached #16 on the U.S. Adult Contemporary chart and #45 on the Billboard Hot 100.
In 1979 Ian Thomas' label, GRT, declared bankruptcy. The timing was bad as his album, Still Here, had recently been released. A "Best of" album came out the next year when he was signed to Anthem Records. His album, The Runner, became his fifth gold album. Into 1980-81 Ian Thomas toured extensively. He made a guest appearance on SCTV in one of Bob & Doug MacKenzie's Great White North spots in 1981. His brother, Doug Thomas, played the fictional character Doug MacKenzie in the Great White North. Ian Thomas scored the theme song and co-produced The Hoser movie Strange Brew the same year. In 1984 Ian Thomas released another album, Riders On Dark Horses. He toured in Australia, Germany and England. His next album was in 1985 called Add Water. His final solo album release was in 1988 called Levity.
Through the 1990's Thomas was part of the band called The Boomers. Numbers of Ian Thomas' songs have been covered by other recording artists. America recorded "Right Before Your Eyes" and it climbed into the Top 50 in the USA in 1982. Anne Murray covered "Good Again", Santana recorded "Hold On", Manfred Mann did their own version of "The Runner", and Bette Midler released "To Comfort You".
Ian Thomas has written two books, the Bequest in 2006, and The Lost Chord in 2008. Thomas has also featured in sitcom The Red Green Show as Dougie Franklin who hangs out at The Possum Lodge.
August 1, 2017
Gwen Sjogren, Shasta and Kerry Gordon, Ian Thomas, Canadian Bands.com
Ian Thomas in The Red Green Show, CBC, 1991-2006.
Thomas, Ian. Bequest. Manor House, Ancaster, Ontario, 2006.
Thomas, Ian. The Lost Chord. Manor House, Ancaster, Ontario, 2008.
Alyse Wax, The Life, Death, Afterlife, and Curse of Rudolph Valentino, The 13th Floor, July 11, 2016.
Greta Garbo, 84, Screen Icon Who Fled Her Stardom Dies, NY Times, New York, NY, April 16, 1990.
Madison Avenue, The National Museum of American History.
Leo Benedictus, "The Real Mad Men: The Remarkable True Story of Madison Avenue's Golden Age by Andrew Cracknell – review," Guardian, August 7, 2011.
"Vancouver's Official Music Survey," CKLG 730 AM, Vancouver, BC, March 29, 1977.
For more song reviews visit the Countdown.