#655: Road Hog by John Loudermilk
Peak Month: November 1962
8 weeks on CFUN's Vancouver Charts
Peak Position ~ #5
Peak Position on Billboard Hot 100 ~ #65
YouTube.com: "Road Hog"
Lyrics: "Road Hog"
John D. Loudermilk was born in Durham, North Carolina, in 1934. Although he had a middle initial, D, the "D" wasn't short for any middle name. His father was an illiterate carpenter, John D Loudermilk Sr. John D Jr. When he was seven his dad gave him a ukulele made from a cigar box. Young John D Jr. learned to play guitar in his youth and began to write poems and songs. His poetry was inspired after he began to read the works of Kahlil Gibran. In his late teens, in the early 50's, John D Jr. wrote a poem titled "A Rose And A Baby Ruth." It concerned a teenage couple who have a quarrel and the boy gives his girlfriend a rose and a Baby Ruth candy bar to make up. Loudermilk put notes to the poem and played the sung version on a local TV station. This caught the attention of country singer, George Hamilton IV. The song was published in 1956 and became a Top Ten hit on both the Country and Pop charts on Billboard Magazine. The following year, Loudermilk penned "Sittin' In The Balcony" for Eddie Cochran. Once that became a hit, Loudermilk's songwriting career was launched. He co-wrote "Waterloo," a #1 country hit and #4 pop hit in 1959 for country singer, Stonewall Jackson.

In the early 60's Loudermilk continued to have success as a songwriter. Sue Thompson had two Top Ten hits on the pop and country charts in 1961 written by Loudermilk: "Sad Movies (Make Me Cry)" and "Norman." The Everly Brothers also scored a Top Ten hit in 1961 by John D. Loudermilk, titled "Ebony Eyes." And Bob Luman had a Top Ten hit in Vancouver in 1961 by Loudermilk called "The Great Snowman." The singer of "Teen Angel," Mark Dinning,had a #6 hit in Vancouver in '61 with "Top 40, News, Weather And Sports," another Loudermilk composition. Loudermilk also had a Top 40 hit on the Billboard Hot 100 titled "Language Of Love." The song made the Top Ten in Vancouver in 1961.
In 1961, when explaining his template for getting inspired to write a song, Loudermilk told The Tennessean, "I'm looking for the most different thing I can find. Everybody's writing 'I love you truly.' You've got to find something new. I talk to drunks at the bus station, browse through kiddie books at the public library (and) get phrases from college kids and our baby sitter. You've got to be looking all the time."
In 1962, Loudermilk had several more hits recorded by other singers, including "If The Boy Only Knew" by Sue Thompson. Kris Jensen had a hit with "Torture". Loudermilk also recorded several more songs he penned: "Angela Jones", "Calling Dr. Casey" and "Road Hog".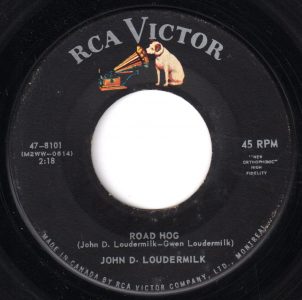 "Road Hot" is a song about an erratic highway driver. While they are driving they straddle the white line, making themselves a worry for oncoming traffic. For drivers on their side of the road, the road hog passes them at about 100 MPH and then slows down. This requires the vehicle that's been passed to doddle along behind the road hog at 20 MPH. A local sheriff is acquainted with the road hog's driving habits. The sheriff decides to park at the top of a hill by the highway where the road hog is known to travel. When the sheriff and his buddy spy the road hog's car lights, they turn onto the highway. Soon enough, the road hog passes the sheriff's unmarked car, coming uncomfortably close to the sheriff's vehicle. It seems to the sheriff's patrolman that the road hog doesn't know how to steer. Anyone with road sense would know not to drive so close to a vehicle you're passing. Next, the sheriff blinks his lights and begins to pass the road hog. But the road hog steps on the gas and doesn't let the sheriff pass. What the road hog in the story doesn't know is that the unmarked car has a sheriff behind the wheel. The song ends with the sheriff's certain conviction that the road hog is going to jail for reckless driving.
Collins Dictionary defines a "road hog" as 1) "a person who drives a vehicle in the middle of the road so that it is hard or impossible for others to pass;" 2) someone who drives "too fast or in a way which is dangerous to other people;" and 3) "a selfish or aggressive driver." In John D. Loudermilk's lyrics, the "Road Hog" straddles the white line. This makes it difficult for other drivers to pass, as they can't clearly see the oncoming traffic, or if the oncoming lane is clear of traffic.
In December 2017, the Daily Express in London, UK, published an article about congested traffic caused by people who hog the middle lane on three-lane motorways. Drivers are taught to drive in the lane where traffic is moving at their speed. If you are driving in the middle lane and keeping up with the traffic ahead of you, that is fine. But if you are driving as slowly as the vehicles in the right lane, causing other drivers to go around you in the slow or fast lane, this causes congestion. It is also dangerous. It frequently leads to being tailgated by impatient drivers who are stuck behind a road hog. In the UK driving too slowly in the middle lane falls within the category of "careless driving," and is a punishable offence. It can result in fines and demerit points that can increase your car insurance premiums.
Some road hogs simply have poor road awareness and haven't clued in that they are driving much more slowly than the people in their lane. On a forum about careless driving, one driver in the Toronto area commented about clueless drivers. "When you make your move to pass, they are suddenly reminded to check their speed and then they pick it up right then." Unfortunately, the scenario described in "Road Hog" back in 1962 is alive and well in 2018. One poster on a forum identified themselves as Army Guy and wrote from Florida. In September 2014 they commented, "There's a mountain I drive over in order to get to work. I put the cruise control on to maintain speed. Bunch of people just slow down to 40 going up while the limit is 55. So we have a bunch of people jamming on their brakes because some people don't want to do the limit. This isn't the only way to the other side of town and if you're scared of the mountain, go the other way. Few years ago, I was driving my Z06 back home, I was in Louisiana and there was a VW Beetle that was going really slow. We were on winding roads with a few straightaways. I finally got the opportunity to pass him, he gets up on my rear."
In an article for Road And Track.com, Jack Baruth writes about "people who wander from lane to lane for no reason. The drivers who speed up to match you as you pass them on the freeway, not out of anger or machismo but simply because their subconscious herd-animal instincts tell them that it's completely safe and comforting to be driving at 75mph next to another 4,000-pound unguided missile…. the average driver puts no more thought into his choices behind the wheel than I do into selecting toilet paper at the supermarket. They aren't trying to offend you or "beat" you. They're just kind of stroking along on instinct and the dimly remembered lessons of high-school driver's ed. That's why you will have somebody blow by you in a 55 zone only to hold you up in the 75 zone that follows: they aren't even looking at the speed limit signs. Instead, they're simply doing a speed that feels comfortable to them. It's completely unconscious." He suggests that unconscious drivers will tailgate you when you accelerate at one MPH at a time. But if you suddenly accelerate suddenly , if not car is ahead of you, about 10 MPH faster, the unconscious driver will be unlikely to do the same. Baruth suggests you'll get the unconscious road hog to fall back and leave you alone.
The biggest chart success for "Road Hog" in America or Canada was its #1 peak in Seattle, #2 peak in Fresno and Tallahassee, climb to #5 in Vancouver, reaching #7 in Troy (NY) and #8 in Dallas.
John Loudermilk had other songs on the US charts in 1962. "Thou Shalt Not Steal" was a minor hit in the USA and did not chart in Vancouver. However, in 1964 it was a Top 20 hit for Dick and Dee Dee. That same year Loudermilk's 1960 composition, "Tobacco Road", became a Top Ten hit in the UK for the Nashville Teens. Johnny Tillotson had a Top Ten hit in early 1964 with "Talk Back Trembling Lips" written by Loudermilk. And in 1965, another one of his songs, "This Little Bird", became a Top Ten hit in Vancouver and the UK for Marianne Faithfull. In 1967, Loudermilk won a Grammy Award for Best Liner Notes for his album Suburban Attitudes in Country Verse. And a song he wrote in 1962, "Then You Can Tell Me Goodbye", became a Top Ten hit for The Casinos. In March of 1968, Glen Campbell had a Top 40 hit and a #1 hit in Vancouver with Loudermilk's tune, "I Wanna Live". And in 1968, another of Loudermilk's songs got critical acclaim when Don Fardon released "Indian Reservation". The song was a #1 hit for Paul Revere And The Raiders in 1971.
In 1976, he was inducted into the Nashville Songwriters Hall of Fame. In 2004, John D. Loudermilk's song, "Turn Me On", became a Top Ten hit in Canada for Norah Jones. In his eighth decade Loudermilk developed an interest in ethnomusicology. He died in 2016 at the age of 82.
December 27, 2018
Ray McGinnis
References:
Julie Thanki, "Songwriter John D. Loudermilk Dead at 82," The Tennesseean, Nashville, TN, September 22, 2016.
"John D Loudermilk Obituary: Singer and Songwriter Best Known for Tobacco Road, a Big Hit for the Nashville Teens in 1964," Guardian, September 27, 2016.
"Road Hog," Collins Dictionary.
Luke John Smith, "Motorway Middle Lane Hoggers Face £100 Fine and Three Penalty Points, Here's Why," Daily Express, UK, December 21, 2017.
"People Who Get Mad When You Pass Them (slow lane, driver, speeding)," City-data.com, September 6, 2014.
Jack Baruth, "How To Mentally Manipulate Your Fellow Drivers: This is not the lane you're looking for…," Road And Track.com, March 7, 2017.
"C-FUNTASTIC FIFTY," CFUN 1410 AM, Vancouver, BC, November 24, 1962.
For more song reviews visit the Countdown.