#490: Rock-A-Hula Baby by Elvis Presley
Peak Month: January 1962
9 weeks on Vancouver's CFUN chart
Peak Position #3
Peak Position on Billboard Hot 100 ~ #23
YouTube.com link: "Rock-A-Hula Baby"
Lyrics: "Rock-A-Hula Baby"
Elvis Aaron Presley was born on in a two-room house in Tupelo, Mississippi, on January 8, 1935. His twin brother, Jessie Garon Presley, was stillborn. When he was eleven years old his parents bought him a guitar at the Tupelo Hardware Store. As a result Elvis grew up as an only child. He and his parents, Vernon and Gladys, moved to Memphis, Tennessee, in 1948. The young Presley graduated from high school in 1953. That year he stopped by the Memphis Recording Service to record two songs, including "That's When Your Heartaches Begin", song #1196 on this Countdown. Elvis' musical influences were the pop and country music of the time, the gospel music he heard in church and at the all-night gospel sings he frequently attended, and the black R&B he absorbed on historic Beale Street as a Memphis teenager. In 1954, Elvis began his singing career recording "That's All Right" and "Blue Moon Of Kentucky" at Sun Records in Memphis.
In late 1955, his recording contract was sold to RCA Victor. In 1956 he had his first #1 record titled "Heartbreak Hotel." He had a sound and style that uniquely combined his diverse musical influences and blurred and challenged the social and racial barriers of the time. Bill Haley & His Comets ushered in the rock 'n roll into mainstream culture in 1955 when "Rock Around The Clock," appeared in the film about juvenile delinquents and anti-social behavior in an inter-racial school. The song became an anthem for teenage rebellion. However, it was Elvis in 1956 who ensured rock 'n roll was here to stay with his swiveling hips and R&B infused songs with sexually suggestive lyrics. He had his first number one hit with "Heartbreak Hotel" in February 1956. He starred in 33 successful films, made history with his television appearances and specials, and knew great acclaim through his many, often record-breaking, live concert performances on tour and in Las Vegas. Globally, he has sold over one billion records, more than any other recording artist.
Between 1956 and 1959, Elvis Presley continued his chart-topping ways with "I Want You, I Need You, I Love You", "Hound Dog", "Don't Be Cruel", "Love Me Tender", "Too Much", "All Shook Up", and "(Let Me Be Your) Teddy Bear" peaking at #1. He also starred in several films. His second film, Loving You, was released in 1957. Though it was not featured the film, the song "Have I Told You Lately That I Love You?" made it onto the Loving You Soundtrack album.
Elvis kept on topping the charts in the fall and winter of 1957 and into 1958 with "Jailhouse Rock", "Don't" and "Hard Headed Woman". But during his chart-topping ways, he got a letter from Uncle Sam. Sergeant Elvis Presley served with the U.S. Army from March 24, 1958, to March 2, 1960. Meanwhile, Presley managed to climb to the top of the charts once in 1959 with "Big Hunk O' Love".
His return to civilian life saw a return to a string of successful single, album and film releases. From April 1960 to March 1961, Elvis topped the Billboard Hot 100 with "Stuck On You, "It's Now Or Never," "Are You Lonesome Tonight?" and "Surrender" for a total of 17 of 52 weeks in that timeframe. The album from his first film on return from serving in Germany, G.I. Blues, was a best-seller at the box office (#2 on Variety Magazine for the year 1960) and a number one album in October 1960. He released His Hand In Mine, a collection of sacred gospel music and in November, 1960, began to record his 6th studio album, Something For Everybody.
Presley continued to have major hits in 1961-62. In Vancouver he topped the charts with "Marie's The Name (His Latest Flame)", "Little Sister", "Good Luck Charm" and "Return To Sender". Other Top Ten hits included "She's Not You". On November 22, 1961, Elvis' film Blue Hawaii was released. The debut single from the movie, "Can't Help Falling In Love", appeared on the CFUN chart on November 18, 1961. It peaked in Vancouver (BC) at #9 in December and #2 on the Billboard Hot 100. Then the B-side of the single, "Rock A Hula Baby", entered the CFUN chart on January 5, 1962. CFUN charted the A-side and the B-side separately. With "Rock-A-Hula-Baby" climbing the CFUN chart, "Can't Help Falling In Love" began to rebound from a low of #27 on January 5, and bounced back to #12 by February 2, 1962.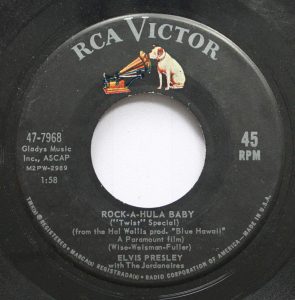 "Rock-A-Hula-Baby" is a song about a "hula Lulu from Honolulu." She's the object of this one guy's eye who wants to hold her all through the night. But all she wants to do is dance. She is such a good dancer that he thinks she could teach the palm trees how to sway. The most familiar hula dance steps involve swaying the hips from side to side. There are also arm positions mimicking the swaying motion of the hips.
Hula is an ancient dance originating in the Hawaiian Islands. According to a website about Hawaiian history, "the first hula was born when Pele begged her sisters to dance and sing for her. Only Hi`iaka stepped forward to perform. She danced for Pele using movements she'd practiced with her good friend Hopoe." According to another legend, Laka, the goddess of hula, invented the dance at a sacred place in Ka'ana, on the island of Molokai. Yet, one more legend tells how "Pele, the volcano goddess, was running from her sister Namakoakaha'I, the goddess of the oceans. When Pele' finally reached the chain of craters on the big island, where she couldn't be touched by waves, she danced the first dance of hula signifying that she had beat her sister." Hula was also "a major part of celebrations during Makahiki, the harvest festival."
"Rock-A-Hula-Baby" was co-written by Ben Wiseman, Dolores Fuller and Fred Wise. The trio co-wrote "Livin' High" for Elvis soundalike, Vince Everett, in 1963; The B-side to Terry Stafford's "Suspicion" titled "I'll Touch A Star". And Wiseman and Fuller co-wrote "Do The Clam" and "Spinout" as well for Presley. Wiseman and Wise co-wrote many songs. One of them was a commercial flop for aspiring teen idol, Deane Hawley, titled "Pocket Full Of Rainbows". In 1954, Wiseman and Wise co-wrote "Let Me Go Lover", a number one hit for Joan Webber. In 1957 they co-wrote "Lend Me Your Comb" for Carol Hughes. They later co-wrote "Wooden Heart", a number one hit for Joe Dowell in 1961, and "Lonely Blue Boy" for Conway Twitty.
Ben Wiseman was born in 1921 in Providence, Rhode Island. He was penning songs for recording artists from the late 40s. These included Sons of the Pioneers, Dinah Shore, Guy Mitchell, Doris Day, Patti Page, Mitch Miller, the Four Aces, Frankie Laine, Roy Hamilton, Nat "King" Cole, Siw Malmkvist, Dean Martin, Jackie Gleason, Mitchell Torok, Rusty Draper, Don Cherry, Danny Valentino, Crash Craddock, Johnny Burnette and others. He wrote 57 songs for Elvis Presley on his own, or collaborating with others. His first song recorded by Elvis was "Got A Lot O' Living To Do". Wiseman also wrote "Frankie And Johnny", "Follow That Dream" and "Fame And Fortune". He also wrote "The Night Has A Thousand Eyes" for Bobby Vee in 1963, and Dusty Springfield's "All I See Is You" in 1965. Wiseman died in 2007 at the age of 85.
Fred Wise was born in 1915 in New York City. He wrote songs for over forty films, starting with in 1939 with the short Clyde Lucas and His Orchestra, Follies Girl (1943), I'm Just Curious (1944) and Snap Happy (1945). In 1948 he co-wrote "'A' – You're Adorable", a hit for Perry Como and the Fontaine Sisters in 1949. In the 1950s he wrote songs featured on The Gene Autry Show, Maverick, Gunsmoke, The Ozzie And Harriet Show, The Tennessee Ernie Ford Show and others. His song have appeared in over 100 film or TV productions, including the 1994 movie Pulp Fiction. Wise died by suicide at age 50 in 1966, after an argument with his wife.
"Rock-A-Hula-Baby" peaked at #1 in San Francisco, Fresno (CA), Denver, Minneapolis/St. Paul and Davenport (IA), #2 in Phoenix, Los Angeles and Bakersfield (CA), #3 in Vancouver (BC), Syracuse (NY), Hartford (CT), Tulsa, Shreveport (LA) and Trenton (NJ), #4 in Toronto, Pittsburgh, Erie (PA) and Buffalo, #5 in Sarasota (FL), #6 in Chicago, #7 in San Diego, #8 in Boston and #9 in Calgary (AB).
In 1962 Presley released his seventh studio album, Potluck. From that album the song "Kiss Me Quick" would peak at #34 on the Billboard Hot 100 in 1964. But his song, "Suspicion", climbed onto the CFUN chart in the summer of 1962. Also in 1962 Elvis was filming a number of movies. The first to be released in late August '62 was Kid Galahad, which included the song "King Of The Whole Wide World".
Elvis continued to enjoy more Top Ten hits between 1963 and 1965. His most notable hits were "One Broken Heart For Sale", "(You're The) Devil In Disguise", "Ain't That Loving You Baby", "Such A Night" and "Crying In The Chapel". Less successful in the USA was "Witchcraft" which stalled at #32 on the Billboard Hot 100. But in Vancouver, the song peaked at #4.
After 1965, Elvis found it increasingly challenging to enter the Top 30. Between the end of 1965 and the winter of 1968 Presley released 22 singles and only four of these made the Billboard Hot 100's Top 30. But in 1969, Presley had his best year since 1962 charting three singles into the Top Ten with "In The Ghetto", "Suspicious Minds" and "Don't Cry Daddy". Between 1970 and 1983 Elvis released 36 singles, including eight posthumous singles. Of these, "Burning Love" and "The Wonder Of You" were his most successful and six others made the Top 20 on the Billboard charts.
Over his recording career Elvis Presley earned 14 Grammy Award nominations including for Record of the Year with "A Fool Such As I" (1959) and "Are You Lonesome Tonight" (1960) and won six Hall of Fame Awards. After his comeback tour in 1968 Presley had continued to tour extensively, with 168 concerts in 1973, a pace he kept through the mid-70's. By 1976 he was suffering from multiple ailments: glaucoma, high blood pressure, liver damage, and an enlarged colon, all believed to be related to prescription drug abuse. He died on August 16, 1977, and a funeral was attended by over 80,000 mourners. His legacy continues to live on. There were also numerous sightings of Elvis including around the 40th anniversary of his death in 2017.
February 5, 2020
Ray McGinnis
References:
graceland.com (Elvis bio)
"Elvis Presley: Rock's First Icon," Rolling Stone, September 22, 1977.
Paul Lichter, The Boy Who Dared to Rock: The Definitive Elvis, Garden City, NY: Dolphin Books, 1978.
Elizabeth Nix, "7 Fascinating Facts About Elvis Presley," History.com, July 1, 2014
Wendy Sauer, Elvis Presley: A Complete Reference, Jefferson, NC: McFarland, 1984.
"Fred Wise," IMDb.com.
"Elvis Presley's 'Hit' Songwriters: A Top Ten List," Elvis History Blog.
Dave Laing, "Ben Weisman: Hit songwriter to the stars, from Nat King Cole to Elvis," Guardian, May 24, 2007.
"Origins of Hula," Hawaiian History.org.
"History of Hula," Discover O'ahu.com.
"C-FUN FANTASTIC FIFTY," CFUN 1410 AM, Vancouver, BC, January 26, 1962.
For more song reviews visit the Countdown.