#679: Rock And Roll Song by Valdy
Peak Month: September 1972
8 weeks on Vancouver's CKLG
Peak Position #6
Peak Position on Billboard Hot 100 ~ did not chart
YouTube.com: "Rock And Roll Song"
Lyrics: "Rock And Roll Song"
Paul Valdemar Horsdal was born in Ottawa in 1945. Valdy was a member of the London Town Criers during the 1960s and subsequently joined Montreal band The Prodigal Sons. Prior to beginning his solo career, he was based in Victoria. There he worked with various artists, including Canadian country music singer Blake Emmons. Emmons was the host of CTV show Funny Farm (Canada's answer to the CBS TV show Hee Haw).
Valdy has sold almost half a million copies of his 15 albums, and is remembered for "Rock and Roll Song." Valdy is the winner of two Juno Awards for Folk Singer of the Year and Folk Entertainer of the Year, and has received seven additional Juno nominations. Of Canadian folk artists in the mid-1970s, only Gordon Lightfoot was more popular.
Valdy has received high praise from music critics across North America. Here are a few quotes:
"Few performers are capable of achieving the kind of energy he generates on stage." – Globe and Mail
"…..name probably doesn't ring a bell with most Americans, but in Canada this singer and guitarist is a legend." – Anchorage Times
"…..unquestionably the most public performer in Canada today, and the most loved." – Macleans
Valdy's first single from his debut 1972 album, Country Man, was "Rock and Roll Song".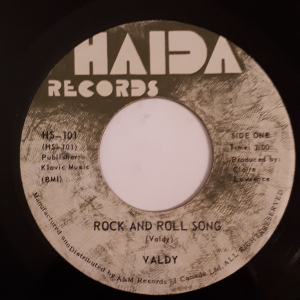 "Rock And Roll Song" narrates Valdy's bitter-sweet memory of trying to play laid-back folk songs in the face of an increasingly rambunctious audience at the Aldergrove Rock Festival in the late 60's. Valdy had been asked by the promoters to sing his staple of songs about freedom, joy, peace and contentment. But the audience was only in the mood for rock and roll. As he left the Aldergrove stage it was to "a chorus of boos."
"Rock And Roll Song" peaked at #6 in Vancouver (BC) and #10 in Ottawa (ON).
His followup single from the album was "A Good Song". Another charting single on the Top 30 in Vancouver (BC) was "A Simple Life" from his 1973 album, Landscapes.
Valdy's music was featured in the 1972 Steve McQueen film The Getaway. Valdy also appeared on the CBC TV show The Beachcombers (1972-1990) as the environmental activist "Halibut Stu." He also managed to secure a part in the reunion production of The New Beachcombers performing a song he wrote, "It's The Water", as part of a jug band.
Valdy continued to release more albums including his 1976 single "Yes I Can", which made the Top 20 in London (ON). His single in 1980, titled "Easy Money", climbed into the Top 20 in a number of Canadian Top 40 radio markets.
Valdy lives on Saltspring Island in British Columbia, in a lake front home with his wife Kathleen Mary Fraser Horsdal. She is his creative advisor. Horsdal is also a sculptor, a painter, a hospice counselor, a high school teacher, a chef and a drama coach. His daughter by Lindsay Whalen, Chelah Horsdal, is an actress. He also has two adopted sons (Theo and Yani) by a previous marriage.
His live albums include Family Gathering (A&M) recorded at Massey Hall in Toronto for 1974 release, and 2003's Viva Valdy: Live at Last (Rack-On-Tour). In 1986, Valdy made a special guest appearance as himself in the popular 1980's Canadian children's television show, Today's Special (episode entitled: "trash"). Valdy continues to regularly tour across Canada. His fourteenth studio album, Read Between The Lines, was issued in 2012.
On November 21, 2005, Valdy was awarded the National Achievement Award by SOCAN at the 2005 SOCAN Awards in Toronto. He was appointed a member of the Order of Canada in June 2011. In 2020 Valdy's website listed fifteen scheduled concerts with "more to come." These include multiple dates on the west coast of British Columbia, Florida, Ontario, Manitoba and Alberta.
April 22, 2020
Ray McGinnis
References:
Beachcombers Halibut Stu, YouTube.com
Valdy bio, Valdy.com
Mike Devlin, "Folk Stalwart Valdy At Home on the Coast," Times-Colonist, Victoria, BC, October 8, 2013.
Dennis Rimmer, "Valdy," Talkingbooksandstuff podcast, August 30, 2019.
"CKLG 'Thirty'," CKLG 730 AM, Vancouver, BC, September 22, 1972.
For more song reviews visit the Countdown.