#105: Rock Lobster by the B-52's
Peak Month: April-May 1980
12 weeks on Vancouver's CKLG chart
1 week Playlist
Peak Position #4
Peak Position on Billboard Hot 100 ~ #56
YouTube.com: "Rock Lobster"
Lyrics: "Rock Lobster"
Frederick William Schneider III was born in 1951 in Newark, New Jersey. He went to college in Atlanta and wrote a book of poetry for one class project. After college, he was a janitor as well as a Meals on Wheels driver. At the time the B-52's formed, Schneider III had very little musical experience. The B-52's got their start when the fledgling bandmates played an impromptu number after drinking at a Chinese restaurant in Athens, Georgia. The band played their first real gig in 1977 at a Valentine's Day party for their friends. Ricky Helton Wilson was born in 1953, and learned to play guitar in the winter of 1972-73. In the summer of 1969, Ricky Wilson met Wilson met Keith Strickland at a marijuana shop. In the following months, Wilson quietly came out as gay to Strickland while the two were in their teens. During mid-1969, both Wilson and Strickland collaborated in writing and performing music, loosely calling themselves Loon, and aspired to perform live. From 1969 to 1971, Wilson and Strickland collaborated with two high school friends in the four-member band Black Narcissus.
Catherine "Kate" Elizabeth Pierson was born in 1948 in a small town on the Hudson Palisades, overlooking the Hudson River in northern New Jersey. After high school, she went to Boston and where she got a degree in journalism degree. Then she traveled around England for a time before returning to the U.S. and moving to Athens, Georgia. Outside Athens, Pierson lived on a farm and earned a living as a paste-up artist in the type shop of the local newspaper.
Cynthia Leigh Wilson was born in Athens, Georgia, in 1957. In 1972, her older brother Ricky got a guitar, and invited Cindy to harmonize with him on vocals. Julian Keith Strickland was born in Athens, Georgia, in 1953. He learned to play drums, percussion and keyboards while in public school.
The band formed in 1975-76. Kate Pierson told a reporter with the Minneapolis Star-Tribune, "we named ourselves the B-52s, that's slang for big beehive hairdos." In 1978, the B-52's released the single "Rock Lobster". It was 4:37 in length, and a faster tempo than the longer 6:49 studio album version recorded in 1979.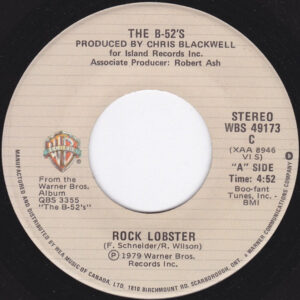 In 1979 The B-52's released their self-titled debut album, The B-52's. The album was ranked #8 for the year 1980 in New Zealand, and #13 on the Year-End chart for albums in Australia (also in 1980). One of the tracks on the album was a 6:49 recording of "Rock Lobster", including an extra verse.
In February 1980, The B-52's had a number-one hit in Ottawa with "Planet Claire". It also climbed to #2 in Sherbrooke (PQ). This was followed by a radio edit version of "Rock Lobster" from the track off of The B-52's album.
"Rock Lobster" was cowritten by Fred Schneider and Ricky Wilson. According to Fred Schneider, the song was mostly inspired by a nightclub in Atlanta named 2001, where, instead of having a light show, the club featured a slide show with pictures of puppies, babies, and lobsters on a grill. The song's lyrics describe a beach party while mentioning both real and imagined marine animals: "There goes a dogfish, chased by a catfish. In flew a sea robin, watch out for that piranha, there goes a narwhal, here comes a bikini whale!" The word "bikini" is often annunciated bĭ-kē′nē. But in "Rock Lobster", Fred Schneider's annunciation is closer to "bi-ki-ni." There is no such thing as a Bikini Whale. Some radio listeners misheard "bikini whale" as "killer whale" (which you might, when you're trying to reach for a meaning of something that actually exists). The whole story unfolds when someone's "ear lobe fell in the deep. Someone reached in and grabbed it" and what they grabbed wasn't the ear lobe but a rock lobster.
"Rock Lobster" peaked at #1 in Toronto, #2 in Hamilton (ON), and Los Angeles, #3 in Regina (SK), #4 in Vancouver, #5 in Burbank (CA), and #9 in Fort Lauderdale. "Rock Lobster" was the number-one record in Canada for the week of May 24, 1980. In Australia the song peaked at #3, but stalled at #56 on the Billboard Hot 100.
In the spring of 1980, John Lennon, whose post-Beatles music career had been on hiatus for nearly five years while focusing on raising his son Sean, was prompted to record again after hearing "Rock Lobster". According to Lennon, "it sounds just like Ono's music, so I said to meself, 'it's time to get out the old axe and wake the wife up!'" His return to the studio led to the release of 1980's Double Fantasy, which would be his final album. At a 2002 B-52's concert in New York, Ono joined the band on stage for the performance of this song. In 2008, "Rock Lobster" appeared in the animated film The Pirates Who Don't Do Anything: A VeggieTales Movie.
In 1980, the B-52s appeared in the Paul Simon film One Trick Pony. In the fall of 1980, The B-52's had a #4 hit in Boston with "Private Idaho". Fred Schneider recalled, "I think I had gone through Idaho when I hitched across the country back in the '70s. But yeah, Gus Van Sant, I wish we had let him use it [for his 1991 film My Own Private Idaho, starring Keanu Reeves and River Phoenix]. I guess somebody at the label turned it down because they offered hardly any money. I saw the movie, and Gus thanks us at the end, and some idiot in the audience shouted, 'Well, why didn't you use the song?!' Story of our career."
In 1983, the single "Song For A Future Generation" was a Top Ten hit in Montreal. In 1986 "Summer Of Love" topped the pop chart in Boston, and was a Top Ten hit in both Los Angeles and San Francisco. In 1986, "Rock Lobster" was re-issued, and climbed to #12 in the UK and #20 in Ireland.
In 1985, Ricky Wilson died of AIDS. Fred Schneider remembers, "nobody even knew he was sick until he was in the hospital. So, it was definitely a shock." In 1987, the B-52's produced a public service announcement for AMFAR (The Foundation For AIDS Research). The colorful tableau vivant recreated the "Sgt. Pepper" album cover with the flowers spelling out "Be Alive."
For four years, the band members somehow pushed past their grief while Keith Strickland learned Ricky Wilson's distinctive percussive guitar parts. Strickland created new riffs that honored his old friend's sound all while moving the act forward creatively. Together, Strickland, Cindy Wilson, Kate Pierson and Fred Schneider found a way to stay together and carry on Ricky Wilson's musical legacy. They did this in a peak of brilliance, creating their most successful album: Cosmic Thing.
In 1989, from the soundtrack Earth Girls Are Easy, The B-52's "Cosmic Thing" was a Top Ten hit on the Billboard Modern Rock Tracks chart. Also in 1989, the pro-environmental song "Channel Z" topped the Billboard Alternative Airplay chart.
In 1989, The B-52's "Love Shack" peaked at #1 in Australia, Ireland and New Zealand, #2 in the UK #3 in Canada and the USA, and #9 in Belgium.
In 1990, The B-52's "Roam" climbed to #2 in New Zealand, #3 on the Billboard Hot 100, #4 in Canada and #9 in Ireland. That year Kate Pierson recorded a duet with Iggy Pop for his song "Candy" – a Top Ten hit in Australia, Belgium and the Netherlands.
In 1991, Kate Pierson added vocals to R.E.M's "Shiny Happy People". In 1992, Keith Strickland came out as gay. That year the band's single "Good Stuff" peaked at #2 in Portugal, and #1 on the Billboard Alternative Airplay chart. For five years Cindy Wilson took a break from the band to raise her young children.
The band had their next chart entry in 1994 when, as The BC-52's, they appeared in The Flintstones live-action movie and sang the title song. When released as a single, "(Meet) The Flintstones" reached #2 in Belgium and Scotland, #3 in the UK, #4 in the Netherlands, #5 in Iceland and Ireland, #7 in Spain, #8 in Norway, #9 in Denmark and Germany, #10 in Italy, #11 in Austria and #12 in Switzerland.
In 1996, Cindy Wilson and Kate Pierson recorded a song for the soundtrack of the Whoopi Goldberg film The Associate. In the fall of 2001, a cover of the Sister Sledge song "We Are Family", a single released to raise money for the victims of the September 11 attacks, featured Pierson and Schneider in the chorus. In 2008, The B-52's released their seventh studio album, Funplex.
Kate Pierson is the owner of Kate's Lazy Desert in Landers, California; Kate's Lazy Cabin in Woodstock, New York; And Kate's Lazy Meadow in Mount Tremper, New York. The latter is a rustic modern lodge in the Catskill Mountains. She operates the businesses with her wife Monica Coleman, whom she married on August 3, 2015. In 2012, Keith Strickland decided to stop touring with The B-52's and move to Key West and focus on photography. However, he remains a member of the band for any return trips to the recording studio.
Fred Schneider came out as gay and lives in Long Island, New York. Outside the B-52s, Schneider has collaborated with the Foo Fighters, Joe McIntyre, Deni Bonnet and others.
October 14, 2022
Ray McGinnis
References:
Scott Dagostino, "Bohemian Rhapsody: How some artsy queer kids in Georgia became the World's Greatest Party Band," Fab Magazine, March 5, 2008.
Leah Greenblatt, "The B-52s: The stories behind the hit songs," Entertainment Weekly, June 12, 2018.
Jon Bream, "Fun house: The B-52s have moved from "Love Shack" to their new "Funplex" without missing a party beat." Star Tribune, June 8, 2008.
Kory Grow, "Love Shacks, Rock Lobsters and Nude Parties: The B-52's in Their Own Words," Rolling Stone, June 1, 2018.
"Art Against AIDS: The B-52's and Friends (1987)," Dangerous Minds, February 23, 2012.
Richard Eldredge, "Barnstorming days at an end for one B-52's member," Atlanta Magazine, January 4, 2013.
Mark Kennedy, "The B-52s to launch a US farewell tour this summer," AP, April 26, 2022.
"CKLG Top 20," CKLG 730 AM, Vancouver, BC, May 7, 1980.
For more song reviews visit the countdown.