#1033: Rock N' Roll Duty by Kim Mitchell
Peak Month: August 1989
10 weeks on Vancouver's CKLG chart
Peak Position #15
Peak Position on Billboard Hot 100 ~ did not chart
YouTube.com: "Rock N" Roll Duty"
Lyrics: "Rock N' Roll Duty"
Joseph Kim Mitchell was born in Sarnia, Ontario, in 1952. In his teen years Mitchell learned to play guitar. When he was 14 he joined a band called Grass Company. After high school, by 1970 he was playing in a number of bands in Sarnia. He was in a band called Zooom for a few years. Then in 1973 he formed the Max Webster, a progressive rock and heavy metal band. Max Webster released six studio albums. Though it didn't get a following in the USA, by the early 1980s the band had Top 20 hits in Hamilton, Toronto, Regina, Victoria, Quebec City, and Top 30 hits in Ottawa and Halifax. Kim Mitchell toured with Max Webster until it dissolved in 1982. Kim Mitchell tested a new sound in the club circuit in southwestern Ontario and formed the Kim Mitchell band.
The band consisted with Mitchell on lead vocals and guitar, Pye Dubois doing storytelling and reading lyrics, drummer Paul DeLong, bass player Robert Sinclair Wilson, and Peter Fredette on backing vocals and guitar. In 1982 Kim Mitchell released his debut self-titled album. It was followed in 1984 with Akimbo Alogo. That album featured the single "Go For Soda", a tune that became the theme song for Mothers Against Drunk Drivers (MADD). It ended up being his only single to appear on the Billboard Hot 100, peaking at #86. The song was also featured in Mr. Pibb soft drink commercials in 1985. The following year Kim Mitchell released Shakin' Like A Human Being. The album featured his strongest charting single to date, "Patio Lanterns", with a recording evoking Jackson Browne.
In 1989 he released his fourth studio album, Rockland. It featured a Top Ten hit on the Canadian RPM singles chart titled "Rock N' Roll Duty".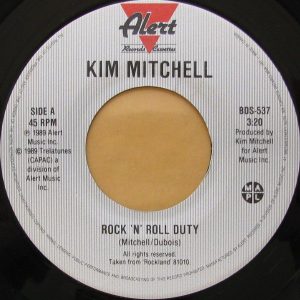 "Rock 'N' Roll Duty" was co-written by Kim Mitchell and Pye Dubois. The song is about rock 'n roll performers doing concerts in town after town. This series of one-night stands is part of the duty all rock musicians sign up for when they want to tour. Mitchell and Dubois tell us that some people say they are playing rock 'n roll and performing for the money. But they assert that they're doing it for love. "Rock N' Roll Duty" peaked at #8 in Hamilton (ON) and #15 in Vancouver (BC).
In 1992 Kim Mitchell had his highest chart run on the Canadian RPM singles chart with "America", which peaked at #3. In 1995, Mitchell participated in the Kumbaya Festival to raise money for AIDS research. He has appeared on television sitcom episodes for Kids In The Hall, Puppets Who Kill, and Trailer Park Boys.
In 2004 Kim Mitchell became host of an afternoon show on Toronto classic rock radio station Q107 from until August 2015. In 2007 he released his eighth studio album, Ain't Life Amazing. Over the years Kim Mitchell has shared the same billing with Aerosmith, Def Leopard, Sammy Hagar and Van Halen. Mitchell suffered a heart attack in 2016, which he survived. Mitchell told CTV news as he was recovering that he "writes when he's inspired, tries to play guitar every day, and ensures he's staying physically active."
Over the years Mitchell has been nominated for three Juno Awards. In 1983 he won a Juno in the category of Most Promising Male Vocalist of the Year. In 1987 he won a Juno for Album of the Year: Shakin' Like A Human Being. And in 1990 Mitchell won a Juno for Male Vocalist of the Year. This last award was in recognition of his Rockland album and the singles "Rock 'N" Roll Duty" and "Rockland Wonderland".
Between February 27, 2019 and March 13, 2020, Kim Mitchell has been on a touring schedule of 21 concert dates. These include appearances in Alberta, Saskatchewan, Nova Scotia, Ontario, New York, New Brunswick, Newfoundland and British Columbia. He appears in concert in Langley (BC) on August 31, 2019.
August 31, 2019
Ray McGinnis
References:
"Kim Mitchell becomes DJ", CBC, July 27, 2004.
"Rocker Kim Mitchell Recovering After Heart Attack," Toronto Star, January 13, 2016.
"Kim Mitchell talks recovery and touring after suffering a major heart attack," CTV, 2016.
Paul Rellinger, "Rocker Kim Mitchell Quite Happy to Deliver what the People Want, Kawartha Now, June 28, 2017.
Kevin Adshade, "Kim Mitchell Shares the Stories Behind his Biggest Hits" Truro Daily, Truro, Nova Scotia, July 31, 2019.
"Vancouver's Top 40 Hot Hits," CKLG 730 AM, Vancouver, BC, August 30, 1989.
For more song reviews visit the Countdown.