#1111: Rock 'N Roll Lover Man by Northwest Company
Peak Month: June 1971
8 weeks on Vancouver's CKVN chart
Peak Position #12
Peak Position on Billboard Hot 100 ~ did not chart
YouTube: "Rock 'N Roll Lover Man"
The Northwest Company was a band in the Fraser Valley from the town of Haney, about 25 miles east of Vancouver. The bands members were bass player Gowan Jurgensen, lead vocalist Rick McCartie, lead guitar and vocalist Ray O'Toole, rhythm guitar player Vidor Skofteby and on drums and vocals, Richard Stepp who was a teenager in Sicamous, British Columbia. Before moving to Vancouver in his late teens, Richard Stepp had been a paid musician in two Sicamous area bands called the Esquires and the Rebels. McCartie had been lead vocalist, and Richard Stepp the drummer, with the short-lived Vancouver band, The Questions, in 1965-66 (a group that won the Battle of the Bands in 1965 at the Pacific National Exhibition). The Northwest Company was originally named the Bad Boys. This was named after The Bad Boys Rag Shop, a trendy clothing store in Vancouver back in '67. However, CFUN deejay Tom Peacock, encouraged the band to come up with another name that wouldn't strike fear into parents of the groups female fan-base. It was Gowan Jurgensen who suggested to his bandmates the North West Company, based on the Montreal fur trading business founded in 1789. The band agreed, but distinguished themselves from the fur trading company with "Northwest" instead of "North West."
Despite naming themselves after an establishment fur-trading company, the Northwest Company was a garage punk band. They played loud, driving, music that resembled The Kinks "You Really Got Me". The rowdy and raucous performances of The Northwest Company gave them a "bad boy" sound despite the groups name change. On stage, The Northwest Company performed synchronized dance steps. To add a chaotic edge to this, the husky Rick McCartie would put Ray O'Toole on his shoulders while the song was being played, making the audience cheer when they successfully did the synchronized dance steps.
In July 1967 The Northwest Company recorded five tracks at the Telesound Studios in Vancouver. Of these, a song called "Hard to Cry" was released as a single, written by Vidar Skofteby. "Hard To Cry" was a rhythm guitar players dream with lots of reverb, released on CFUN deejay Tom Peacock's new Grenadier Record label. The amateur recording had a "recorded-in-a-cave" sound, adding to its rebellious vibe. Though the song didn't make the Top 40 in Vancouver, CFUN play listed it for nine weeks over the summer on their All-Canadian Top Ten. Fifty years later a mint condition copy of "Hard to Cry" costs as much as $1,000. It would later be covered by the Swedish punk band, The Nomads, in 1996. A second single, "Eight Hour Day," with its' anti-establishment opening line, "I want money, but I don't want to work…" failed to chart.
At the time, The Northwest Company was featured numerous times on a local CBC show called Where It's At. Other local recording artists on the show included Tom Northcott, the Collectors and the Poppy Family. They also appeared on the CBC show Let's Go. The band's third single was an experiment with sunshine pop. "Time for Everyone" spent three weeks Hit Bound and then five weeks on the CKLG chart, peaking at #17 in the fall of 1968.
Incidentally, the producer of The Northwest Company's singles was Daryl Burlingham. He was known on CFUN, and later CKLG, as Daryl "B". In 1968 Daryl "B" was on the afternoon 3 pm to 6 pm CKLG show, "on BOSS Radio." The CKLG April 13, 1968 BOSS 30 informed 'LG listeners: "Daryl & Western Canada's finest, Chuck Steak, argue daily — 4:30 – 6:00 p.m. — about the Lower Mainland traffic situation. Don't miss Daryl." Would that we could fret about the traffic volumes in Vancouver, such as they were in 1968 all these years later.
While they continued to perform in concert it would be several more years before The Northwest Company would return to the recording studio. They made a couple of singles, one which became their highest charting single in Vancouver, peaking at #12. "Rock 'N Roll Lover Man," written by Richard Stepp. It became the band's signature tune. It was a blend of blue-eyed funk and psychedelic-rock. A blend of the Small Faces with Humble Pie. Rick McCartie left the band prior to the release of this song, and it is Richard Stepp on lead vocals that you hear.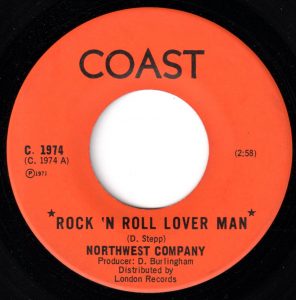 Well, you tell me that you love me, then you tell me, no.
But when I put my arms around you, you just start to go.
So crazy for me baby, I just have to know.

Well, you're the kind of girl that wants to make demands,
there's one thing that I'll tell you so you'll understand.
Well, I'm a rock 'n roll man in a rock'n roll band.
Well, I'm a rock 'n roll lover man,
the best one in the land.
Well, I'm a rock 'n roll lover man,
the best one in the land.
Well, I play a one-night stand.
So, if you wanna get your kicks come along with me,
I'll show you how to make love beneath the trees.
So pack up your beer and I'll set you free.

Well, if you're the kind of girl who wants to make romance,
there's one thing that I'll tell you so you'll understand.
Well, I'm a rock 'n roll man in a rock'n roll band.
Well, I'm a rock 'n roll lover man,
the best one in the land.
Well, I'm a rock 'n roll lover man,
the best one in the land.
Well, I play a one-night stand.
Well, I play a one-night stand.
Well, I play a one-night stand.
Here is a song about a guy in a rock 'n roll band who is playing one-night stands. He's letting a girl who is interested in him that he is a rock 'n roll lover man, the best one in the land. There could be a number of different situations that a member of a rock 'n roll band could cross paths with a female who is interested in him romantically and sexually. But the phenomenon of groupies also could apply.
The term groupie is a word derived from group, in reference to a musical group. The word is also used in a more general sense, especially in casual conversation, to mean a particular kind of female fan assumed to be more interested in relationships with rockstars than in their music. A groupie is generally considered a devoted female fan of a band or musical performer. A groupie is considered more intense about their adored celebrities than a fan and tends to follow them from place to place. A groupie will attempt to have a connection with the band and may seek intimate contact. Obsessive groupies will almost certainly involve themselves sexually with any members of the band including the roadies. One example was Bebe Buell, described as a force to be reckoned with. Her lust for musicians kicked in at the ripe age of 16, dating Paul Cowsill of the Cowsills before swiftly moving her way through rock and roll's finest: the Rolling Stones' Mick Jagger, David Bowie and Aerosmith's Steven Tyler, amongst others.
In the late 60s into the early 70s The Northwest Company were opening acts for The Beach Boys, Paul Revere & The Raiders, The Who, Lee Michaels, The Byrds and Country Joe & The Fish. In 1970 Vidar Skofteby got married and left the band, leaving them as a trio. In 1971 Ray O'Toole left the band and was replaced by Mother Tucker's Yellow Duck guitarist, Leslie Law. Another guitarist was added, Dan Smith, making the group a foursome again. After a series of guitarists, Ray O'Toole rejoined the band. A final single in 1973 failed to yield any chart action and the band broke up by the end of the year.
In 1983, "Rock 'N Roll Lover Man" was selected by the Vancouver Record Collectors' Association for inclusion on the History of Vancouver Rock and Roll, Volume 3. "Hard to Cry" and two other tracks from the July 1967 Telesound Studios' session were included on the subsequent release, History of Vancouver Rock and Roll, Volume 4.
Ray O' Toole would go on to become a member of popular country rock band, Blue Northern. The band's hit in 1981, "Can't Make No Sense", was written by O'Toole. In 1983, "Rock 'N Roll Lover Man" was included on the History of Vancouver Rock and Roll, Volume 3 compilation issued by the Vancouver Record Collectors' Association
On his website, Richard Stepp details his musical career after the Northwest Company split. He went on to play with Home Cooking (1974-75), High Time (1975-1976) and Shakedown (1976-77). The latter band he was the front man for. He also worked at Mushroom Studios. In 1979 Stepp – who wrote to me in an email – confirmed that he released his debut album Holiday in Hollywood. In 1980 Richard Stepp was nominated for a Juno Award for Most Promising Male Vocalist of the Year. Another nominee was Bryan Adams. But the winner of the Juno that year went to Montreal's Walter Rossi. Richard Stepp also formed The Richard Stepp Band in 1981. He toured British Columbia and Alberta with his second album self-titled Richard Stepp.
Subsequently, Richard Stepp had released Freewind (1984), Hooray For Santa Claus (1997), It Only Takes One (2002) and Stepp On a Steinway (2002). The latter album featured Stepp on the piano with no backing musicians. On the album he recorded a variety of pop music classics including "Mack The Knife", "Blueberry Hill", "Island In The Sun", "Stagger Lee", Chantilly Lace" and "Over The Rainbow".
April 20, 2017
Ray McGinnis
References:
Richard Stepp, Northwest Company bio, Richard Stepp.com
Richard Stepp, Richard Stepp Band bio, Richard Stepp.com
Jim Bedard, Larry Niven, Gunnar Stomperud, Northwest Company Bio, Canadian Bands.com
Northwest Company (featured guest) Where's It At, CBC, October 1968
Vidar Skofteby, Discogs.com
Boss 30, CKLG, April 13, 1968
The Ultimate Groupies of the 60s and 70s, Dazed Digital.com
Northwest Company, Wikipedia.org.
"Your Average Rock and Roll Radio Survey," CKVN 1410 AM, Vancouver, BC, June 4, 1971.
For more song reviews visit the Countdown.