#741: Rockin' Rollin' Ocean by Hank Snow
Peak Month: April 1960
8 weeks on Vancouver's CFUN chart
Peak Position #7
Peak Position on Billboard Hot 100 ~ #87
YouTube.com: "Rockin' Rollin' Ocean"
Lyrics: "Rockin' Rollin' Ocean"
Clarence Eugene "Hank" Snow was born in the small community of Brooklyn, Nova Scotia, on May 9, 1914. He was the fifth of six children, the two eldest died in infancy. His nickname growing up in his family was Jack. At age 12 he weighed only 80 pounds and was frail. It was at this time that his mother ordered a Hawaiian steel guitar advertised in a magazine along with free lessons and several 78rpm gramophone records.
Snow spotted a picture of a guitar for $12.95 in Eaton's catalogue. He figured he could sell his old guitar for five dollars, but wondered how he would raise the additional $7.95. The answer came when a storeowner in the Atlantic coast village of Blue Rocks, Nova Scotia, hired him to paint yellow pinstripes on the wooden spokes of his brand new car. He offered to pay Snow two dollars per wheel. After the new guitar arrived, Snow experimented by playing runs and chord progressions in the style of Jimmie Rodgers. He also sang and played in an old fishhouse where local men stored their gear. Soon, Snow was invited to perform in a minstrel show in Bridgewater to help raise money for charity. "Someone blackened my face with black polish and put white rings around my eyes and lips," Snow recalls. When his turn came in the show, he played a song called "I Went to See My Gal Last Night". "My debut was a big success," Snow writes. "I even got a standing ovation."
In 1933 Snow visited Halifax station CHNS and was given an audition. He was hired to do a Saturday evening show that was advertised as "Clarence Snow and his Guitar." After a few months, he adopted the name "The Cowboy Blue Yodeler" in homage to his idol Jimmie Rodgers known as "America's Blue Yodeler." Since Snow's Saturday show had no sponsor, he wasn't paid for his performances. But he did manage to earn money playing halls and clubs in towns where people had heard him on the radio. Hank Snow also played in Halifax theatres before the movies started. He performed for $10 a week on a CHNS musical show sponsored by a company that manufactured a popular laxative. At the urging of the station's chief engineer and announcer, he adopted the name Hank. This was because it went well with cowboy songs, and once again, influenced by Jimmie Rodgers, he became "Hank, The Yodeling Ranger." Snow also appeared occasionally on the CBC's regional network.
In October 1936 Snow auditioned with RCA Victor in Montreal. This led to the release of his first record with "The Prisoned Cowboy". He signed with RCA Victor, recording for the label until 1981. A weekly CBC radio show brought him national recognition and, he began touring Canada until the late 1940s when American country music stations began playing his records.
Snow moved to Nashville, Tennessee, in 1945, and "Hank Snow, the Singing Ranger" (modified from his earlier nickname, the Yodeling Ranger), began recording for RCA Victor in the United States in 1949. His first release in the United States, "Marriage Vow" climbed to number ten on the country charts in the fall of 1949. However, it wasn't until he was invited to play at the Grand Ole Opry in 1950 that he became well known in the USA. His second release in early 1950, "I'm Moving On" was the first of seven number 1 hits on the country charts. "I'm Moving On" stayed at the top for 21 weeks, setting the all-time record for most weeks at number one.
A regular at the Grand Ole Opry, in 1954 Snow persuaded the directors to allow a young Elvis Presley to appear on stage. Snow used Presley as his opening act and introduced him to Colonel Tom Parker. In August 1955, Snow and Parker formed the management team, Hank Snow Attractions. This partnership signed a management contract with Presley but before long, Snow was out and Parker had full control over the rock singer's career.
In 1960, Snow had a big country hit titled "Rockin' Rollin' Ocean".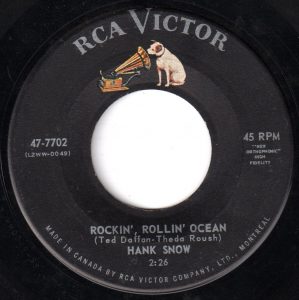 "Rockin' Rollin' Ocean" was co-written by Ted Daffen and Theda Roush. Theron Eugene "Ted" Daffen was born in 1912 in Beauregard Parish in Louisiana. He wrote "Truck Driving Blues" in 1939 and the song sold over 100,000 copies. He later wrote "Born To Lose" which became a million seller for Ray Charles in 1962. Theda Roush was married to Ted Daffan, who was backed by his country band The Texans.
"Rockin' Rollin' Ocean" concerns a guy who's gal has sailed away across the ocean. Each time another ship anchors and she doesn't appear, he sheds another tear. Nowhere in the song does it mention his hearing from his beloved. It seems that for the woman he is in love with, absence is not making her heart grow fonder. He appears to not be on her mind, or at least not shedding tears for him somewhere across the sea. While there are songs about danger in the high seas, the songs lyrics don't point to his "sweetheart" being in danger across the ocean. It seems his "darling" is moving on with her life and the last lines leave us only with a brokenhearted guy who is more discouraged.
Aside from Vancouver's chart run to #7, "Rockin' Rollin' Ocean" had little success making the Top 40. The notable exceptions were Houston, Texas, where the song climbed to #2, and Pittsburgh (PA) where it made it to #5. The song stalled at #87 on the Billboard Hot 100.
Snow's other "signature song" was "I've Been Everywhere", in which he fashioned himself as a hitchhiker boasting about all the towns he'd traveled through.
Snow released 89 singles. Seven of these reached number one on the Billboard Hot Country Songs chart. Another 36 singles reached the US Top Ten on the Hot Country Songs chart. Hank Snow's career was most successful between 1949 and 1963. By the time Canada's RPM Magazine began issuing national charts for both pop music and country music, Hank Snow had more modest hits. As a result he only charted four songs enter the Canadian Country chart on RPM.
Before his health began to fail Hank Snow was able to see several projects through to mark his legacy. As a victim of child abuse, Snow founded the Hank Snow International Foundation For Prevention Of Child Abuse in Tennessee in 1978. In 1994 his autobiography, The Hank Snow Story, was published. And in 1997 the Hank Snow Country Music Centre was opened in Liverpool, Nova Scotia, three miles away from his birthplace in Brooklyn, Nova Scotia. Hank Snow died in 1999 from heart failure.
August 23, 2018
Ray McGinnis
References:
Hank Snow bio, Countrymusichalloffame.org
Hank Snow bio, alancackett.com
Hank Snow bio, Oldies.com
hanksnow.com (Hank Snow Home Town Museum ~ about Hank)
Ted Daffan bio – Inductee 1970, Nashville Songwriters Hall of Fame.com.
"Hi-Fi Forty," CFUN 1410 AM, Vancouver, BC, April 9, 1960.
For more song reviews visit the Countdown.