#337: Rockit by Herbie Hancock
Peak Month: May 1984
11 weeks on CKLG's Vancouver Charts
Peak Position ~ #4 ~ CFUN
Peak Position on Billboard Hot 100 ~ #71
YouTube.com: "Rockit"
Herbert Jeffrey Hancock was born in Chicago in 1940. His parents weren't musical. However, when Herbie was seven years of age he began to study classical music. By the age of eleven he was hailed as a child prodigy after his performance of the first movement of Mozart's Piano Concerto No. 26 in D Major with the Chicago Symphony Orchestra. Growing up, his major jazz influences were Oscar Peterson, Erroll Garner and Bill Evans. In 1960, the twenty year-old Hancock was "discovered" by trumpet player Donald Byrd. This led to a record contract with Blue Note Records. Hancock got wider recognition as a recording artist in 1962 when he composed "Watermelon Man." Although his single barely got any airplay it was covered by Cuban percussionist Mongo Santamaria who had a Top Ten instrumental hit with the tune in 1963. Over the years "Watermelon Man" has been covered by dozens of other performers including Manfred Mann, Bill Haley & His Comets, The J.B.'s (James Brown's backing band), Albert King, LL Cool J, Madonna and others. "Watermelon Man" was the opening track from Hancock's debut album, Takin' Off, released in 1962. The album came to the attention of Miles Davis who invited Herbie Hancock to join the Miles Davis' Quintet.
In a 2010 interview with the Telegraph, Hancock commented about his introduction to playing in jazz clubs in the 1960's. He said, "When I first started off, the trumpet player and the saxophone player, they shared one mike. The piano had one mike that they stuck somewhere. No monitors. Most of the time you could barely hear the bass-player; drummer no problem. The piano player you could only hear if the drummer played really soft. And actually, very often that was good, because the pianos were in a miserable condition." In 1966, Herbie Hancock composed most of the soundtrack for the counter-culture film, Blow-Up, which also featured "Stroll On" by The Yardbirds. Between 1962 and 1969, Hancock released seven studio albums with Blue Note Records.
Hancock was a member of the Miles Davis Quintet from 1963 to 1968. While he was with Miles Davis, Herbie Hancock also made jingles for commercials including Tab diet cola, Virginia Slims cigarettes, Standard Oil and Pilsbury's Space Food Sticks.
In 1969, he moved over to Warner Brothers Records and composed the soundtrack for Bill Cosby's animated television show, Fat Albert and the Cosby Kids. The album was titled Fat Albert Rotunda. From 1973 to 1988, Herbie Hancock released 21 studio albums with Columbia Records.
On January 2, 1977, Herbie Hancock appeared in concert at the Queen Elizabeth Theatre in Vancouver. And he returned to perform in the city on February 8, 1978, at the Orpheum.
In 1980, Hancock had three tracks from his Monster album climb together to #12 on the US Dance Charts: "Saturday Night", "Stars In Your Eyes" and "Go For It". That year, Hancock also introduced a new trumpet player while he toured. The trumpeter was Wynton Marsalis. While Hancock released nearly 40 singles, only two of these cracked the Billboard Hot 100. One of these was "Rockit".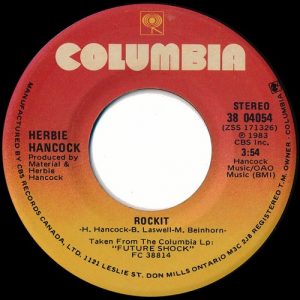 "Rockit" is an instrumental by Herbie Hancock from his 1983 Columbia Records studio album Future Shock. "Rockit" was the first single that became a hit using turntablist techniques and scratching, moving a record back and forth under the stylus. In the case of Rockit there are two turntables where a record is being moved back and forth to produce scratching sounds. In this way the record player becomes another musical instrument. Scratching became a trademark of early hip-hop throughout the rest of the 1980's and into the '90's. In addition to the record player being used to produce scratching sounds, Rockit featured a bass guitar played by Bill Laswell and a synthesizer/drum machine programmed by Michael Beinhorn.
The music video of "Rockit" featured dancing robots and a turntable stylus scratching a record back and forth. The video won several MTV Music Video awards in 1984. In the video Hancock appears as himself and plays a keyboard only as an image in a television. At the conclusion of the video the TV is smashed on the street in front of the house where the robots have been dancing and spinning. "Rockit" also won a Grammy Award for Hancock in the category of Best R&B Performance. "Rockit" climbed into the Top Ten of numerous countries around the world peaking at #4 (Belgium, Switzerland), #6 (Germany), #7 (Austria, Netherlands, New Zealand), #8 (UK), #9 (Canada, France) #10 (Sweden). However, in Hancock's home country of America, "Rockit" only climbed to #71 on the Billboard Hot 100. Its best chart runs were to #1 in Newton (MA), to #2 in Montreal and Calgary, #3 in Los Angeles, #4 in Vancouver (BC), Fresno and Saskatoon, #5 in Fort Lauderdale and Miami, and peaking at #7 in Ottawa and Winnipeg.
Hancock has been prolific as he's released 41 studio albums, 12 live albums, 38 singles, 5 soundtrack albums and 62 compilation albums. In 1986, Hancock won an Academy Award for Original Soundtrack with his composition for the movie Round Midnight. Between 1984 and 2011 Herbie Hancock won fourteen Grammy Awards in R&B, Jazz and Instrumental sub-categories. Among these, Hancock won a Grammy Award in 1995 for Best Jazz Instrumental Performance, Individual or Group, for A Tribute to Miles Davis. Hancock received a Grammy Award in 1998 for Best Jazz Instrumental Performance, Individual or Group, for Gershwin's World. Hancock arranged for opera star Kathleen Battle, R&B singer Stevie Wonder and folk singer, Joni Mitchell, to provide vocals for the album. In 2005, Hancock released the album Possibilities. It featured duets with Sting, Christina Aguilera, Paul Simon, Annie Lennox and others. His collaboration with Christina Aguilera won Hancock another Grammy Award in 2006. In 2008, he won a Grammy Award for Album of the Year for River: The Joni Years. This was his 40th studio album release and a tribute to the music of Joni Mitchell. In 2010, Herbie Hancock and James Morrison released a cover of the Sam Cooke civil rights classic, "A Change Is Gonna Come". On June 30, 2013, Herbie Hancock performed as part of the Vancouver International Jazz Festival at the Queen Elizabeth Theatre. In 2014, Herbie Hancock was inducted into the American Academy of Arts and Sciences.
In August, 2018, Herbie Hancock's website listed fourteen upcoming concerts through to November 2019 with dates in Israel, Japan, Chile, Uruguay, Argentina and the United States. This included a concert at the Queen Elizabeth Theatre on June 29, 2019, as part of the Vancouver International Jazz Festival.
September 21, 2018
Ray McGinnis
References:
Herbie Hancock & The Rockit Band: The Bill Laswell Years (1983-1988), Andres Music Talk.com, April 12, 2017
Stefan Hentz, Herbie Hancock Interview, Telegraph, London, UK, August 3, 2010
Herbie Hancock tour dates, Herbie Hancock.com
Herbie Hancock Biography, Herbie Hancock.com
Nate Chinen, A Pianist's Love Note to a Noteworthy Voice, NY Times, September 9, 2007
Bill Milkowski, Herbie Hancock: Gershwin's World, Jazz Times, December 1, 1998
Todd Leopold, In Surprise, Herbie Hancock Wins Album of the Year, CNN, February 11, 2008.
"Herbie Hancock: Concert dates – Canada," setlist.fm.
"C-FUN Top Thirty," CFUN 1410 AM, Vancouver, BC, May 26, 1984.
For more song reviews visit the Countdown.