#1254: Rocky Mountain Way by Triumph
Peak Month: May 1978
6 weeks on Vancouver's CFUN chart
Peak Position #17
Peak Position on Billboard Hot 100 ~ did not chart
YouTube.com: "Rocky Mountain Way"
Lyrics: "Rocky Mountain Way"
In 1975 three local Toronto rockers, guitarist Rik Emmett, drummer Gil Moore and bass and keyboard player Mike Levine decided to jam on a chance encounter at a club called the Hollywood Tavern on The Queensway in Toronto. They decided to form a band and started to perform in clubs in the local Toronto area. Moore and Emmett did the vocals for this hard rock trio. From their live performances they were able to secure a record deal with Attic Records.

In 1976 they released a self-titled debut album that had limited success, but their live concert tour caught fire south of the border helping them establish a following, especially in Texas. In 1977 Triumph released Rock and Roll Machine that included a nod to their growing fan base in Texas with "Little Texas Shaker", the story of a Texan groupie. The album charted in the bottom of the Billboard 200 Album chart. A single was released that was a cover of Joe Walsh's 1973 hit "Rocky Mountain Way". The song was originally released on Walsh's album The Smoker You Drink, the Player You Get.
On June 12, 2012 Joe Walsh was a guest on The Howard Stern Show. During his appearance he spoke about the songs lyrics that were an epiphany in 1972. "I'm living in Colorado and I'm mowing the lawn. I look up and there's the Front Range of the Rocky Mountains and there's snow on them in the summer. And it knocked me back because it was just beautiful. And I thought, 'Well I have committed. I'm already in Colorado and it's too late to regret the James Gang. The Rocky Mountain way is better than the way I had, because the music was better.' I got the words. Bam!" The song was Walsh's debut single in a solo career spanning 1973 to 2012. The song peaked for him at #23 on the Billboard Hot 100 and #14 on CKLG in the fall of 1973. Walsh was also a member variously of the James Gang, the Eagles and Ringo Starr's All-Star Band, among other musical collaborations in the midst of his long solo career.
Triumph liked the song and their cover of "Rocky Mountain Way" spent 8 weeks on the CFUN chart in Vancouver peaking at #17.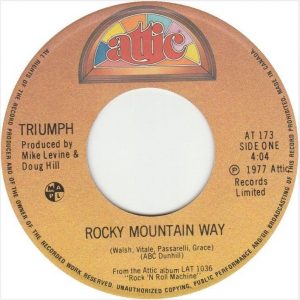 How often do any of us look up from our day to day tasks like mowing the lawn, as Joe Walsh did, and are struck by the splendor of the scenic setting where we find ourselves. We may not be by the Rocky Mountains. Instead we may be looking across a prairie landscape, a valley, rolling hills, a river, a waterfall, a lake, a bay or islands. It may not happen daily, but there is an arresting ability that nature offers that can help us reframe how we think about our life and the road we have taken.
The Colorado Rockies Major League Baseball franchise has played "Rocky Mountain Way" after every home win at Coors Field since 1995.
Since their second album Triumph have recorded ten more studio albums, five live albums and four compilation albums. Of their albums Rock and Roll Machine has gone double platinum. Three more have gone platinum and seven have been certified gold. Triumph have been able to continue to sell their albums all the way to the bank based on consistent touring and strong fan support. On April 6, 2008, Triumph was inducted into the Canadian Music Hall of Fame as part of the Juno Awards.
Triumph have been generous over the years in donating their star-power to charitable causes. Their largest single charitable contribution was their final appearance at Maple Leaf Gardens in Toronto, January 22, 1987. This was part of the "Sounds United" campaign of the United Way of Canada, Greater Toronto Division. All the proceeds from this concert of $179,356.66 were donated to the United Way. Over the years Triumph has raised in excess of $250,000 through its Signed Guitars Program. And since 2009 Triumph has signed over 100 Fender guitars and donated them to various charities for live and silent auctions, raising between $1,500 and $6,500 each. Individually, Rik Emmett has also contributed guitars for Kids With Cancer, CNIB Ride For Sight and Barrett House Aids Hospice. In 2011 Triumph donated their music and business archives to the University of Toronto Libraries. The appraisers for the university valued Triumph's donation at over a million dollars at the time.
Moore, Levine and Emmett have participated, together and alone, in many major fundraising events, including the Emmett's appearance on "Tears Are Not Enough", the Canadian recording artists hit single for Ethiopian Famine Release in 1985. That single raised over $3.5 million. In January 2005 Gil Moore was on the committee, along with Tom Cochrane and Rush's Alex Lifeson, and others, who spearheaded the tsunami relief effort, Canada for Asia in response to the need in the Thai Peninsula. In 2007 Triumph was inducted into the Canadian Music and Broadcast Industry Hall of Fame. This resulted in a reunion and some touring.
December 13, 2016
Ray McGinnis
References:
Triumph – The Band, Triumph.com
Throwback Thursday: Maple Leaf Gardens, 1987, Triumph.com
Triumph Productions, University of Toronto Libraries
Nick Aveling, Q&A: Gil Moore's Triumphant Return, National Post, May 18, 2010
Erin Duvall, Keith Urban Rocks "Rocky Mountain Way" with Legendary Joe Walsh of The Eagles, One Country.com, June 30, 2016
Joe Walsh bio, Joe Walsh.com
Rik Emmett bio, Rik Emmett.com
Thom Jennings, Catching Up With Mike Levine From Triumph, Rock Show Critique.com, April 27, 2016.
"CFUN Top 30," CFUN 1410 AM, Vancouver, BC, May 13, 1978.
For more song reviews visit the Countdown.