#182: Rolene by Moon Martin
Peak Month: November 1979
13 weeks on Vancouver's CFUN chart
Peak Position #2
Peak Position on Billboard Hot 100 ~ #30
YouTube: "Rolene"
Lyrics: "Rolene"
John David "Moon" Martin was born in 1945 in southwestern Oklahoma. Martin attended the University of Oklahoma and later moved to Los Angeles with his band The Disciples which then became Southwind. Martin had immediate success playing with Hall of Fame artists Jimi Hendrix, Janis Joplin and Credence Clearwater Revival. He was later featured on guitars and vocals with rock legends Linda Ronstadt, Del Shannon, Glenn Frey, Don Henley and Michelle Phillips among others. Martin also gained recognition both in the United States and France as a solo artist and composer.
Martin wrote the songs "Bad Case of Loving You (Doctor Doctor)", a hit for Robert Palmer in 1978, and "Cadillac Walk" recorded by Willy DeVille. That year Moon Martin released his debut album Shots from a Cold Nightmare.
In 1979 he released his second album, Escape from Domination. His debut single from the album was "Rolene".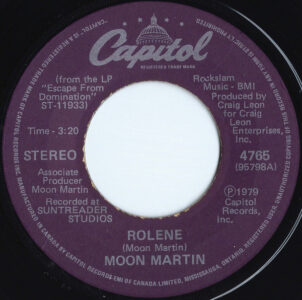 "Rolene" was written by Moon Martin. It is a song about a woman who is "Tijuana style," so a likely reference to Rolene being Mexican. She's got "a cheerleaders smile." She got a "smooth, round thigh" that makes the singer "high." Martin sings "My name may not be Hud
But I'll show you I'm no dud." Who is Hud? In 1963 Paul Newman appeared in a film called Hud. The film's poster described Hud as "The Man with the Barbed Wire Soul!"
Hud Bannon (Paul Newman) is ambitious and self-centered, the opposite of his deeply principled rancher father Homer. Also living on the Bannon ranch is Hud's teenaged nephew, Lonnie, who looks up to both men, but is most impressed by Hud. Lonnie and Hud are attracted to the Bannons' housekeeper, Alma. Although she is attracted to Hud, Alma keeps her distance because she has been mistreated in the past by men like him. Later in the film, Hud, drunk, goes outside and tries to rape Alma before Lonnie comes to her aid. Alma decides to leave the ranch. After Lonnie drops her off at the bus station, Hud sees her as she is waiting. He apologizes for his drunken assault, but not for his attraction to her, and he would remember her as "the one who got away". Given Hud's character in Hud, it is a good thing that the singer in Rolene isn't like Hud.
"Rolene" peaked at #2 in Vancouver (BC), #3 in Toronto, #6 in Presque Isle (ME), #8 in Seattle, #9 in Richland (WA), #11 in Denver, and #12 in Kansas City (MO).
In the 1980s and 1990s Moon Martin released seven more albums, three of these in France. His last album was Louisiana Juke-Box jointly released in France and the UK.
Moon Martin died in Encino, California, at the age of 74 in May 2020.
March 28, 2022
Ray McGinnis
References:
"John 'Moon' Martin Obituary," Los Angeles Times, Mary 24, 2020.
"May 11, 2020: Moon Martin, Musician Who Wrote 'Bad Case of Loving You,' Dies," Best Classic Bands, May 14, 2020.
"Hud," Wikipedia.org.
"C-FUN Top Thirty," CFUN 1410 AM, Vancouver, BC, November 17, 1979.
For more song reviews, visit the Countdown.