#577: Roll Over Beethoven by Electric Light Orchestra
Peak Month: August 1973
10 weeks on Vancouver's CKLG chart
Peak Position #7
Peak Position on Billboard Hot 100 ~ #42
YouTube.com: "Roll Over Beethoven"
Lyrics: "Roll Over Beethoven"
Jeffrey Lynne was born in suburban Birmingham, England in 1947. His dad bought him a guitar when he turned twelve. In 1966 he formed a band that by 1968 called themselves the Idle Race. He left for another band by the end of the 60s named The Move. The latter development was a catalyst for working on a musical project combining rock with orchestration. Beverley "Bev" Bevan was born in Birmingham, UK, in 1944. He learned to play drums and in 1956 he joined a rock band named Denny Laine & the Diplomats. In 1965 he moved on to join Carl Wayne & the Vikings, and in 1966 The Move. Bevan went through the transition from the Move to Electric Light Orchestra with Jeff Lynne. By the end of 1970 the Electric Light Orchestra was born.

Hugh Alexander McDowell was born in 1953 in Hampstead, London. He learned to play the cello at age four. He was a member of several prestigious classical symphony orchestras in his teens, including the London Schools Symphony Orchestra. He joined ELO in 1972 at the age of 19. Mike de Albuquerque was born in Wimbledon in 1947. He learned to play bass guitar and joined ELO in 1972, but left in 1974.
Richard Tandy was born in Birmingham, UK, in 1948. In 1968, at the age of 20 he played harpsichord on "Blackberry Way", The Move's only number one hit in the UK. He joined ELO in 1972. Mike Edwards was born in West London in 1948. He learned to play the cello and viol and joined ELO in 1972. Michael "Mik" Kaminski was born in 1951 in Harrogate, North Yorkshire. He played with the Leeds Orchestra from the age of 14, having learned to play the violin. He joined ELO in 1973.
There were other lineup changes prior to and after 1973. The Electric Light Orchestra had several Top Ten hits in the UK in 1972-73. The first was "10538 Overture" which peaked at #9 on the UK singles chart in 1972. Their second single release was a cover of the 1956 rock 'n roll classic by Chuck Berry called "Roll Over Beethoven".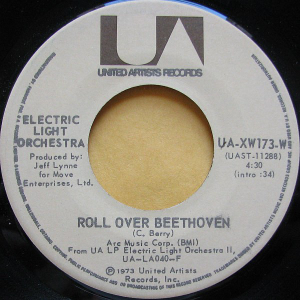 "Roll Over Beethoven" was written by Chuck Berry in 1956. It was his fifth Top Ten hit on the Billboard R&B chart. Berry had become a household name in 1955 with his first single release, "Maybelline". This was his rock 'n roll song about a woman driving a Coupe DeVille Cadillac and a guy trying to catch her in his V8 Ford, which peaked at #5 on the Billboard pop chart.
"Roll Over Beethoven" was an ode to rock 'n roll in its early days. The song suggests that Beethoven and Tchiakovsky need to "roll over" and let the new sound of rock 'n roll have center stage. The song is so "hot" that the "jukebox is blowin' a fuse." The song, "Roll Over Beethoven" is a song the narrator has written a local DJ and asked him to play on the radio station. The song gives the singer the "rockin' pneumonia" and "rollin' athritis" (possibly a cousin of arthritis, but with rock 'n roll affected symptoms). Berry tells listeners not to "step on my Blue Suede Shoes." This was a nod to Carl Perkins original song, "Blue Suede Shoes", which was covered by Elvis Presley. Perkins "Blue Suede Shoes" peaked at #2 for two weeks (April 28 and May 5, 1956), being kept out of the top spot by "Heartbreak Hotel" by Elvis Presley. Perkins "Blue Suede Shoes" stayed in the Top Ten on the national pop charts in the USA for ten weeks. Elvis' cover released in September '56 peaked at #20.
In the mid-50s soda shops and diners were magnets for teens to gather, order a soda, a shake or a burger and put dimes in a jukebox. They'd also dance to the songs on the jukebox while they were in the soda shop or diner. "Roll Over Beethoven" honored the jukebox craze that began in 1949 with the emergence of the 45 RPM. While 78 RPM's sold well until around 1957, the 45 RPM was on the ascent. Teens especially liked the smaller more affordable disc.
Prior to the 1950s jukeboxes were wooden and found in adult settings, including brothels. But with the emergence of the 45 RPM, jukeboxes began to appear in diners and restaurants. Teenagers swarmed these establishments to hear the latest rock 'n roll and R&B hits. There were some degree of uneasy toleration of this new fad by regular adult customers of these restaurants and diners. For the owners of these places, the teenagers brought dollars to play the jukeboxes, and buy sodas, shakes, burgers, grilled cheese sandwiches and more. The jukebox was a hallmark of teen culture in the 50s. If a new place had a jukebox, teenagers were sure to learn about the place and spread the word, making it a new hangout. In addition, jukeboxes, formerly wooden, were now resembling the cars of the 1950s. No longer wooden, the 50s jukebox sported chrome, brightly-coloured plastics, bubble tubes, steel castings, grills, and tailfins.
And beginning in 1950 Billboard magazine began to publish its pop singles charts in three formats: Best Sellers in Stores, Most Played by Disc Jockeys and Most Played in Jukeboxes. At that time, the Most Played in Jukeboxes chart used to be one of the most important channels for measuring the popularity of a song among the younger generation of listeners. This was because most American radio stations resisted adding rock 'n roll music to their playlists for many years. So, each jukebox was able to record which songs on its menu were getting the most plays during a given week. Billboard maintained its Most Played in Jukeboxes chart until June 17, 1957. From January 1950 to the summer of 1957, the jukebox was ahead of the emerging musical trends, with radio pitching to an older crowd. The jukebox had become a fad, a mania, a craze, and it was seen as romantic to meet your date at a diner or a restaurant and dance to the latest hits.
"Roll Over Beethoven" became a #2 hit on the R&B chart for Chuck Berry in 1956, and climbed to #29 on the pop chart. When Electric Light Orchestra chose to record "Roll Over Beethoven" it was in the midst of a rock 'n roll revival. Nostalgia for late 50's to early 60's rock 'n roll was expressed in Don McLean's "American Pie" in 1972, with its tribute to "the day the music died" with the small plane crash that killed Buddy Holly, the Big Bopper and Ritchie Valens in 1959. That same year Robert John did a cover of "The Lion Sleeps Tonight", Michael Jackson redid Bobby Day's "Rockin' Robin", Bobby Vinton had a hit with "Sealed With a Kiss", a number one hit for Brian Hyland in 1962. And Commander Cody and His Lost Planet Airmen did a cover of Johnny Bond's 1961 hit, "Hot Rod Lincoln".
Other songs in the early 70's that were covers of earlier hits were "Spanish Harlem" by Aretha Franklin (1971), first recorded by Ben E. King in 1961; Dave Edmunds "I Hear You Knocking" (1971) that was an R&B hit for Smiley Lewis in 1955, and the Animals "House of the Rising Sun" (1964) given a new rendering by Frijid Pink in 1970. Johnny Rivers took Huey "Piano" Smith's 1957 hit, "Rockin' Pneumonia and the Boogie Woogie Flu", into the Top Ten in 1973, while Bobby "Boris" Pickett's #1 hit from 1962, "Monster Mash", returned to the Top Ten in 1973. Meanwhile, Donny Osmond took the old Johnny Mathis hit from 1957, "Twelfth of Never", back up the charts, also in 1973. Bette Midler reached back to the early 1940's for inspiration with a cover of an old Andrews Sisters tune called "Boogie Woogie Bugle Boy". In 1974 Grand Funk Railroad took Little Eva's 1962 dance tune, "Loco-motion", back to #1. And Ringo Starr got an even bigger hit out of Johnny Burnette's 1960 tune, "You're Sixteen".
That same year Fancy gave a harder edged version of The Trogg's 1966 hit, "Wild Thing". In 1975 Tony Orlando and Dawn took Jerry Butler's 1961 classic, "He Will Break Your Heart" to #1 with a retitled "He Don't Love You (Like I Love You)". The Carpenters tool the Marvelettes 1961 hit, "Please Mr. Postman" back to #1, James Taylor covered Marvin Gaye's 1963 hit, "How Sweet It Is (To Be Loved By You)", and Donny and Marie Osmond had success with Tommy Edwards minor 1951 hit, "Morning Side of the Mountain" into the Top Ten in 1975.
In 1976 Nazareth remade Roy Orbison's minor hit from 1961, "Love Hurts" into the Top Ten, while Dr. Hook had success with Sam Cooke's old chestnut, "Only Sixteen". The Beach Boys got back into the Top Ten with an old Chuck Berry hit from 1958, "Rock 'N Roll Music", and Elton John took a Beatles tune off the Sgt. Pepper album, "Lucy In The Sky With Diamonds", to #1 in 1975. In 1977, Shaun Cassidy had a Top Ten hit with the old Crystals song, "Da Doo Ron Ron", and that same year James Taylor tackled Jimmy Jones 1960 tune, "Handy Man", by slowing it down. It seemed that in the 1970's covering a record from the early rock 'n roll era could get you a hit single.
"Roll Over Beethoven" was covered by The Beatles in 1963, as the B-side to "Please Mr. Postman". Their version climbed to #1 in Australia and #2 in Norway and Canada, but stalled at #68 on the Billboard Hot 100.
Electric Light Orchestra's "Roll Over Beethoven" peaked at #3 in Tacoma (WA) and Sioux Falls (SD), #6 in Chicago, #7 in Vancouver (BC), Hartford (CT) and Kansas City (MO), #9 in Stockton (CA) and Miami, and #10 in Phoenix.
Then in 1974 the Electric Light Orchestra had a #9 hit on the Billboard Hot 100 titled "Can't Get You Out Of My Head", which stalled at #24 in Vancouver. On November 17, 1974, ELO gave a concert at the Pacific Coliseum in Vancouver, opening for Deep Purple.
A new member of ELO at this time was Michael William "Kelly" Groucutt. He was born in 1945 in a village in Staffordshire. From the age of 15 he was in a variety of bands and was spotted by Bevan and Lynne in 1974 when they needed a new guitarist and vocalist. Groucutt appeared for the first time in the recording studio with ELO on their 1975 Face The Music album which featured "Evil Woman". The single peaked at #2 in Vancouver and #13 on the Billboard Hot 100.
On February 4, 1976, ELO appeared in concert in Vancouver at the Queen Elizabeth Theatre. In the fall of 1976 ELO released A New World Record. In 1977, both singles, "Livin' Thing" and "Telephone Line", climbed to #2 in Vancouver. While a third single from the album titled "Do Ya", stalled at #19. In the fall of '77, ELO released their seventh studio album titled Out of the Blue. The debut single from the album, "Turn To Stone", peaked at #2 in Vancouver in early 1978. While the second single release, "Sweet Talking Woman", peaked in Vancouver at #2.
In 1979 ELO released the Discovery album The first single titled "Shine A Little Love" climbed to #2 in Vancouver and #8 on the Billboard Hot 100. This was their fourth Top Ten hit on the Hot 100, and seventh Top Ten hit in Vancouver. Their next North American single release from the album, "Don't Bring Me Down" climbed to #4 on the Billboard Hot 100, and #1 in Vancouver in the fall of 1979. The next single release from the album was "Confusion".
In 1980 ELO was featured on the soundtrack for the film Xanadu. They were also in the film, along with Olivia Newton-John, Cliff Richard and The Tubes. The film featured the theme song "Xanadu" by ELO with Olivia Newton-John. It climbed to #5 in Vancouver and #8 on the Billboard Hot 100. Two other singles from the film, "All Over The World" and "I'm Alive", made the Top Ten in Vancouver in 1980.
In 1981 ELO released the album Time – ELO. It featured the single release "Hold On Tight", which peaked at #2 in Vancouver and #10 on the Billboard Hot 100. And a 1983 album titled Secret Messages – E.L.O. netted them another Top Ten hit in Vancouver titled "Rock 'N' Roll is King".
Prior to the formation of the Traveling Wilburys, ELO released their eleventh studio album, Balance Of Power, in February 1986. A single from the album, "Calling America" climbed to #10 in Vancouver, and stalled at #18 on the Billboard Hot 100. It was their last charting single in Vancouver.
From 1973 to 1986, ELO charted 15 singles into the Top Ten in Vancouver, and 15 singles into the Top Ten in the UK, but just 7 singles into the Top Ten on the Billboard Hot 100.
Jeff Lynne became a member of the Traveling Wilburys along with George Harrison, Roy Orbison, Tom Petty and Bob Dylan.
Jeff Lynne has continued to write, perform and produce. His work as a producer has included recordings for Tom Jones, Bonnie Tyler, George Harrison, Joe Walsh and Aerosmith.
Hugh McDowell left ELO in 1979. In 1980 he played on the album Gift Wrapped by former ELO cellist Melvyn Gale, who had founded the group Wilson Gale & Co. That autumn he began teaching part-time at the musical instrument technology department of a London higher educational college, the London College of Furniture, now part of the Guildhall University. He conducted a children's orchestra and other orchestras at several London schools. Over the decades he played with various chamber and ensemble groups. He died of cancer in 2018 at the age of 65.
Mike Edwards left ELO in 1975 and changed his name to Pramada (divine contentment). He lived in a variety of communes and wrote music for poems by the 18th century poet William Blake. He co-founded the Devon Baroque Orchestra. He died at the age of 62 in 2010 when a 1,300 pound hay bale rolled down the side of a hill into the vehicle he was driving along the A381 non-trunk road in Devon.
Bev Bevan formed ELO II in 1989 and toured until 1999 with Mik Kaminski and Kelly Groucutt (ELO bandmate from 1974 to 1983).
Mik Kaminski left ELO in 1979 and formed Violinski. It became a one-hit-wonder in the UK and the Netherlands with a Top 20 single titled "Clog Dance". After Violinski, Mike de Albuquerque formed the band Sundance in 1982, which included Mary Hopkin of "Those Were The Days" fame, and Mike Hurst ~ a former member of the Springfields who had a hit in '63 with "Silver Threads and Golden Needles". Hurst is also known for 'discovering' Cat Stevens in 1965.
In 1985 Richard Tandy formed the Tandy Morgan band. He has been a musician on twelve of fourteen ELO studio albums released between 1971 and 2019.
On June 26, 2019, ELO with Jeff Lynne performed in concert at Rogers Arena in Vancouver. Electric Light Orchestra's 14th studio album, From Out Of Nowhere, was released in November 2019.
January 26, 2020
Ray McGinnis
References:
Simon Price, "It's A Livin' Thing: Jeff Lynne Interviewed By Simon Price," Quietus, November 2, 2015.
Bruce Pilato, "Rock Star Jeff Lynne Steps Into the Spotlight," Variety, April 23, 2015.
Scott, "Jukeboxes: The Complete History," Home Leisure Direct.com, October 7, 2015.
"ELO Cellist Mike Edwards Hay Bale Death: Farmers Cleared," BBC, November 12, 2012.
"Top drummer Bev Bevan on Birmingham Walk of Stars," BBC, January 18, 2011.
"Interview with Richard Tandy," King of the Universe Fanzine, April 1999.
"ELO and Wizzard cellist Hugh McDowell dies at 65," BBC, November 8, 2018.
Danny Cox, "Mik Kaminski Interview: ELO's Violin Player Talks About the Band's Past and Present," BBC, February 2, 2006.
"Violinski," Wikipedia.org.
"ELO concerts in Canada," setlist.fm.
"CKLG 'Thirty'," CKLG 730 AM, Vancouver, BC, August 24, 1973.
For more song reviews visit the Countdown.