#691: Ronnie, Call Me When You Get A Chance by Shelley Fabares
Peak Month: April 1963
8 weeks on CFUN's Vancouver Charts
Peak Position ~ #7
1 week Hit Bound
Peak Position on Billboard Hot 100 ~ #72
YouTube.com: "Ronnie, Call Me When You Get A Chance"
Lyrics: "Ronnie, Call Me When You Get A Chance"
Michele Anne Marie Fabares was born in Santa Monica, California, in 1944. From the age of three she appeared as a model, including for clothing ads. At 9, she guested on a live TV special with Frank Sinatra, who sang his hit "Young at Heart" to her. She appeared on a TV adaptation of Our Town with Sinatra, Paul Newman and Eva Marie Saint, and was a regular on The Mickey Mouse Club. When she was ten years old, she appeared in an episode of Letter To Loretta (the original name of The Loretta Young Show) in late January, 1954. In grade seven, Shelley Fabares met Annette Funicello, and they became lifelong friends after attending catechism classes. In 1957, Shelley Fabares appeared with Kim Novak and Agnes Moorehead in the movie, Jeanne Eagles. In 1958, she appeared in the film, Marjorie Morningstar, about a young Jewish girl living in New York City, and her attempt to become an artist. That year she also appeared in Summer Love, with Fay Wray and Rod McKuen.
From 1958 to 1963, Shelley Fabares played the role of Mary Stone in The Donna Reed Show. Another child actor, Paul Petersen, also starred on the show and sang songs during episodes that became big sellers. In 1962, Fabares had a #1 hit with "Johnny Angel" which she sang on The Donna Reed Show. It reached the top of the Billboard Hot 100 on April 7, 1962. The chart-topper was knocked out of the #1 position by Elvis Presley's "Good Luck Charm," on April 21, 1962. Presley and Fabares would later co-star in three films in the mid-60's. In Vancouver, "Johnny Angel" climbed to #1 on February 16, 1962, and stayed there for two weeks. Fabares tried to match her success with "Johnny Angel" with "Johnny Loves Me". The follow up climbed to #21 on the Billboard Hot 100 and #18 on the CFUN charts in Vancouver. She missed the Top 40 with "Things We Did Last Summer" and missed the Billboard Hot 100 with "Telephone (Won't You Ring)" and "What Did They Do Before Rock N' Roll". Her final appearance on the Billboard Hot 100 was with "Ronnie, Call Me When You Get A Chance".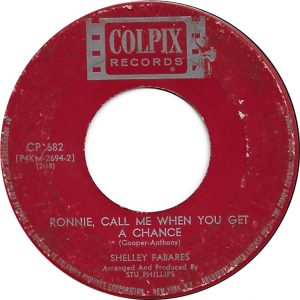 In "Ronnie, Call Me When You Get A Chance", a girl is trying to get her boyfriend, Ronnie, to call her. Ronnie is mad at her after he presumed she was flirting with his friend Jim, and talking with his buddy, Joe. She pleads with Ronnie to make him understand that in those conversations "every other word was your name." Ronnie has seen "what you weren't supposed to see." What might Ronnie have seen that made him assume she was flirting with Jim? Apparently, she was only planning a surprise birthday party for Ronnie with some of his buddies. Did Ronnie see her practice jumping out of a birthday cake? Given Ronnie's upset over his girlfriend being seen talking with several of his buddies, it seems there is a ground rule for their relationship. She is not allowed to talk to other guys, at least when she is not with him.
In an article titled, What to Do When Your Girlfriend Talks to Other Guys, Dan Bacon advises:
Relax, and trust that her love and attraction for you is real. Understand that if you feel insecure, you will most likely say or do something that you will regret later on.
Accept that she is yours and that it's normal for her to talk to other guys, just like it's normal for you to talk to other women, but not actually hook up with those women, or leave your girlfriend because of it.
Understand that you cannot control her and be a policeman in her life. If you try to control her or hide her away from the world because of your insecurity, she will lose respect for you and actually begin to find other guys more attractive than you.
"Ronnie, Call Me When You Get A Chance," made it to #7 in Vancouver. Perhaps there were a number of boyfriends in the lower mainland who were trying to police their girlfriends conversational habits with other guys. The single also made the Top Ten in Manchester, NH, at #4, Des Moines, IA, at #5 and Sacramento where it also climbed to #7. A few years earlier, Johnny Maestro made his way into the Top Ten in Vancouver with "What A Surprise", also involving a surprise birthday party as a key to a romantic drama.
Shelley Fabares went on to star in Ride The Wild Surf with fading teen idol, Fabian, in 1964. Subsequently, she starred in three films with Elvis Presley. These were Girl Happy in 1965, Spinout in 1966 and Clambake in 1967. In addition, in 1966, Shelley Fabares also starred in the musical film, Hold On, with Herman's Hermits.
Between 1954 and 2003, Shelley Fabares appeared in many TV shows. These include guest appearances in The Twilight Zone, The Love Boat, Work & Mindy, The Incredible Hulk, the crime show Vega$, Marcus Welby M.D., Newhart, Mr. Novak, detective shows The Rockford Files and Barnaby Jones, action-adventure show Daniel Boone and the police drama McLeod. She also was a guest star in Western TV shows Annie Oakley, The Rebel, Fury, Cade's County and Lancer.
In 1976-77, Fabares appeared in 27 episode of the TV sitcom about a father and son who are both doctors, titled The Practice. In the TV series, she played Julie Bedford, the wife of Jules Bedford (Danny Thomas). Between 1978 and 1984, Fabares appeared in 23 episodes of One Day At A Time, a sitcom about a divorced mother with two teenage daughters living in Indianapolis. From 1989 to 1997, Shelley Fabares starred in 199 episodes of the TV sitcom, Coach, about a fictional National Football Team. In 2006 she was one of the voices in the animated film, Superman: Brainiac Attacks.
October 30, 2018
Ray McGinnis
References:
Elvis' Women: Shelley Fabares, Elvis Women.greggers.net
Cynthia Sanz, Shelley Fabares Fell for a Former M*a*s*h-Er, Mike Farrell, People Magazine, New York, NY,April 15, 1991
Shelley Fabares (Mike Farrel's Wife) Biography, Net Worth and Other Facts, Heightline.com
Lisanti, Tom. Fantasy Femmes of Sixties Cinema: Interviews With 20 Actresses From Biker, Beach and Elvis Movies. McFarland, Jefferson, North Carolina, 2000.
Patricia Brennan, WAITING FOR WORD ON 'COACH', Washington Post, April 29, 1990.
Dan Bacon, What to Do When Your Girlfriend Talks to Other Guys, The Modern Man.com.
"C-FUNTASTIC FIFTY," CFUN 1410 AM, Vancouver, BC, April 13, 1963.
For more song reviews visit the Countdown.