#1367: Rosemary by Brian Hyland
Peak Month: May 1960
6 weeks on Vancouver's CFUN chart
Peak Position #14
Peak Position on Billboard Hot 100 ~ did not chart
YouTube.com link: "Rosemary"
Lyrics: "Rosemary"
Brian Hyland was born in 1943 in Queens, New York. In his childhood Hyland learned to play the guitar and the clarinet. In 1958, while he was still 14 years-old, he formed a group named the Delfis. Though they tried to get a record contract they were never signed. In 1959 Brian Hyland got a record deal with Kapp and released "Rosemary". The song was composed by two songwriters who never wrote another tune.
"Rosemary" had limited success, though it spent six weeks on the pop chart in Vancouver reaching #14 on May 7, 1960.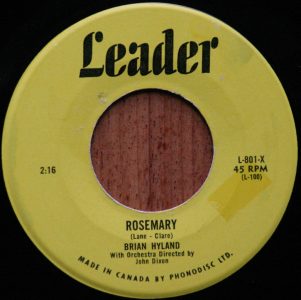 "Rosemary" is a song about a suitor who wants Rosemary to "take my hand." The phrase is a clear reference to taking someone's hand in marriage. In the Middle Ages in Europe, after a couple decided to get married there was a formal ceremony of betrothal. This was where the couple would vow their intention to get married before their parents and a priest. A.E. Anton writing in the Scottish Historical Review in 1958 states "The betrothal ceremony was called the beweddung in Anglo-Saxon because in it the future husband gave weds or sureties to the woman's relatives, initially for payment to them of a suitable price for his bride but later for payment to her of suitable dower and morning-gift. The parties plighted their troth and the contract was sealed, like any other contract, by a hand-shake. This joining of hands was called a handfæstung in Anglo-Saxon, and the same word is found in different forms in the German, Swedish and Danish languages. In each it means a pledge by the giving of the hand. …. The joining of the hands became a feature of betrothals in Scotland and in England during the medieval period."
In "Rosemary" the suitor not only asks Rosemary to take his hand, but declares "I vow right now, you'll have my love." Many teen listeners to "Rosemary" had dreams about getting married. Young men dreamed about marrying "an angel dressed in white," while young women dreamed about a handsome prince who would carry them across the threshold. Many pop songs in the early rock era were awash with idealized notions of romance and anticipation of marriage. In "Rosemary" the suitor promises to take her to "Lover's Land." In the song the offer of love is made. It is a snapshot of a proposal. But by the end of the song we don't know what Rosemary's answer is.
Hyland released his next single at the age of sixteen. His debut release became a #1 hit in 1960 titled "Itsy Bitsy Teenie Weenie Yellow Polka Dot Bikini". "Itsy Bitsy Teenie Weenie Yellow Polka Dot Bikini" had backing vocals by Peggy Powers who did a duet with Andy Williams in 1957 titled "I Like Your Kind Of Love". And Trudy Packer provided the the spoken lyrics (i.e. "two, three, four, tell the people what she wore.")
It was co-written by Paul Vance (born Joseph Paul Florio) and Lee Pockriss. Together they wrote a number of hit songs including "Catch A Falling Star" (Perry Como – 1957), "Little Miss Stuck-Up" and "Wait For Me" (Playmates, 1961 and 1960), "Tracy" (the Cuff Links – 1969) and "Playground in My Mind" (Clint Holmes – 1972). Pockriss also wrote "Johnny Angel", a hit for Shelley Fabares in 1962. "Itsy Bitsy Teenie Weekie Yellow Polka Dot Bikini" was actually inspired by Paul Vance's shy 9-year old daughter, Paula, and an actual incident at a beach locker. The duo also wrote a song titled "3 Vanilla, 2 Chocolate, 1 Pistachio Ice" for Kris Jensen. Lee Pockriss went on to write the theme songs for the 1961 film One, Two, Three, the 1964 film The Subject Was Roses, and the 1966 film, Stagecoach. In later years Pockriss wrote a number of compositions for the TV series, Sesame Street. Vance and Pockriss also wrote a parody of the Shangri-Las' 1964 #1 hit, "Leader Of The Pack". Their Top 30 rejoinder was titled "Leader Of The Laundromat", recorded by The Detergents.
Vance and Pockriss wrote Brian Hyland's follow-up novelty song, "Four Heels (The Clickety Clack Song)". Though it made the Top 30 nationally in Australia and the UK, it stalled at #73 on the Billboard Hot 1oo. He had another novelty song in 1960 titled "Lop-Sided, Over-Loaded (And It Wiggled When We Rode It)". After his #1 hit in 1960, Brian Hyland released seven singles in a row with only two making the Top 30 and three missing the Hot 100. But in the summer of 1962 he returned to the Top Ten with "Sealed With A Kiss". The song was a cover of the 1960 summer song by The Four Voices which met with limited regional success peaking in the Top 30 in Rochester (NY) and Louisville (KY).
Hyland appeared numbers of times on American Bandstand. He toured with Dick Clark's Caravan of Stars. On a Caravan of Stars tour in the fall of 1963 Brian Hyland appeared on the same stage as Bobby Lee, Linda Scott, Jimmy Clanton, The Essex, The Jaynettes, The Ronettes, Little Eva, The Dixie Belles, Dale & Grace, The Dovells, The Tymes and Paul & Paula. He also appeared on the Jackie Gleason Show. On Brian Hyland's website it is reported "In 1963, he headlined a tour in England with Little Eva, appearing on TV shows Thank Your Lucky Stars and Jukebox Jury as well as the live BBC radio show Saturday Club, where he heard and became an early Beatles fan. And while doing several annual tours in South America with Neil Sedaka during Carnaval, he heard the early Bossa Nova artists."
After "Sealed With A Kiss", It would take another eight attempts before he cracked the Top 20 on the Billboard Hot 100 with "The Joker Went Wild" in 1966. "The Joker Went Wild" was co-written by Bert Russell and Bobby Russell. The two were not related. It didn't hurt that 'The Joker' was one of the arch-enemies of Batman, played by Ceasar Romero. Batman was the #5 top rated TV show in the USA in the 1965-66 season. The song climbed to #2 in Vancouver and #20 on the Billboard Hot 100.
After "The Joker Went Wild", Brian Hyland again had a drought between 1966 and 1970. He released eight more singles, and only one of these cracked the Top 40. Of these, several were covers of earlier hits from the early rock 'n roll era: Thomas Wayne's 1959 hit "Tragedy", Jimmy Charles 1960 hit "A Million To One" and Johnny Tillotson's "Dreamy Eyes" from 1958. Finally, in 1970, Brian Hyland returned to the Top Ten with a remake of the Impressions' 1961 hit "Gypsy Woman".
Between 1960 and 1977 Brian Hyland released eleven studio albums. Hyland later became related, through marriage, to Larry Fine of the Three Stooges. At this time of writing, Brian Hyland has an upcoming concert date in Jericho, Long Island, New York, in December 2019.
July 8, 2019
Ray McGinnis
References:
"HI-FI FORTY," CFUN 1410 AM, Vancouver, BC, May 7, 1960.
"Brian Hyland the Artist," Brianhyland.com.
Michael Jack Kirby, "Brian Hyland", Waybackattack.com.
Sharon L. Krossa, "Historical Handfasting," Medieval Scotland.org, May 13, 2006.
Anton, A. E. "'Handfasting' in Scotland." The Scottish Historical Review 37, no. 124 (October 1958): 89-102.
"Batman TV (Series)," Wikipedia.org.
"C-FUN-Tastic 50," CFUN 1410 AM, Vancouver, BC, May 7, 1960.
For more song reviews visit the Countdown.