#558: Rough Boy by ZZ Top
Peak Month: May 1986
7 weeks on CKLG's Vancouver Charts
Peak Position ~ #2
Peak Position on Billboard Hot 100 ~ #22
YouTube.com: "Rough Boy"
Lyrics: "Rough Boy"
ZZ Top was formed in 1969 in Houston, Texas. The band has had three members since it began. Guitar player, Billy Gibbons, is the lead vocalist for the trio. Dusty Hill also shared lead vocals and plays bass guitar. The bands' drummer is Frank Beard. Gibbons and Hill wear beards, however Frank Beard is clean-shaven. The band has sold over 25 million records of their blues-rock infused recordings. They were inducted into the Rock and Roll Hall of Fame in 2004. They credit the rock group Cream as one of their major influences. Among their early singles was "La Grange", in 1973. This was a song about a brothel actually called the Chicken Shack on the outskirts of La Grange, Texas, from 1905 to 1973. The Chicken Shack was the basis for a play called The Best Little Whorehouse in Texas that debuted on Broadway in 1978. The song peaked at #41 on the Billboard Hot 100, but did not chart in Vancouver.
In 1975, ZZ Top released their single titled "Tush". It climbed to #20 in the USA and #11 in Vancouver. They toured internationally and their fan base grew steadily. In 1981 they released their seventh studio album, El Loco. The Spanish phrase means "they crazy one" in English. One of the singles from the album was "Tube Snake Boogie".
In the mid-80's, ZZ Top scored two top ten hits on the Billboard Hot 100: "Legs" and "Sleeping Bag". The former was from their album, Eliminator, and the latter was from their album Afterburner. From Afterburner ZZ Top released seven singles. The fourth was "Rough Boy".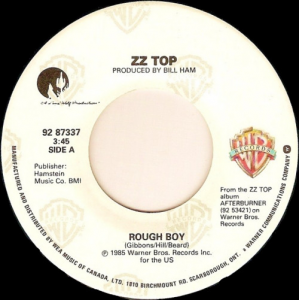 "Rough Boy" is a song about someone who is comfortable in their own skin. This guy knows who he is and looks people straight in the eye. He knows what he wants and had the capacity to make things work out when it comes to love and romance. "Rough Boy" climbed to #2 in Vancouver (BC) and #6 in Minneapolis/St. Paul.
The adjective, rough, is a word that morphed from the Old English ruh, meaning "rough, coarse (of cloth); hairy, shaggy; untrimmed, uncultivated," from West Germanic *rukhwaz "shaggy, hairy, rough", from Proto-Germanic *rukhaz, "to smash, knock down, tear out, dig up." It also derives from the Sanskrit word ruksah, meaning "rough;" Latin ruere "to rush, fall violently, collapse." The original -gh- sound was guttural, as in Scottish loch. Rough is first recorded c. 1600 and connoted "riotous, disorderly, characterized by violent action." The phrase "rough draft" is from 1690s. "Rough-and-ready" is from 1810, originally military, while "rough-and-tumble" is from a style of free-fighting, 1810.
As a verb, rough it meant to "submit to hardships" (1768). This was originally a nautical reference: "To lie rough; to lie all night in one's clothes: called also roughing it. Likewise to sleep on the bare deck of a ship, when the person is commonly advised to chuse the softest plank." [Grose, "Dictionary of the Vulgar Tongue," 1788]. To rough out "shape or plan approximately" is from 1770. To rough up "make rough" is from 1763. To rough (someone) up "beat up, jostle violently" is from 1868. The U.S. football penalty roughing was originally a term from boxing (1866).
Supporting their album and single releases, ZZ Top launched their Afterburner World Tour on December 2, 1985, in Toronto. They played two dates in Vancouver: December 15 and 16, both at the Pacific Coliseum. In total, they performed 193 times by their finale in Honolulu on March 21, 1987. In 1990, ZZ Top was featured as a band at a party in the film, Back To The Future III. In July 2009, ZZ Top appeared as hosts of a World Wrestling Federation show. Their song, "Sharp Dressed Man", is a theme song for the TV show Duck Dynasty.
In the fall and winter of 2019, ZZ Top is performing in 36 venues across twenty-one states in the USA.
September 23, 2019
Ray McGinnis
References:
ZZ Top bio, Rolling Stone.
ZZ Top Afterburner World Tour: December 2, 1985 – March 21, 1987, Wikipedia.org.
Legendary Rock Band Makes Surprise Appearance on Final Episode of 'Duck Dynasty', Country Rebel
ZZ Top tour, ZZ Top.com.
"Top Thirty Hot Hits," CKLG 730 AM, Vancouver, BC, May 21, 1986.
For more song reviews visit the Countdown.