#257: Round Round by Jonathan King
Peak Month: May 1967
10 weeks on Vancouver's CKLG chart
Peak Position #2
1 week Hit Bound
Peak Position on Billboard Hot 100 ~ did not chart
YouTube: "Round Round"
Lyrics: "Round Round"
Born in 1944 in the West End of London as Kenneth George King, and was sent to pre-prep school from the age of three. When he was 8-years-old King went to boarding school. When he was nine, his father died of a heart attack. He became fascinated with live theatre and bought his first 78 RPM in 1956 which was Guy Mitchell's "Singing The Blues". He became enthralled with pop music as he listened to Buddy Holly, Adam Faith and others. King recalled later "Since 'It Doesn't Matter Anymore' swept me off my feet, I had become a raving pop addict, desperate for a fix every few seconds. I kept thick notebooks packed with copies of the weekly charts, adverts for new products, pages of predictions of future hits, reviews and comments about current artistes. Looking at them now, there was no way I could ever have avoided a future in the music industry."
In 1962 he worked stacking shelves at a supermarket. With his earnings, in 1963 King made a demo singing "It Doesn't Matter Anymore" and the non-charting single "A Fool's Paradise" by Alvin Stardust. Wearing a pinstripe suit and trainers, he approached John Schroeder of Oriole Records and told him he could make a hit record. "I have been studying the music industry for the last three years and it is one big joke," Schroeder reported him as saying. "Anyone can make it if they're clever and can fool a few people." After hearing King's demo, Schroeder booked a studio session with an orchestra but suspected that King could not sing in tune.
In 1964 Kenneth George King went on a round-the-world-ticket staying mostly in hostels. When he was in Hawaii in June '64, he met the Beatles manager Brian Epstein. He talked at length while he was in Honolulu about the music industry. In 1965 King was in touch with producers for the Zombies. He played them a number of songs including "Everyone's Gone To The Moon". It was decided that Kenneth George was not the right name for a pop star, and so Jonathan King was born. Decca Records began to promote the song and when it reached #18 on the UK Singles chart, King appeared on the BBC's Top of the Pops. Eventually, the song climbed to #4 in the UK, #6 in Vancouver (BC) and #17 on the Billboard Hot 100. In 1969 "Everyone's Gone To The Moon" was one of the songs taken by the crew of the Apollo 11 spacecraft when they landed on the moon on July 20, 1969.
Later in 1965 King wrote and produces "It's Good News Week" for Hedgehoppers Anonymous, who charted to #5 in the UK with the song. King released six more singles between 1965 and 1967. None of these cracked the UK Singles chart. However, the last of these, "Round Round" was given a spin on AM Top 40 radio in Vancouver.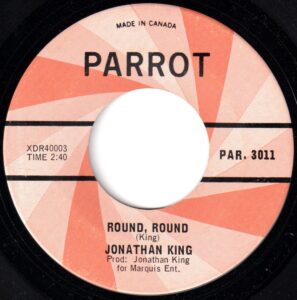 "Round Round" peaked at #2 in Vancouver (BC), #3 in Modesto (CA) and Regina (SK), #9 in Palm Springs (CA) and Alva (OK), and #10 in Oxnard (CA).
In addition, in 1967 King attended a boarding school reunion at Charterhouse. While he was there he heard a group of 15 to 17 year old boys perform. King took them under his wing and got them a record contract, naming them Genesis. As a singer, King had a Top 30 hit with a cover of the 1967 hit by the Hombres titled "Let It All Hang Out". In 1971 King recorded a cover of the B.J. Thomas hit "Hooked On A Feeling". King's arrangement was adapted by the Swedish band Blue Swede in 1974 who made it a number-one hit internationally. As well, in 1971 King was a member of the novelty band The Piglets whose ska song "Johnny Reggae" became a #3 hit in the UK.
In 1973 King was one of the original backers of The Rocky Horror Picture Show. He was also involved in producing records for the Bay City Rollers and signing 10cc to his UK record label. In 1978 he ran for the British Parliament on the Royalist Party ticket, receiving 2,350 votes. After losing the election, King moved to New York City and was a DJ with WMCA in 1980-81. In the late 80s King became involved with the BBC's Brit Awards, and also Eurovision Song Contest entrants from the UK.
In 1997 Jonathan King discovered Chumbawumba, promoting their hit "Tubthumping" which climbed to #1 in Australia, Canada, Ireland, Italy, New Zealand and Scotland, and #2 in the UK. In 2000 King produced and promoted "Who Let the Dogs Out" by the Baha Men.
In 2001 King was convicted of several counts of indecent assault and one of buggery and put on a national Sex Offenders Registry (which he was removed from in 2020). 27 men told police that King had sexually assaulted them during the period 1969–1989. A subsequent trial in 2018 put King back in the spotlight. This time he was charges with 18 sexual offenses, relating to nine boys aged between 14 and 16, allegedly carried out between 1970 and 1986.
On 6 August 2018, King received an apology for the collapse of the trial, with Judge Deborah Taylor saying that Surrey Police had made "numerous, repeated and compounded" errors during the investigation, describing the situation as a "debacle". In her ruling she said "I have concluded that this is a case where even if it were possible to have a fair trial, it is in the rare category where the balance, taking account of the history, the failures and misleading of the Court, is in favour of a stay on the basis that following what has occurred, continuation would undermine public confidence in the administration of justice". Taylor said that the case against King had been motivated by "concerns about reputational damage to Surrey Police" following the allegations of sexual abuse against Jimmy Saville. Surrey Police "wholeheartedly apologised" to King, saying: "We deeply regret that despite these efforts we did not meet the required standards to ensure a fair trial."
September 20, 2021
Ray McGinnis
References:
"Jonathan King," Wikipedia.org.
"Interview with Jonathan King: The Man Who Would Be King," worldofgenesis.com, April 29, 2005.
Lynn Barber, "King and I," Guardian, October 20, 2002.
"Surrey Police Apologise After Judgment Reveals Disclosure Failings in Jonathan King Sex Abuse Case," Telegraph, August 7, 2018.
"Boss 30," CKLG 730 AM, Vancouver, BC, May 27, 1967.
For more song reviews visit the Countdown.