#936: Route 66 by Nelson Riddle
Peak Month: May 1962
9 weeks on Vancouver's CFUN chart
Peak Position #5
Peak Position on Billboard Hot 100 ~ #30
YouTube.com: "Route 66"
Born in 1921, Nelson Smock Riddle, Jr. was born in Oradell, New Jersey. He learned the piano at eight and the trombone at age 14. By his late teens he was arranging for local dance bands. He began to play with the Charlie Spivak Orchestra. In 1943 he joined the Merchant Marine and in 1944 began to play in the Tommy Dorsey Orchestra until he was drafted into the U.S. Army in April 1945. He finished serving in the Army in June 1946 and move to Hollywood. Within a few years he had arranged his first Top Ten hit single, a tune sung by Doris Day titled "Again." Riddle pursued his multiple talents as an arranger, composer, bandleader and orchestrator.

In 1950, Lex Baxter employed Nelson Riddle as an arranger for a studio session with Nat King Cole. Among the tunes recorded for this session was the smash hit "Mona Lisa." However, the credits for the song listed Baxter and not Riddle. Nonetheless, Cole soon discovered who had arranged the song and began a collaboration with Riddle who arranged or orchestrated "Tenderly", "Answer Me, My Love", "Unforgettable", "Smile" and other standards now associated with Nat King Cole. Nelson Riddle went on to work with other recording artists at Capitol Records. In 1953 Riddle helped Frank Sinatra rejuvenate his career with a string of hit singles through the 50s, including "Young At Heart", "Learnin' The Blues", Love And Marriage", "All The Way" and "High Hopes". Riddle also produced some of the best albums of Sinatras' career.
Nelson Riddle also worked as an arranger and orchestrator with Ella Fitzgerald on her 1959 album, Ella Fitzgerald Sings the George and Ira Gershwin Song Book. He similarly collaborated with Dean Martin on the score for the 1960 film, Rio Bravo. Additionally Riddle worked with Johnny Mathis to arrange an album in 1961 and with Judy Garland in 1962. He orchestrated Rosemary Clooney's 1960 album, Rosie Solves the Swingin' Riddle! and her 1963 album, Love. Riddle also orchestrated several minor single releases for Peggy Lee in 1957.
Nelson Riddle also arranged and composed the theme for the 1955-56 TV show, Lisbon, which featured the instrumental theme "Lisbon Antigua". The tune became a number one hit on several of the Billboard singles charts that were published at the time, prior to the Billboard Hot 100. It was number one for four weeks on the Billboard "Best Sellers in Stores" singles list and number one for a week on the "Most Played by Jockeys" list in March 1956.
When Riddle wasn't arranging or orchestrating a studio album, he was working on a TV or film project. He wrote the theme for the TV series, Route 66, which debuted in 1960. The TV show concerned two young men traveled across America in a Chevrolet Corvette sports car. The show starred Martin Milner as Tod Stiles and, for the first two and a half seasons, George Maharis as Buz Murdock. Maharis was ill for much of the third season, during which time Tod was shown traveling on his own. Tod met Lincoln Case, played by Glenn Corbett, late in the third season, and traveled with him until the end of the fourth and final season.
Riddle was commissioned to write the instrumental theme when CBS decided to have a new song, rather than pay royalties for the Bobby Troup song "Get Your Kicks On Route 66". Riddle's theme provided riffs that paid respect to homage to the Troup piano solo (as originally recorded by Nat King Cole) throughout the "Route 66 Theme". Riddle's "Route 66 Theme" instrumental was one of the first television themes to make the Top 30 on the Billboard Hot 100. The few TV show themes to accomplish this previously were the 1953 Dragnet Theme by Ray Anthony and His Orchestra and the Mr. Lucky Theme in 1960 for Henry Mancini. In 1962 "Route 66 Theme" won two Grammy nominations, one for Best Engineering Contribution and another for Best Instrumental Arrangement. In both cases Henry Mancini won the awards, the latter for "Baby Elephant Walk".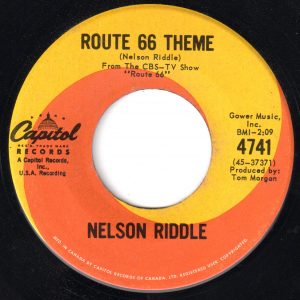 Route 66 was an American television drama that premiered on CBS on October 7, 1960, and ran until March 20, 1964, for a total of 116 episodes. The series was created by Herbert B. Leonard and Stirling Silliphant, who were also responsible for the ABC drama Naked City, from which Route 66 was indirectly spun off. Both series employed a format with elements of both traditional drama and anthology drama. Naked City was set in New York City, however, the setting for Route 66 changed from week to week and shot on location.
Route 66 was established on November 11, 1926. Traveling west from Chicago, Route 66 ended in greater Los Angeles – on the Pacific Ocean. The highway travelled southwest from Chicago through Springfield (IL), St. Louis (MO), Springfield (MO), Joplin (MO), Tulsa (OK), Oklahoma City (OK), Amarillo (TX), Gallup (NM), Flagstaff (AZ), Kingman (AZ), and San Bernardino (CA) – west to Santa Monica (CA) at the Pacific Ocean. In more recent years, those who travel on historic Route 66 are encouraged on the way to make side stops a little north to Santa Fe, a little south to Albuquerque, and a little north to Las Vegas.
Route 66 followed two young men traversing the United States in a Chevrolet Corvette convertible, and the events and consequences surrounding their journeys. Martin Milner starred as Tod Stiles, a recent college graduate with no future prospects due to circumstances beyond his control. He was originally joined on his travels by Buz Murdock, a friend and former employee of his father, with the character leaving midway through the third season after contracting echovirus. Near the end of the third season, Tod met a recently discharged Vietnam veteran named Lincoln (Linc) Case, played by Glenn Corbett, who decided to follow Tod on his travels and stayed with him until the final episode. Route 66 was inspired by On the Road, written by Jack Kerouac. In this narrative format, dubbed "semi-anthology" by the trade paper Variety, the drama usually centers on the guest stars rather than the regular cast.
Tod and Buz (and later, Linc) symbolized restless youth searching for meaning in the early 1960s. The two men take odd jobs along their journey, like toiling in a California vineyard or manning a Maine lobster boat, bringing them in contact with dysfunctional families or troubled individuals in need of help. The lead characters are not always the focus of any given episode, and their backstories are revealed only in occasional references across widely spaced episodes.
Tod Stiles, portrayed by clean-cut Milner, is the epitome of the decent, honest, all-American type. Tod came from a background of wealth and privilege; his father owned a shipping company, and Tod's early years were spent in New York and Connecticut. He attended Yale, but after the death of his father, Tod discovered that his father's business had essentially gone bankrupt. The only legacy left to Tod was a new Corvette.
Buz Murdock, meanwhile, was an orphan who had worked with Tod's father as a laborer on one of his ships in New York City. After the death of the senior Mr. Stiles, and the subsequent collapse of his business, Tod and Buz decided to drive across America in search of work, adventure, and themselves. The working-class Buz (George Maharis) is looser, hipper, and more Beat Generation in attitude than Tod, though the two characters share a mutual respect for each other. Subtle indications were given that the Buz character was intended to loosely embody Jack Kerouac in appearance and attitude. Kerouac, in fact, contemplated a lawsuit against Leonard, Silliphant, and Chevrolet for misappropriating the characters and theme from his iconic novel On the Road.
Notable guest stars on Route 66 include Lon Chaney, Boris Karloff, Peter Lorre, Barbara Eden, Joan Crawford, Edgar Buchanan, Beulah Bondi, Joey Hetherton, Buster Keaton, Soupy Sales, Jack Lord, Tina Louise, William Shatner, Dorothy Malone, Robert Duvall, Lee Marvin, Walter Matthau, Susanne Pleshette, Robert Redford, Dick York and Martin Sheen. A sequel to the series aired in 1993.
Nelson Riddle's "Route 66" peaked at #2 in Tulsa (OK), #5 in Vancouver (BC), #7 in Hartford (CT), #8 in Calgary (AB), and #9 in Chico (CA).
Aside from royalties from the "Route 66 Theme", Nelson Riddle scored episodes of Batman and other television series, and composing the scores of several motion pictures including Ocean's Eleven (1960), Lolita (1962), Robin and the Seven Hoods (1964) and Paint Your Wagon (1969).
Riddle won a Grammy Award for his score for the 1974 film Great Gatsby. In the 1980s Nelson Riddle returned to commercial and critical accolades with three albums featuring vocals by Linda Ronstadt, including Lush Life and What's New which both won Grammy Awards. Riddle also arranged one more album with Ella Fitzgerald in 1982 titled The Best Is Yet To Come. In October 1985 Nelson Riddle died of cardiac and kidney failure at the age of 64. The following year his final trio of albums with Linda Ronstadt, For Sentimental Reasons, became a multi-million seller.
December 8, 2017
Ray McGinnis
References:
Mark Alvey, Route 66, Museum of Broadcast Communications ~ museumtv.com
Neil Genzlinger, "'Route 66′ Shows 50-Year-Old Issues Relevant Today," New York Times, May 18, 2012.
About Nelson, Nelson Riddle Music.com
Nelson Riddle, Space Age Pop.com
Ron Warnick, "George Maharis Interview Reveals a Lot About Route 66 TV Drama," Route 66 News.com, October 15, 2007.
"C-FUNTASTIC FIFTY," CFUN 1410 AM, Vancouver, BC, May 26, 1962.
For more song reviews visit the Countdown.