#318: San Francisco Girls by Fever Tree
Peak Month: July 1968
8 weeks on Vancouver's CKLG chart
2 weeks Hit Bound
Peak Position #1
Peak Position on Billboard Hot 100 ~ #98
YouTube: "San Francisco Girls"
Lyrics: "San Francisco Girls"
Dennis Keller was the lead vocalist of the psychedelic-rock band Fever Tree. On bass guitar was E.E. "Bud" Wolfe, the bands percussionist was John Tuttle, on lead guitar was Michael Knust. While multi-instrumentalist Rob Landes played cello, clavinet, flute, harp, harpsichord, organ, piano and recorder. The genesis of Fever Tree was a Houston, Texas, cover band called the Bostwick Vines. Back in the fall of 1965, teenagers Keller and Knust had been working on developing a band with a new sound. Keller and Knust were both from Spring Branch, Texas, a small town half an hour north from San Antonio.
Michael Knust was born in Spring Branch in 1949. His dad was a concert pianist. And Knust started to learn how to play guitar, after a friend got him one at the end of Grade 8. Knust remembers he "didn't do anything with it." But then "the Kinks came out with You Really Got Me" in the fall of 1964. And that is what inspired Knust to pick up the guitar and learn to play it when he was 15. He was briefly in a band with just himself and a drummer who called themselves The Runaways. They played Buddy Holly and Everly Brothers covers. Knust recalls they only played about "two or three gigs" before they broke up.
By the spring of '65, Knust had become quite good as a guitar player and was teaching students to play guitar. One of these was E.E. "Bud" Wolfe. Knust recalls that Wolfe wasn't that great at the guitar, so he asked him if he'd consider trying to learn bass guitar. Wolfe asked why, and Knust suggested if they teamed up as lead guitarist and bass guitarist, they could have the nucleus for a band.
Another teacher in the same music studio where Michael Knust was offering guitar lessons, had a student named Dennis Keller. Knust remembers Keller "was totally clueless about the guitar." Knust would hear Keller's guitar teacher "playing these Beatles' songs and Dennis would sing along with them." Knust thought "My, that guy's got a pretty good voice." One time after a guitar lesson was over, Michael Knust told Dennis Keller about forming a band, with himself as lead guitar and "about Bud playing bass. I said 'Dennis, you can't play guitar worth a shit but you have a really good voice.'"
Keller's guitar teacher, Jerry Campbell, was asked to join the band as lead guitar, with Knust on rhythm guitar. Campbell knew a drummer named John Tuttle who was invited to join the band. They were a five-piece band – Dennis Keller on vocals, Jerry Campbell on lead guitar, Michael Knust on rhythm guitar, E.E. "Bud" Wolfe on bass guitar and John Tuttle on drums. They were known as the Bostwick Vines. This was because the British Invasion was full on, and the band from Houston wanted to have a British sound to their name. Knust recalls thumbing through a bunch of teen-pop magazines and he saw the word Bostwick, and liked it.
Knust recalls that Bostwick "was an ad for something in a men's magazine, I don't know if it was a perfume or a cologne or a type of cut on a coat or what. But we liked The Vines and we thought that's ok, sounds English, whatever. So we'd rehearse and we got some material together… I remember "Satisfaction" (and) "The Last Time". But then Jerry Campbell got drafted, so they were now just four musicians.
Keller recalls, "From the beginning, when we did cover songs in the Bostwick Vines, I would only do songs that I felt could be rearranged to convey or evoke a new or different emotional expression — beyond that of the original arrangement. I used to spend a lot of time listening to songs — looking for ones that were musically interesting and appealing. . . . We never did a cover tune just to do it. I felt we were charged with the task of making it sound uniquely different in a way that increased the value of an already good song. Doing a cover on a tune is much like getting to write a new chapter for a favorite book."
Knust and Keller met a songwriting duo Scott and Vivian Holtzman, who had written songs for the New Christy Minstrels between 1963 and 1966. The Holtzman's had a column in the Houston Chronicle called "Now Sounds." The Holtzman's were impressed with the Bostwick Vines and at the time the Jefferson Airplane had released an album in late August '66 titled Jefferson Airplane Takes Off. Knust recalls how excited he and his bandmates were about this new psychedelic rock sound.
The band's managers decided that Bostwick Vines was not going to work with the new emerging sound of psychedelic rock. So they came up with Fever Tree.
Michael Knust, commented on the choice of the band's new name. "There is actually a tree in Africa that is called a fever tree that, from what I understand, you can take the bark or the juice or something from it that is a healing product for some type of… disease, rash, I don't know exactly what. But that is where the name came from."
In the fall-winter of 1966-67, Knust recalls the band opened for Jefferson Airplane in Houston at the Houston Coliseum. (Though this reviewer can't find any record of Jefferson Airplane performing in Houston at this time).
Fever Tree were rehearsing at a place called Theater In The Round on South Main in Houston. This was the same place where Janis Joplin was rehearsing, and they crossed paths a number of times in the fall and winter of 1966.
Dennis Keller remembers back in 1966 Fever Tree had an uneven schedule. "There were times that we were playing every weekend on both Friday and Saturday nights. There would be other times when we would play only a few times a month. We didn't want to over-saturate the Houston market. That is why in the beginning Fever Tree played in a range of towns, which included Austin, Dallas, Fort Worth, Beaumont, Port Arthur, Corpus Christi, Lake Charles, Lafayette and New Orleans — all within a few hours' drive from our Houston home base. Doing this kept us playing almost weekly."
When Fever Tree first went to the recording studio it was to record a single titled "Hey Mister". Michael Knust remembers "The first guy that we had playing rhythm guitar and keyboards, when we went into the studio really couldn't do his part, and Rob Landes was a studio musician." So Rob Landes ended up not only performing on the single, but was asked to join the band. Born in Houston in 1945, Landes had been playing piano from the age of 3. Landes first appeared on TV at the age of four on the Art Linkletter House Party show. Both Linkletter, and Tommy Dorsey who was on the same broadcast, were very impressed. Landes learned the cello because it was an instrument his dad played. He learned to play the flute and piccolo in a marching band at Bellaire High School in Houston. Later, Rob Landes was a harp minor in college. Landes had also collaborated with Dr. Sidney Berger for eight years in writing musicals for the Children's Theatre Festival at the University of Houston.
In March 1967 Fever Tree released their first single titled "Hey Mister", which climbed to #5 in Houston. The song appeared on the band's fourth studio album, For Sale, released in 1970.
In the summer of '67, the band's second single, "Girl Don't Push Me", climbed to #3 in Houston, #9 in Dallas, and got some airplay in New York and North Carolina. It was with the recording of this single in the spring of '67 that Rob Landes was officially part of Fever Tree.
When they recorded their third single, "San Francisco Girls", it was inspired by the 'Summer of Love,' which was the hip nickname for the musical and counter-cultural explosion from June '67 with the Monterey Pop Festival into September '67.
Michael Knust recalls the studio recording of "San Francisco Girls". "While we were recording, I was getting this killerfeedback and I was just getting a kick out of it, right? And at the end of the song, the note just held and I had that Sheraton, and it was an A note that I'd get go down to a G and was pushin' it up to the A and it kept feedin' back and feedin' back, and the second take of "San Francisco Girls"?started rolling, which is the slow part again. It sounded so cool that I did it through the slow part, and everyone in the control room is like "Yeah, THIS is pretty cool", and so they stopped recording and said "Can you do that again?" (laughs) You know and I said "I don't know, I can try". So the second time I did it, I did a harmony with the feedback over the feedback I'd already done.And it just worked out."
When Fever Tree arrived in Los Angeles, lead singer Dennis Keller remembers they were greeted by "60 billboards placed around the Hollywood/Los Angeles area that said things like, `fever tree is coming' or `fever tree is here' — or had pictures of our first album cover on them, The people in the area said that they did not know if Fever Tree was a new movie being released or what."
On Friday, March 22, 1968, Fever Tree was the opening act at the newly opened Kaleidoscope Club in Hollywood. The headliners for the audience of 1,500 were Jefferson Airplane and Canned Heat. Multi-instrumentalist for Fever Tree, Rob Landes, recalls "I will never forget the sight of the audience as the curtain opened at Kaleidoscope. It was late when we went on, and the audience had been there for some time. When the curtain opened, there was literally a haze of smoke between us and the audience. And of course, it wasn't smoke from a fire. The audience was large and high." Before Fever Tree performed Mama Cass of the Mamas and the Papas rode out onto the stage on an elephant. In the audience were bandmates from The Doors, Buffalo Springfield, Chicago Transit Authority, and The Turtles. Fever Tree appeared again with the headliners on March 23rd.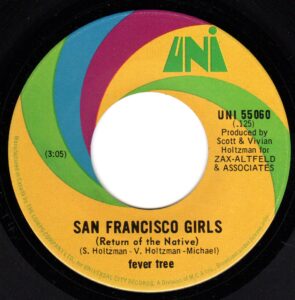 "San Francisco Girls (Return of the Native)" was cowritten by Scott and Vivian Holtzman. The vocals by Dennis Keller, guitar by Michael Knust, various instruments by Rob Landes, plus the drumming from John Tuttle and bass guitar from E.E. Wolfe all came together. Though the album featured two verses, the single only featured one verse. "San Francisco Girls" opens with an idyllic image of summertime in San Francisco offering up its "milk and honey days," and girls from San Francisco with their "San Francisco ways." The gentle instrumentation supports the blissful mood evoked in the lyrics.
But, when it comes to the verses, Fever Tree introduces some interpersonal conflict. The narrator of the song sings on the first verse on Fever Tree "Don't try to stop me girl, you can't have your way. Don't try to stop me girl, nothin' you can say…" And in the second verse – which is the only verse heard on the single release – the narrator sings "So you love me girl, you're just in my way. Don't try to stop me girl, I'm movin' out today
Do what you wanna do and play what you wanna play. I just gotta go and get back to the Bay."
Perhaps we are meant to just get caught up in the psychedelic vibe of the instrumental bridge and instrumental conclusion to the song. But, who is the "girl" in the verses of "San Francisco Girls" who is stopping the narrator from getting back to "the [San Francisco] Bay?" It's puzzling to think that some of the 'San Francisco girls' that the narrator is getting cozy with to be living with [given he declares "I'm movin' out today"] are impeding this guy from getting back to "the Bay." After all, presumably he is with these San Francisco girls in San Francisco. So, isn't he already in close proximity to "the Bay?"
On the cover of the Fever Tree album Michael Knust recalled later, "That is us, in Bay City which is somewhere between Houston and Galveston, and we made a raft, we actually made a raft… you see there? This rope? There was this knocked-out chick, just knocked out, pullin' the rope. We had an old tree, and what it was is we put moss up in it and what not, and found a birdcage and weird chair and a trunk and just some old junk stuff… they colored this in, obviously… (there were) 20 billboards they had in Los Angeles, all along Sunset blvd., it had the picture with the girl pulling us, and under it said "Fever Tree is Coming" like this chick is draggin' us!" Other tracks from the Fever Tree album include "Nowadays, Clancy Can't Even Sing", written by Neil Young.
"San Francisco Girls" climbed to #1 in Vancouver (BC) and Sarasota (FL), #2 in Troy (NY) and Milwaukee (WI), #3 in Seattle, #5 in Denver and Buffalo, #6 in Canton (OH), #7 in San Luis Obispo (CA), #8 in Windsor (ON), #9 in Jackson (MI) and Tucson (AZ), #10 in Houston, and #16 in San Francisco. DJ's in about thirty states across the USA gave the song a pass, and "San Francisco Girls" stalled at #91 on the Billboard Hot 100.
A followup single titled "What Time Did You Say It Is In Salt Lake City" got very limited airplay in a few radio markets in Ohio, Michigan, California and Florida. The single was a track from Fever Tree's second studio album Another Time, Another Place, released in 1968. It was listed at position #105 on the Cashbox Top 100 Singles chart. Meanwhile, the toured variously with the Association and the Jefferson Airplane. Fever Tree also shared the stage with groups like Steppenwolf, Blue Cheer, Little Richard, Pacific Gas & Electric, Jeff Beck and Love.
In 1969 Fever Tree released a third studio album titled Creation. The band headlined a few concerts, including one that was opened by Bubble Puppy. A fourth studio album released in 1970 titled For Sale, was Fever Tree's last effort before they disbanded. Later that year John Tuttle had a brief solo career, writing and arranging music, and billing himself as Hope. By 1971 John Tuttle and bassist E.E. Wolfe gave up music for good.
Michael Knust remembers after Fever Tree split that he attended the first concert Derek & The Dominoes performed at the Berkeley Community Center in Berkeley, California. Duane Allman was asked to come up on stage and perform with them. After the concert Knust recounts how he was invited to a party with the band, and Allman was there and so was Eric Clapton. These were some of the highlights of being connected with the music scene.
In 1973-74 Michael Knust was in a band called Snookie Flowers and The Head Hunters. One of the musicians had been in Janis Joplin's band.
In 1978 Fever Tree reformed with only guitarist Michael Knust remaining from the original line-up, after he fired Dennis Keller. The new incarnation of the band was short-lived and it folded within a year. But they did a concert opening for Billy Joel at the Houston Music Hall.
While he kept his hand in the music scene, Michael Knust had a trio called the Michael Knust Band. In 1991 Knust resurrected Fever Tree, with some new musicians. They played at the Freedom Festival in Houston on July 4th, 1991, along with Jefferson Starship and Bachman-Turner Overdrive.
He told Texas Psych magazine in a 2002 interview, "I've been fortunate enough to play with Freddy King, Albert King, I backed up Lightnin? Hopkins when I lived in Houston for almost a year, with my band, Roy Buchanan who God bless him has also passed away, he would always insist on using my trio as his backup band whenever he came to Houston, Dallas, Austin…" Knust also played in a band called the Nightsnakes in the 90s. But that got derailed when Knust had two major car accidents late in the decade.
Rob Landes took up jazz music in 1970 and began performing at supper clubs. In 1982 he formed the Rob Landes Trio. A studio album in 2004 was titled Music From The Movies. Tracks from the album varied from "Lullaby Of Broadway", "When You Wish Upon A Star," "The Trolley Song" up to "The Days Of Wine And Roses". And in 2005 the Rob Landes Trio released an album titled Music from WWII. It consisted of a variety of medleys showcasing the music of the Tommy Dorsey, Benny Goodman, Glenn Miller, and the Andrews Sisters. From 1996 to at least 2008, Landes was the Organist/Artist-in-Residence at St. Luke's United Methodist Church in Houston. Prior to his appointment at St. Luke's, he was the music director at St. Philip Presbyterian Church for seven years.
Landes has been musical director for many theatrical productions in Houston and was involved with Stepping Out, and Forever Plaid at the Alley Theatre. He has been a faculty member of the Theatre Under The Stars' School of Musical Theatre. He has created musical arrangements for Liza Minnelli and Marilyn Maye, and traveled for a number of years with Maye as her pianist/conductor. As well, Rob Landes had conducted the Count Basie Orchestra and the Buddy Rich Band in concert with Marilyn Maye in one of Rich's last concerts. And he is the pianist on two of Maye's albums.
Rob Landes revealed in an interview "I had been to San Francisco many times as a youngster. We had relatives in Berkeley and made the trip across the Golden Gate Bridge many times in to San Francisco. It was always exciting to go there and romp up and down the hills and of course, to ride the cable cars. I think I was probably the only one in Fever Tree who had ever been there when we recorded 'San Francisco Girls.' I found it interesting that we never played there when we toured."
Michael Knust died in 2003. An obituary in the Houston Chronicle noted that after Fever Tree split, Knust "continued on with his musical career after the group broke up and played with many excellent musicians throughout his life."
In the 2000s until 2011, Dennis Keller had a band called Fever Tree Rising. It includes Mark Andes, formerly of Spirit ("I Got A Line On You") and Firefall ("You Are The Woman"). A reviewer from the Houston Chronicle, described a concert Fever Tree Rising gave in the city in 2008 enthusiastically. "From the time that Dennis Keller opened his mouth to sing the first words, I was transported 40 years in time to a point in my life that seems idyllic, idealistic, naive and musically rich beyond comparison. The quality of Dennis' voice, range and phrasing is unchanged by time; maybe the nearest thing to Jim Morrison we will ever hear today. . . ."
As well, some lost tapes were found and an album was released on CD titled Fever Tree Live 1969.
References:
"Michael Stephen Knust Obituary," Houston Chronicle, September 18, 2003.
Charles Ward, "Musician Turns on Sensations," Houston Chronicle, January 28, 2008.
Rick Campbell, "Fever Tree was Burning (Part 2)," Houston Chronicle, May 8, 2008.
Rick Campbell, "From the Ashes, it's Fever Tree Rising (Part 4)," Houston Chronicle, May 15, 2008.
"Fever Tree – Michael Knust Interview," Texas Psych October 22, 2002, (reposted on Blogarama.com, in 2015).
Chris Gray, "Psych Legends Fever Tree's Final Show Mysteriously Materializes," Houston Press, July 20, 2011.
Gary Hailey, "Rob Landes of Fever Tree," Songfacts.com.
"Rob Landes Bio," Alliancemusic.com.
"Boss 30," CKLG 730 AM, Vancouver, BC, July 20, 1968.
For more song reviews visit the Countdown.