#895: A Satisfied Mind by Bobby Hebb
Peak Month: October 1966
8 weeks on Vancouver's CKLG chart
Peak Position #4
Peak Position on Billboard Hot 100 ~ #39
YouTube.com: "A Satisfied Mind"
Lyrics: "A Satisfied Mind"
Robert Von Hebb was born in Nashville, Tennessee in 1938. His parents, William and Olivia Hebb, were both blind musicians. When "Bobby" was just three years old he performed on stage in The Jerry Jackson Revue of 1942, which took place in 1941. Hebb's older brother Harold "Hal" introduced him to the audience at the Bijou Theatre. Over the next three years before he entered elementary school, and through his school years, Bobby Hebb and his brother "Hal" appeared at various Nashville nightclubs. These included The Hollywood Palm, Eva Thompson Jones Dance Studio and The Paradise Club. Their appearances were backed by William Hebb on trombone and guitar, and Olivia Hebb on both piano and guitar. The brothers sang "Lady B. Good", "Let's Do the Boogie Woogie" and other songs spanning the R&B and jazz genre in the 40s.
In the early 50s Bobby Hebb appeared on the roster of special guests on Owen Bradley's TV. This led to Bobby Hebb playing the spoons in country music star Roy Acuff's band. In 1955 Bobby Hebb sang backup on Bo Diddley's "Diddley Daddy", a Top 20 R&B single that was the follow up to Bo Diddley's debut #1 smash R&B hit "Bo Diddley". Hebb was drafted into the U.S. Army and played trumpet in the United States Navy jazz band. A while after he returned to civilian life, Hebb took over from Mickey Baker in Mickey And Sylvia at the end of the 50s when Baker moved to France.
In 1963, the day after President John F. Kennedy was assassinated, Bobby's brother, Harold, was killed outside a Nashville nightclub. Harold Hebb had gotten into a knife fight. Bobby Hebb, overcome by the two events, turned to songwriting as a path forward. "Sunny" was the result. The song became a smash hit in 1966. "Sunny" climbed to #2 hit on the Billboard Hot 100 and #5 in Vancouver. The song also climbed to #3 on the R&B charts and into the Top 40 on the US Country charts. "Sunny" has been recorded by many pop music artists including Cher, Manfred Mann, Del Shannon, Shirley Bassey, Wilson Pickett, Booker T. & The MG's, Dusty Springfield, The Ventures, Paul Mauriat, Andy Williams, Johnny Rivers, Frank Sinatra, Jose Feliciano, Michel Pagliaro, George Benson, Ella Fitzgerald, Anita O'Day, Stan Kenton, Percy Faith and Oscar Peterson. Hebb later recorded a disco version of the song in 1976 that was a minor hit that year.
After the success of "Sunny" Bobby Hebb had several single releases that did very well in Vancouver, both making the Top Ten. The first was "A Satisfied Mind" in the fall of 1966.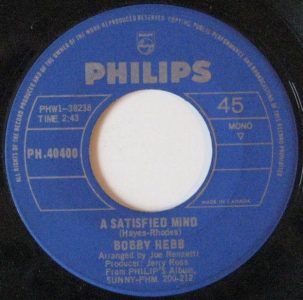 "A Satisfied Mind" was a #1 hit on the Billboard Country charts in 1955 for Porter Wagoner. Several other versions climbed into the Top Ten that year on the Country charts, including one by Red & Betty Foley. As a crossover hit, Ella Fitzgerald had the most success with her version on the pop charts when "A Satisfied Mind" reached #25 on the Billboard pop charts. The only other Top 40 charting version of "A Satisfied Mind" was by Bobby Hebb. It was written in by Joe "Red" Hayes and Andrew Jackson "Jack" Rhodes. Hayes was born outside Tyler, Texas, in 1926, and was known mostly as a fiddler. Rhodes was born in Van Zandt County in east Texas in 1908. At the time the county and a population of 25,000 in an area of some 860 square miles. Rhodes is said to have quit school in grade three to help his family. In 1944, while he was in the U.S. Army in World War II he had an accident working at the Houston Shipyards. After his accident he focused his attention on music and songwriting. Rhodes wrote over one hundred songs including "Silver Threads And Golden Needles." Among the county stars who recorded songs penned by Rhodes are Ferlin Husky, Sonny James and Wanda Jackson. Rhodes also mentored Gene Vincent who became a rockabilly star.
The first recording of "A Satisfied Mind" was in 1954 by Joe "Red' Hayes. His recording was a minor hit in a few country radio markets that year. His record label, Starday, had poor distribution and marketing and the song fell off the radar. Hayes version is more bluegrass influenced as country tune. The cover by Porter Wagoner was given a gospel sound, typical of many covers of the tune since then.
To add to his troubles of poor distribution and marketing, there was a story going round about how Hayes was inspired to wrote the song. In the liner notes to the 2009 CD release of Dim Lights, Thick Smoke & Hillbilly Music: Country & Western Hit Parade 1955, Colin Escott relates how Hayes was said to have met aliens from outer space. "A quasi-magnetic force pulled his arm up against the extra-terrestrial object, inflicting a burn, and, after the burn healed, Red realized that the aliens had given him a song by way of compensation." In America in the 1950's there were many B-movies about UFOs, but the hype likely didn't help persuade country music deejays to spin the record. In 1973 Hayes set the record straight in an interview: "The song came from my mother. Everything in the song are things I heard her say over the years. I put a lot of thought into the song before I came up with the title. One day my father-in-law asked me who I thought the richest man in the world was, and I mentioned some names. He said, 'You're wrong, it is the man with a satisfied mind.'" Hayes went on to be honored in the West Texas Music Hall of Fame.
The advice in "A Satisfied Mind" is that money and riches don't make you satisfied. There are other things in life that money can't buy: true friendship when you're lonely or repairing a relationship that has lost its warmth and become frosty. In fact, the song argues if adversity comes knocking and you fall on hard times you can find out who your real friends are. Sometimes people hang around wealthy people like courtiers hoping to get some favors. A rich person can wonder if the people around them like them for who they are or just want to be friends because they have money and can throw parties and buy them expensive gifts. The song contends "the wealthiest person is a poor man at times compared to the man with a satisfied mind."
In a 2016 article in the Harvard Business Review titled, Why Rich People Aren't as Happy as They Could Be, Raj Raghunathan writes about some factors that inhibit satisfaction among the wealthy. Although wealthy people can, with the money on hand, have access to more products, experiences, and services, this may not make them happy or satisfied. Their inner life may be one of constant striving to get to the head of the pack, looking out for number one and being ungrateful for what others do or what they have. A study in at the University of Berkeley, California, explored human behavior and money. Based on a series of experiments the researchers concluded that acquiring more money generally makes people less generous. The study found the "wealthier a participant grew, the meaner he/she progressively became. For example, the wealthier participants started assuming more dominant postures and began talking down to their "poorer" counterparts." Other studies have shown that the wealthier a person is the less they give to charity as a percentage of their income.
In separate studies at UCLA, researchers suggest from their studies that wealth seems to make people "less generous because it makes us more isolated – and isolation also has a deleterious effect on happiness. Wealth is isolating for both psychological and physical reasons. Psychologically, the acquisition of wealth—and more generally, possessions that signal high status—makes us want to distance ourselves from others. This may be due to a feeling of competition and selfishness that sets in with the acquisition of wealth or status. It may also be because, quite simply, we don't need other people to survive the way we did when we were poorer." As a consequence, independence is placed at a much higher value than being socially connected. This doesn't mean that rich people don't have friends. However, the "need" and reliance on others becomes quite different for a working class person who lives from paycheck to paycheck compared to a person who has little need to depend on others. Becoming rich isn't a barrier to being satisfied or happy. But these studies reported in the Harvard Business Review suggest that as we climb the ladder to success, we are best to keep our social network intact, remember where we came from and continue to cultivate generosity and gratitude.
"A Satisfied Mind" had been recorded by many recording artists including Loretta Lynn, Lucinda Williams, Roseanne Cash, Johnny Cash, Faron Young, Bruce Channel, Bob Dylan, Glen Campbell, Ian & Sylvia, Gram Parsons' International Submarine Band, Lindsey Buckingham, Ozark Mountain Daredevils, Duane Eddy, Joan Baez and Mahalia Jackson.
After "A Satisfied Mind," Bobby Hebbs' next release was "Love Me". The song barely made the Top 40 in the USA, but climbed to #8 in Vancouver in January 1967, for his third Top Ten hit here on the west coast of Canada.
Hebb released an album in 1970 called Love Games. After that he stopped releasing his own recordings. But Hebb kept on writing, including a Top 20 hit for Lou Rawls in 1971 called "A Natural man." In 2005 Bobby Hebb returned to the recording studio and released an album called That's All I Wanna Know. Hebb had final tour in October 2008 that included concerts in Osaka and Tokyo in Japan. Bobby Hebb died in 2010 of lung cancer.
For more song reviews visit the Countdown.
February 5, 2018
Ray McGinnis
References:
Colin Escott (Liner notes), Dim Lights, Thick Smoke & Hillbilly Music: Country & Western Hit Parade 1955, Bear Family Records, Holste-Oldendorf, Germany, 2009.
Bobby Hebb Biography, Bobby Hebb.com
Raj Raghunathan, "Why Rich People Aren't as Happy as They Could Be," Harvard Business Review, June 8, 2016.
"Red Hayes on Starday 164," Wired For Sound, 2010.
"Joe, "Red" Hayes, Honor Roll of Songwriters," West Texas Music Hall of Fame, Fort Worth, TX.
Jack Rhodes Induction Year 1972, Nashville Songwriters Hall of Fame.com.
"Boss 40," CKLG 730 AM, Vancouver, BC, October 29, 1966.
For more song reviews visit the Countdown.