#379: Sausalito Summernight by Diesel
Peak Month: October 1981
11 weeks on Vancouver's CFUN chart
Peak Position #4
Peak Position on Billboard Hot 100 ~ #25
YouTube: "Sausalito Summernight"
Lyrics: "Sausalito Summernight"
Wilhelmus Frederikus "Pim" Koopman was born in the North Holland town of Hilversum in 1953. In 1972 he co-founded a progressive rock band called Kayak. They had a number of Top 30 hits in the Netherlands, with "Ruthless Queen" peaking in the nation at #6 in 1979. Koopman left Kayak in 1976 due to health problems and interpersonal conflicts with the band's manager. Next, Koopman began to focus on being a producer of other recording acts records. These included the Dutch singing duo Maywood (comprised of sisters Aaltje ("Alie") and Doetje ("Edith") de Vries; pop singer José Hoebee; multi-instrumentalist Valensia; and Dutch classical-pop crossover singer Petra Berger. In 1978 Pim Koopman founded Nederpop band Diesel.

Pim Koopman was backing vocalist, drummer and keyboardist; Rob Vunderink was on guitar and lead vocals; the guitar player was Mark Boon; And Frank Papendrecht was on bass guitar. In 1980 they released their debut album Watts in a Tank. From the album came their lead single "Alibi", and then "Goin' Back To China", which stalled at #105 just below the Billboard Hot 100. However, it climbed to #4 in Japan.
A third single titled "Down In The Silvermine" peaked at #16 on the Netherlands pop chart. The fourth album track released as a single was "Sausalito Summernight". The single climbed to #33 on the Netherlands pop chart. After "Sausalito Summernight" had its chart run in the Netherlands, Mark Boon and Frank Papendrecht quit to join the Nederpop band Tutti Frutti. Wijnand Ott was a new replacement on bass guitar. However, the single got a second life when it was released in Canada.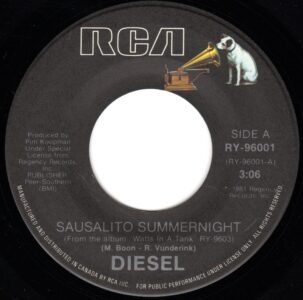 "Sausalito Summernight" was co-written by Diesel bandmates Vunderink and Boon. The song was written about Mark Boon's travels in California. Boon liked to fly between major cities, but the company he was with preferred to drive. They headed north from Los Angeles in a Rambler owned by a friend of Mark Boon. On the way the Rambler "blew a gasket on the Grapevine," about 80 miles north of Los Angeles. Grapevine is an unincorporated community in Kern County, California, at the southern end of the San Joaquin Valley. The small village is directly adjacent to Interstate 5 and consists mainly of travelers' and roadside services. At an elevation of 1,499 feet, Grapevine is located at the foot of a grade known as The Grapevine that starts at the mouth of Grapevine Canyon, immediately south of the community, and ascends the canyon to the Tejon Pass, which separates the Tehachapi Mountains from the San Emigdio Mountains via Interstate 5. The Rambler Boon and his friend were in were heading north up the Grapevine to the peak at Tejon Pass, at 4,144 feet.
The Grapevine is the same location that inspired the song "Hot Rod Lincoln" about a teenager who races his souped-up Lincoln against a Cadillac "up the Grapevine hill." ("Hot Rod Lincoln" was a number-one hit for Johnny Bond in Vancouver (BC) in late August 1960).
To the south of Tejon Pass is Castiac. Heading north of Los Angeles toward the Tejon Pass, motorists begin to climb the Grapevine at 1,12 feet. Heading north up the Grapevine there is a 6% grade that has a vertical ascent of 1,603 feet for over a total of 7.5 miles. The highway continues up to the summit at 4,144 feet – though not at a 6% grade. But once on the top of Tejon Pass, there is a vertical descent of 2613 feet, on a 6% grade for over 11.6 miles.
At the top of the Grapevine there is an historical marker that reads: "In 1772, Don Pedro Fages passed this site, traveling from San Diego to San Luis Obispo via Cajón Pass, Mojave Desert, Hughes Lake, Antelope Valley, Tejón Pass, Cañada de los Uvas (Grapevine Canyon), and Buena Vista Lake. He left the first written record of exploration in the south San Joaquin Valley."
The repairs for the blown gasket cost $80, which in 2020 dollars is $253. Mark Boon's point in the lyrics of "Sausalito Summernight" is that he and his friend could have spent less money on cheap last-minute flights from Los Angeles to San Francisco.
After the Rambler is repaired, all the way from the Grapevine, the car engine was overheating and had very poor gas mileage. Boon and his friend needed 200 gallons of fuel to get from Los Angeles to Sausalito. They found out there was "a wormhole in the [gas] tank." The heat of the day also held concern that there would be a blowout from one of the tires. And they don't have a spare tire. They stop in San Francisco on the way to Sausalito for a burger and root beer.
"Sausalito Summernight" peaked at #1 in Winnipeg (MB) and Toronto, #2 in Edmonton (AB), #3 in Regina (SK) and St. Cloud (MN), #4 in Vancouver (BC), Halifax (NS) and Ottawa (ON), #5 in Hamilton (ON), #6 in Kansas City (MO) and Dallas, #9 in Montreal, and #10 in San Bernardino (CA).
Once "Sausalito Summernight" began climbing up the national charts in Canada, and then the United States, Diesel was compelled to tour in North America. Pim Koopman, who had been suffering asthma attacks, was elbowed out of the band. Boon and Vunderink were the only original Diesel bandmates, and joined by a young drummer Kim Weemhoff from Ducks Nightmare. As well as Ott on bass guitar, Diesel now had a fifth band member for the tour named Bas Krumperman. He had been with a funk-rock band named Bruno Basta.
In 1982 Diesel released a second studio album titled Unleaded. The lead single, "Leader Of The Pac-Man" was not a hit, even as it attempted to reference the Shangri-Las 1964 number-one hit "Leader Of The Pack".
There were a number of lineup changes in the next few years. In early 1983, Rob Vunderink quit the band to work as a journalist in Moscow. And Bas Krumperman left Diesel to join Pim Koopman's new band The President. Subsequently, Diesel met with little success. Ott was ousted in 1984 before Diesel disbanded in 1985. Wijnand Ott went to work in Dutch television. Mark Boon joined the Margriet Eshuijs Band.
However, in 1988 they managed a Top 50 hit single on the Netherlands pop charts with a track from Unleaded titled "Samantha". Diesel reformed briefly to include Koopman and Vunderink – who had recently been expelled from the Soviet Union. Diesel reformed in 2000 with members Koopman, Vunderink, Versluijs, Thomas Kroon (drums) and Otto Lenselink (guitar) They recorded a new album, Diesel On The Rocks; this album, released in 2001, consisted of covers and previously recorded material, along with three new tracks.
In 2005, the original lineup of Vunderink, Koopman, Boon and Papendrecht played a charity concert for the Asian tsunami victims.
In 2007 Diesel indicated they'd be reforming. However, Frank Papendrecht was not available as he was busy with a band called Kadanz. Talk continued about a possible reformation of Diesel. But in November 2009 fate stepped in. Two members of Diesel's original lineup died from heart attacks only days apart. Frank Papendrecht died of a heart attack on November 18, 2009, at age 56. While Pim Koopman died of a heart attack a week later on November 23rd, also at age 56.
Still, in 2016 Rob Vunderink and Mark Boon reformed Diesel with three new musicians: René Meister,
Orlando Milan and Ron van Elswijk.
December 4, 2020
Ray McGinnis
References:
"Diesel," Allexgitlin.com.
"Tejon Pass, aka The Grapevine," crash forensics.com.
For more song reviews visit the Countdown.