#1294: Say You Love Me by Shirley Eikhard
Peak Month: July 1976
7 weeks on Vancouver's CKLG chart
Peak Position #13
Peak Position on Billboard Hot 100 ~ did not chart
YouTube.com: "Say You Love Me"
Lyrics: "Say You Love Me"
Shirley Rose Eikhard was born in Sackville, New Brunswick, in November 1955. In 1969, at the age of 13 she won an audition for the Mariposa Folk Festival's New Songwriters Workshop on Centre Island in Toronto. At the age of 15 she wrote "It Takes Time", which became a Top Ten hit for Anne Murray in Canada in 1971. In 1973, and again in 1974, she won the Juno Award for Best Country Female Artist. She won BMI songwriting awards for "It Takes Time" in 1971, for "Something In Your Face" in 1972, and "Right On Believing" in 1973. The latter was a single release only. "Something In Your Face" and "It Takes Time" were both from Eikhard's debut self-titled album.
Shirley Eikhard learned to play guitar, piano, bass, drums, percussion, chromatic harmonica and sax. More recently, she has also performed on the dobro, banjo and mandolin. In 1972, her single "Smiling Wine" from her debut album became a number one hit on both the Canadian Country chart and the Canadian Adult Contemporary chart.
In 1975 nineteen year-old Shirley Eikhard released her second studio album, Child Of The Present. The album was folk-oriented, and a change from her debut album's funk, soul, folk and country fusion. In quick succession she released another studio album while she was still nineteen titled Let Me Down Easy. This album was a mixture of jazz, blues and pop music. Of the ten tracks on the album, Shirley Eikhard wrote seven. One of the tracks Eikhard didn't write was composed by Christine McVie from Fleetwood Mac titled "Say You Love Me". McVie's composition originally appeared on the chart-topping self-titled 1975 Fleetwood Mac studio album. In 1976 Fleetwood Mac's original version of "Say You Love Me" climbed to #11 on the Billboard Hot 100 spending 19 weeks on the Hot 100. However, Fleetwood Mac's single didn't appear on the Billboard chart until July 4, 1976. It was the third single release from Fleetwood Mac, after "Over My Head" and "Rhiannon".
Shirley Eikhard made a commendable cover of "Say You Love Me" on Let Me Down Easy. Her 1975 recording of the song was released as a single in the spring of 1976. It first appeared on the CKLG pop chart in Vancouver (BC) on May 25, 1976.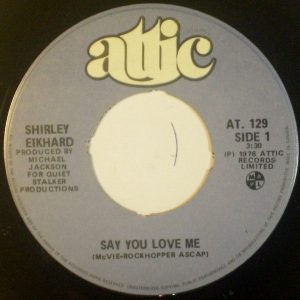 "Say You Love Me" is a song about a see-saw relationship. There is a strong mutual sexual attraction and the couple get into a routine of making love. But one person in the relationship feels like they're being used. It's plausible the other partner is more interested in just having sex, but will tell their partner that they love them just to keep the fireworks going. The person who feels like they're being used also thought the relationship was over at one point. And they say "if you use me again it'll be the end of me." At the same time, the sexual attraction is a catalyst for falling in love, and perhaps a source of confusion and fear or loss of control. Consequently, the person who feels they are being used tells their lover "have mercy baby," and later "have pity." We can hope that since the song ends with "falling', fallin', fallin'," it may be a sign of a happy ending for this romance.
Christine Anne Perfect was born in 1943 in the Lake District village of Bouth, UK. Her father was a concert violinist and lectured in music. Christine began studying piano at the age of four, and more seriously from the age of 11. When she turned 15 she became interested in rock 'n roll. After getting a degree in art, in 1967 she ended up in the blues band Chicken Shack. Christine Perfect married John McVie of Fleetwood Mac in 1968. That year she was a session musician on Fleetwood Mac's studio album Mr. Wonderful. In 1969 Chicken Shack had a hit with the Etta James tune"I'd Rather Go Blind", which featured McVie on lead vocals. The song climbed to #14 on the UK pop chart. McVie received a Melody Maker award for female vocalist in both 1969 and 1970. McVie left Chicken Shack later in 1969. In 1970 she released a solo album titled Christine Perfect. That same year she joined Fleetwood Mac.
Fleetwood Mac moved from the UK to the United States in 1974, and by 1975 Stevie Nicks and Lindsay Buckingham were added to the band. Christine McVie contributed both "Say You Love Me" and "Over My Head" to the Fleetwood Mac album in 1975. Her subsequent contributions to Fleetwood Mac's discography include "You Make Lovin' Fun", "Don't Stop", "Think About Me", "Hold Me", "Little Lies" and "Everywhere". She also released a solo album in 1984 that included her Top Ten single "Got A Hold On Me". She went into semi-retirement in 1998. She appeared for the first time on stage in 2013 at a concert in Maui, and later performed with Fleetwood Mac at a concert in London. She rejoined Fleetwood Mac in 2014.
Shirley Eikhard's version of "Say You Love Me" spent twelve weeks on the CHUM chart in Toronto, peaking at #19. Her single made the Top 30 in Ottawa and peaked at #2 in October 1976 on CKCY in Sault Set. Marie, Ontario. Meanwhile, "Say You Love Me" by Fleetwood Mac appeared on the pop charts and charted in Hamilton and Windsor, Ontario. Fleetwood Mac's "Say You Love Me" didn't appear on the pop charts in Vancouver (BC).
Shirley Eikard has gone on to have many other recording artists besides Anne Murray record her material. These include Cher, Rita Coolidge, Ginette Reno, Alannah Myles, Chet Atkins, Bonnie Raitt, Sylvia Tyson and Emmylou Harris. Eikard has also recorded 17 albums. In 1992 she won the Dora Mavor Moore Award for Sound Design for George F. Walker's play Escape From Happiness. That year she also was nominated for a Juno Award for Songwriter of the Year for "Something To Talk About", recorded by Bonnie Rait.
In 1999 Shirley Eikhard won the East Coast Music Award for Best Jazz Performance. Her most recent studio album, Dream of a Perfect Day, was released in 2012. Over the years she has been compared by music critics to Sarah Vaughan and Cleo Laine.
October 6, 2019
Ray McGinnis
References:
"Shirley Eikhard bio," Shirley Eikhard.ca.
Robert Spencer, "Shirley Eikhard: Going Home," All About Jazz.com, March 1, 1999.
"Christine McVie to Rejoin Fleetwood Mac on Stage," BBC, September 13, 2013.
August Brown, "Christine McVie rejoins Fleetwood Mac," Chicago Tribune, January 13, 2014.
Chris Harvey, "Fleetwood Mac: 'We'll Burn in Hell if we Don't Play Glastonbury One Day'," The Independent, UK, April 27, 2019.
"Vancouver's Official Music Survey," CKLG 730 AM, Vancouver, BC, July 6, 1976.
For more song reviews visit the Countdown.