#396: Searching For My Love by Bobby Moore's Rhythm Aces
Peak Month: August 1966
8 weeks on CKLG's Vancouver Chart
Peak Position ~ #1
Peak Position on Billboard Hot 100 ~ #27
YouTube: "Searching For My Love"
Lyrics: "Searching For My Love"
Robert "Bobby" Moore was born in 1930 in New Orleans. When he was a teenager he joined the United States Army and was stationed at Fort Benning, near Columbus, Georgia. While in basic training, Moore learned to play the tenor saxophone. In 1952 he formed a band on the base called the Rhythm Aces made up of members of the marching band. He finished his service to the Army in 1961 and moved to Montgomery, Alabama. It was there he re-formed the Rhythm Aces with his brother Larry Moore on alto sax, Chico Jenkins on vocals and guitar, Marion Sledge on guitar, Joe Frank on bass, Clifford Laws on organ, and John Baldwin Junior on drums.
The Rhythm Aces began to perform around Alabama and further afield as they variously backed Etta James, Kim Weston, Wilson Pickett, Sam Cooke, Ray Charles and Otis Redding on the chittlin' circuit. Gaining a reputation as an excellent band, at the end of 1965 they drove from Montgomery to the Muscle Shoals studio in Florence, Alabama.
At Muscle Shoals they recorded their debut album Searching For My Love. It featured the title track with Moore's infectious saxophone and Chico Jenkins persuasive vocals. Wayback Machine writer Michael Jack Kirby notes "When "Searching For My Love" came out, many who hadn't seen them in person assumed Moore was the singer on the record, since the label didn't show any differently, but it was Chico who gave the group its distinctive sound."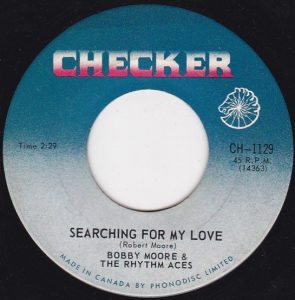 "Searching For My Love" was written by band leader, Robert Moore. The song is about a guy who has literally lost his "baby." Since she's been gone, he's been searching all over for her. He wants her by his side and to know that he'd never hide away from her. He doesn't know why she left him "this way." But he's "sorry I made you cry." He pleads "forgive me love, for the things I done to you. Come on home…give me one more try."
The lyrics don't tell us what she was crying for. They don't tell us exactly what "things" he did that he's sorry for. The genius of song lyrics is that they often leave it up to the listener to fill in the blanks. But what we do know is that 'the one that he adores' can't easily be found. As listeners to the song, we presume that he's trying his best to search for her. It's not as though he never thought to show up at her home or place of work, or didn't think to call her best friend or parents to get a tip on her whereabouts.
Is she still residing in her place of residence, but decides not to answer the door when he is searching for her? Has she told her friends and family not to give the boyfriend any clue as to her location? What makes a woman choose to relocate and leave no trace so her boyfriend (or husband) can't find her?
In the song Chico Jenkins sings "come on home, give me one more try." So, it would seem that the couple lives together. So is the woman in this man's life someone who is prone to flight from the relationship at the least provocation? Is she overly sensitive? Someone who gives up on a relationship easily? Or is he doing things that are abusive and threatening? Chico sings that once he finds her "I'll never, never let her go." This could be a good thing: meaning that he cherishes her, and recognizes how amazing she is. But if he is habitually intimidating and possessive, he may be the kind of guy who doesn't want her to have much of a social life out of his sight.
In 1966 there was not much discussion in the media, or among politicians, about domestic abuse, For those listening to this song on the radio, if they thought about the reason why she might leave the guy, it would be for a reason that could easily be worked out between the couple, if only she'd come back to him. When I was listening to the song as an older child, I remember the pleading emotion in Chico Jenkins vocals. Certainly, the emotional tone in the song could make a listener think the guy in the song really does love her and miss her.
"Searching For My Love" peaked at #1 in Vancouver (BC), Charleston (WV), Los Angeles, San Diego, San Jose (CA), Burbank (CA), Boston and Lowell (MA), #2 in Birmingham (AL), Tucson (AZ), Hartford (CT), Columbus (OH), Escondido (CA) and San Bernardino (CA), #3 in Springfield (MA) and Flint (MI), #4 in Knoxville (TN), #5 in Denver, Akron (OH), Raleigh (NC), Hamilton (ON), Tuscaloosa (AL) and San Francisco, #6 in Providence (RI), Worcester (MA), Oxnard (CA) and Fresno (CA), #8 in Modesto (CA) and Nashville (CA), and #9 in Houston (TX). In nearly half the states across the USA "Searching For My Love" failed to get much airplay on Top 40 AM radio. Although the single managed to peak at #7 on the Billboard R&B singles chart.
The next release for Bobby Moore's Rhythm Aces was in the fall of 1966. It was a non-album single titled "Try My Love Again". The single made the Top 20 in Vancouver (BC), though it barely cracked the Billboard Hot 100.
In 1967 two of the tracks from Bobby Moore's Rhythm Aces debut album, "Mr. Starlight" and "We've Got It" were released as a single in Italy. And another track from their debut album, "How Can You Do It Baby", was released in Belgium. These releases got the band some international appeal, with "Searching For My Love" being snapped up by European record buyers.
In late summer of 1967 Bobby Moore's Rhythm Aces had a huge local hit in Tucson, Arizona, titled "Reaching Out" which spent seven weeks in the Top Ten, peaking at #2. The flip side, "Chained To Your Heart" did well in some R&B radio station markets, especially in South Carolina, Georgia and Louisiana. In the spring of 1968 "I Wanna Be Your Man" made the Top 30 in Pointe Claire, Quebec. After a few more single releases Bobby Moore's Rhythm Aces were released from Checker Records.
However, Moore's group prompted Chess-Checker to sign other R&B recording artists. They gave Etta James a comeback with "Tell Mama", "Security" and other hits in the late 60s. Chess also signed a fifties doo-wop group called The Dells in 1966. They had a revival of their 1956 hit "Oh What A Night" in 1969.
Michael Jack Kirby notes that based on the popularity of "Searching For My Love", "the band continued "performing for decades afterward, using their hit song as a drawing card."
In 1976 Bobby Moore's Rhythm Aces released their second album, Dedication Of Love. Moore wrote in the liner notes "Bobby Moore and The Rhythm Aces have come a long way since our first recording session ten years ago. It took plenty of hard times and a lot of hard work to get from good too great. But without the help of a group of friends who "believed" in me and the Rhythm Aces, our newest album, Dedication Of Love, would not have been possible." By 1976 the lineup was altered with Howard Kidd on organ and vocals, Presley Strong on lead guitar and vocals, James Burquette on bass guitar and vocals and Chuck Strong as lead vocalist had replaced Jenkins, Frank, Laws and Sledge. Bobby Moore, his brother Larry Moore and John Baldwin Jr. remained the constants in the lineup.
Dedication Of Love "was a flop of untold proportions. So little copies of that record were sold that it is near impossible to find an original copy anywhere. It's become a seriously collectible piece that the few copies that remain fetch upwards of $2000 on the used market. Thankfully Jazzman has come on the scene to right this wrong and offer up the first ever reissue of this funk, blues and soul filled album. The label was able to find Bobby Moore Jr. and this release includes extensive liner notes, an exclusive interview and previously unseen vintage photos of the band."
Bobby Moore died of kidney failure in 2006. The Rhythm Aces have continued to perform since then, with Moore's son, Bobby Moore Jr., taking over as front man for the band. Crescent Moon Entertainment who represents the band comments that Bobby Moore and the Rhythm Aces "continues to perform for wedding receptions, fraternity and sorority parties, clubs and corporate events throughout the South."
October 23, 2020
Ray McGinnis
References:
"Bobby Moore: Leader of the Rhythm Aces," Independent, UK, March 18, 2006.
Michael Jack Kirby, "Bobby Moore And The Rhythm Aces: Searching For My Love," Wayback Machine.com.
"Bobby Moore and the Rhythm Aces Bio," Crescent Moon Entertainment.com.
"Bobby Moore & The Rhythm Aces "Dedication Of Love 1976 US Soul Funk Masterpiece…!" Johnkatsmc5.blogspot.com, May 13, 2018.
"Silver Dollar Survey," CKLG 730 AM, Vancouver, BC, August 6, 1966.
For more song reviews visit the Countdown.