#890: Secret Information by Chilliwack
Peak Month: March 1983
10 weeks on Vancouver's CFUN chart
Peak Position #11
Peak Position on Billboard Hot 100 ~ #110
YouTube.com: "Secret Information"
Lyrics: "Secret Information"
Bill Henderson was born in Vancouver in 1944. He learned guitar and became the guitarist for the Panarama Trio that performed at the Panarama Roof dance club on the 15th Floor of the Hotel Vancouver. He formed the psychedelic pop-rock Vancouver band, The Collectors, in 1966. After a half dozen local hits including "Fisherwoman" and "Lydia Purple" the Collectors name was ditched in 1970. Henderson (vocals, guitar), Claire Lawrence (saxophone, keyboards), Ross Turney (drums) and Glenn Miller (bass) were all Collectors bandmates. After Howie Vickers left The Collectors, they changed their name to Chilliwack. The name was a Salish First Nations name that means "going back up" and is the name of a city in the Fraser Valley in British Columbia.
Chilliwack appeared in concert at the Agrodome on August 6, 1971. They had their first Top Ten hit in Vancouver with "Lonesome Mary" in 1971, peaking at #4 on CKVN. The single also made the Top Ten in Boston and #6 in Boise, Idaho. They released three singles in the next few years variously on the record labels Parrot, A&M and Goldfish with little traction.
In a letter to me local Vancouver music critic Richard Skelly (Richmond Review, RPM Magazine, Radio West.ca) writes, "The Collectors… had spent almost two years recording in California and working the psychedelic circuit up and down the Pacific coast. They did get back to Vancouver, but were stateside weeks or even months at a time. This put strains on marriages and finances. Perhaps it wasn't that alluring to be offered money-losing tours when fellow Vancouverites, the Poppy Family, (were) selling truckloads of records without (hardly) ever leaving home. In interviews, Bill (Henderson) reflected that, unlike the Collectors, Chilliwack felt it made more sense to succeed first in Canada and then tackle the USA…. (In 1970) the band had to honour commitments to perform concerts at the Osaka World Expo in Japan. As the Collectors, they'd been commissioned to create and record background music for the Canadian Pavilion. For that government-assisted Asian trip, they expanded to a five piece with Rick Kilburn on bass and Robbie King on keyboards."
According to Skelly, Chilliwack's record company, A&M, "fumbled by wasting "Ridin'" as the flip side to "Lonesome Mary". An ode to train travel, it had a jangly Byrds meets CS&N vibe. Unfortunately, "Ridin'" was the only obvious followup single. Likely, realizing the mistake, A&M supposedly flew the band down to whip off a pair of straight up rockers: "Hit Him With Another Egg" and "Rock n Roll Music". I never heard the finished but never-released product." Skelly writes that later re-recorded versions of these songs ended up as tracks on a subsequent album, All Over You, but these were not as good as their first recordings.
Other albums that followed, Riding High and Rockerbox resulted in few successful singles. The most successful single during this chapter of Chilliwack was the haunting "Crazy Talk" from the Riding High album. The single peaked in the Canadian RPM singles Top Ten in the winter of 1974-75, and made #6 in Hamilton, Ontario, and the Top 20 in Toronto and Peterborough, Ontario. In Vancouver it reached #11 in January 1975.
In 1977 Chilliwack recorded their sixth studio album, Dreams, Dreams, Dreams. At the time the band members were all Scientologists, according to Bill Henderson's liner notes on a 2013 reissue of the album. And in 1977 there was a dedication to the founder of the Church of Scientology, Ron L. Hubbard, on the back of Dreams, Dreams, Dreams. By 1977 the bands musicians consisted of Henderson, Turney, Miller and Howard Froese on guitar, vocals, solina and piano. The album contained a series of successful singles including "California Girl" and "Fly At Night".
Chilliwack continued to release albums and singles over the next few years. This included a Top Ten hit in Vancouver in August '78 titled "Arms Of Mary". But it was their ninth album, Wanna Be A Star, that definitely made them stars. They charted their only two Top 40 hits on the Billboard Hot 100 with "My Girl (Gone, Gone, Gone)" and "I Believe". In 1982 Bill Henderson won the Juno Award for Producer of the Year for the Chilliwack album Opus X. The band's third single release from Opus X was "Secret Information".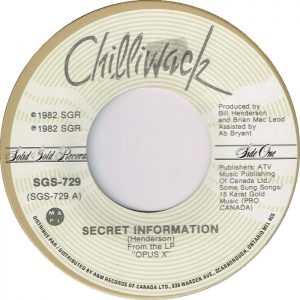 "Secret Information" is a song about someone who is presenting a false image pretending nothing is happening in their life and that they're crumbling. This person makes a display of falling apart and stumbling for sympathy and attention getting. However, the singer of the song has secret information, or the back story, about this person. What they are presenting doesn't add up.
Why do some people present weakness and helplessness to others when they are actually stronger? In his Elite Daily article, "7 Reasons Why You Should Never Pretend To Be Someone You're Not," Paul Hudson writes that pretending to be someone we aren't is only a recipe for misery. This applies to trying to pursue a career that we simply don't have any aptitude for. But it also applies to presenting ourselves in a certain emotional state when it's not the case. Some people will eventually see through us and we will be discovered as deceitful, a fraud, untrustworthy.
By the time the Opus X album was recorded, Chilliwack was now a trio of Ab Bryant, Bill Henderson and Brian MacLeod. Henderson wrote "Secret Information" and has continued to play in concert. Brian MacLeod died in 1992 of cancer.
February 12, 2018
Ray McGinnis
References:
Chilliwack bio ~ thecanadianencyclopedia.ca
Dreams, Dreams, Dreams ~ revolvy.com
Bill Henderson bio ~ gonegonegone.com
Richard Skelly, Letter to Ray McGinnis
Paul Hudson, "7 Reasons Why You Should Never Pretend To Be Someone You're Not," Elite Daily, September 25, 2014.
"C-FUN Top Thirty, " CFUN 1410 AM, Vancouver, BC, March 19, 1983.
For more song reviews visit the Countdown.