#249: Send Me An Angel by Real Life
Peak Month: March 1984
14 weeks on Vancouver's CKLG chart
Peak Position #4
Peak Position on Billboard Hot 100 ~ #29
YouTube.com: "Send Me An Angel"
Lyrics: "Send Me An Angel"
In late 1980, Richard Zatorski placed an ad in a local newspaper in Melbourne, Australia. The ad was for a violin and keyboard player looking for a guitarist with whom to write songs. Guitarist David Sterry answered the ad. Zatorski and Sterry formed a writing partnership and began work on the material that would eventually become the first songs by Real Life. Sterry recalls "When I was little kid, I heard The Beatles singing "She Loves You Yeah Yeah Yeah," and even though I was only eight, I understood what a hit song was. So then I grew up on Pink Floyd, Jimi Hendrix, Led Zeppelin, Yes, Cream, and then into The Clash, XTC, Kraftwerk, New Order, The Cure etc. etc." Sterry, born in 1954, was also into science fiction and loved the TV shows Thunderbirds, My Favorite Martian, Lost In Space, and Star Trek.
In the beginning, Sterry and Zatorski started doing gigs as The Wires, and were accompanied by a primitive drum machine they named Gloria. In 1981, the pair decided to recruit more musicians. They put ad ad in a newspaper for a bass guitarist and a drummer. The ad was answered by a number of musicians, and they chose bassist Allan Johnson and drummer Danny Simcic to join the band. The Wires changed their name to A Private Life. This was to distinguish themselves from the English band Wire. Soon A Private Life was gaining a solid fan base. However, a band in Sydney named Private Lives threatened a lawsuit. So A Private Life renamed themselves Real Life.
In 1983 Zatorski and Sterry co-wrote "Send Me An Angel". It became the debut single from the band's debut album Heartland.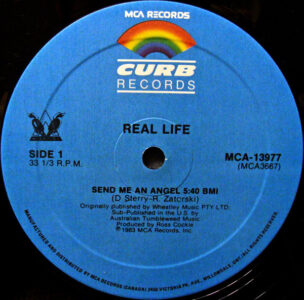 "Send Me An Angel" is a song narrated by someone who concludes "I can't survive on my own." Nonetheless, he finds it "hard to be lucky in love." Given the choice of fight-or-flight, he chooses flight: "If a girl walks in and carves her name in my heart, I'll turn and run away."
In an article in the Huffington Post Margaret Paul writes "The fight or flight response is a natural response to danger. Our bodies are created to fight or flee when danger is upon us, such as being attacked by a mountain lion. When faced with this kind of danger, the stress hormones pour into our body, causing some blood to leave our brains and organs and go into our arms and legs. This is vital to us if we are actually being attacked by a mountain lion or a mugger. The problem is that this same response occurs when we become afraid in other situations." Though the Huffington Post article specifically is about conflict in relationships, there are people who have a "flight" response due to the stress of overwhelming feelings of desire, intimacy or sexual arousal that involves losing control.
We don't know exactly why the guy in this song turns and runs away every time a girl carves her name in his heart. But, it is plausible he has a fear of intimacy. She's getting too close, and so he runs.
In an article titled "8 Signs Your Dating Someone With A Fear of Intimacy," Shani Jay discusses some indicators. 1) They have trouble expressing their feelings, 2) They have a history of unhealthy partners (or history of partners at all), 3) They get bored easily, and feel trapped and smothered as the relationship unfolds, 4) They avoid being vulnerable with you, 5) They're sexually immature – either by exhibiting an addiction to porn, or avoiding sex altogether – resulting in a lack of sexual intimacy as a couple, 6) They just can't be with you, especially in silences, 7) There are trust issues in the relationship, including concern someone is cheating, and 8) They talk to someone else about their problems, preventing the risk of intimacy for their partner to be present.
Elsewhere in the song, the narrator gives this advise: "Don't tell a lie, don't be false or untrue. It all comes back to you." It is likely that he's learned this firsthand, or from seeing other dating relationships blow up when lies were called out.
In another verse we're told "empty dreams can only disappoint…" The trick is to ensure that the dreams we dream hold promise. And in an effort to summon enough strength to conjure a relationship, the narrator sings "Send me an angel."
"Send Me An Angel" peaked at #4 in Vancouver (BC), #6 in Boston, #7 in Atlanta and Minneapolis/St. Paul, #8 in Cleveland, #9 in Tacoma (WA) and St. Cloud (MN), #11 in Dallas, #12 in St. Louis, and, #13 in Montreal. Internationally, "Send Me An Angel" peaked at #1 in New Zealand and West Germany, #2 in Switzerland, #6 in Australia, #9 in Austria, #18 in Canada and #19 in Spain; And in the USA at #29 on the Billboard Hot 100.
On May 7, 1984, Real Life appeared in concert in Vancouver at the Commodore Ballroom. In 1989 "Send Me An Angel" was re-issued as a re-mix and this time it peaked at #26 on the Billboard Hot 100.
In the winter of 1983-84, Real Life had a second Top Ten hit in a number of countries titled "Catch Me I'm Falling". The song climbed to #8 in Australia, #9 in West Germany, and #12 in Switzerland.
In 1985 Real Life issued its second studio album, Flame. The album got some attention in Australia, as well as one minor Top 40 hits. Another album – a compilation – followed in 1986 titled Down Comes the Hammer. The singles from this album failed to chart. In 1989 Real Life issued a Best of Real Life album. The re-issue of "Send Me An Angel" peaked at #5 on the US Dance Chart. That year Richard Zatorski left Real Life to attend law school, and was replaced by Steve Williams.
In the 1990s Real Life issued two more studio albums, Lifetime and Happy. From the first of these a single titled "God Tonight" charted to #9 on the Billboard US Dance chart in 1990. When Happy was released, Real Life consisted of David Sterry, Danny Simcic, Allan Johnson and George Pappas.
There were protracted legal expenses to get Real Life their rights to first two albums back and start earning royalties. This extended over 11 years and involved six lawyers. Real Life also had to get themselves out of a dreadful contract with Curb records. The legal wrangles led to Steve Williams departure before Happy. Disagreements between Sterry with Johnson and Simcic led to the latter two leaving the band.
One more studio album emerged in the 2000s titled Imperfections with just David Sterry and George Pappas. While the band waited until 2020 for another studio album Sirens.
David Sterry has remained the only original member of Real Life. Sterry hires musicians when Real Life performs in concert.
Richard Zatorski completed his legal studies and is a solicitor practicing in Melbourne.
October 13, 2021
Ray McGinnis
References:
"David Sterry of Real Life," Cryptorock.com, March 15, 2017.
Doug Wallen, "Send Me an Angel: the 80s Synth-pop Anthem that Took Over the World," Guardian, March 29, 2017.
Margaret Paul, "Fight or Flight in Relationship Conflict," Huffington Post, March 27, 2017.
Shani Jay, "8 Signs You're Dating Someone with a Fear of Intimacy," Zoosk.com, August 16, 2018.
"Real Life – Concerts, Canada," setlist.fm.
"Where Are They Now? – Real Life," bmusic.com, Newsletter 234, September 4-10, 2006.
"CKLG Top 30," CKLG 730 AM, Vancouver, BC, March 8, 1984.
For more song reviews visit the Countdown.