#296: Shame Shame by the Magic Lanterns
Peak Month: January 1969
8 weeks on Vancouver's CKLG chart
Peak Position #1
1 week Hit Bound
Peak Position on Billboard Hot 100 ~ #29
YouTube: "Shame Shame"
Lyrics: "Shame Shame"
James Robert Bilsbury was born in 1942 in Liverpool, England. Around 1957 he joined the the Ray Johnson Skiffle Group. He was subsequently a member of the Nightboppers, the Beat Boys, and then the Hammers. In 1962 Bilsbury, as lead vocalist and on lead guitar, formed the Sabres with guitar player Peter Shoesmith, bass guitarist Ian Moncur, and drummer Allan Wilson. By 1964 the band changed their name to the Magic Lanterns. In 1966 they released a single titled "Excuse Me Baby". The song was influenced by British Dance Hall nostalgia. It peaked at #44 on the UK singles chart. In 1967 they released their debut album Lit Up – With the Magic Lanterns.
However, after the debut album Shoesmith, Moncur and Wilson left the band. They were replaced with Les "Bev" Beveridge on vocals and guitar, Peter Garner on backing vocals and guitar, Mike "Oz" Osborne on backing vocals and bass guitar, and Henry Paul Ward on backing vocals and drums. The band released a cover of the Monkees album track "Auntie Grizelda", which failed to chart. They also released a beat version of the 1939 Vera Lynn hit "We'll Meet Again". But, they got little airplay in the UK.
In 1968 the Magic Lanterns released a single titled "Shame, Shame", and an album titled Shame Shame, which followed in 1969.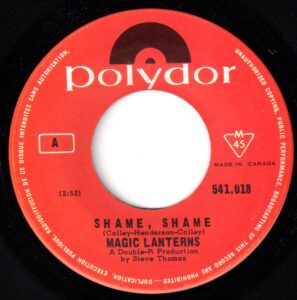 "Shame, Shame" was cowritten by Keith Colley, his wife Linda Colley, and obscure writer Knox Henderson. Born in Spokane, Washington, Jarrell Keith Colley grew up in the wheat farming countryside. He attended the University of Washington. While he was there he made a demo of the hit by Dion & The Belmont's, "A Teenager In Love." Colley's version got some airplay locally and was heard by Jerry Dennon or Jerden Records. Dennon got young Keith a record contract that was transferred over to Era Records. In 1961 Colley released "Zing Went The Strings Of My Heart" which got some airplay in Boston. His next single at the end of the year, "Put 'Em Down", got some airplay in Spokane and Seattle, while the flip side, "(And Her Name Is) Scarlet" got him on the Top 40 in San Bernardino, California. Colley next moved on to Unical Records. His firist single release with the Unical label was called "Enamorado", a #11 charting single in Vancouver (BC) in 1963.
Keith Colley had originally recorded "Shame, Shame" and released it as a single in the fall of 1967 in the USA. But aside from charting to #11 in Pueblo, Colorado, in February, 1968, his original version didn't lead to a comeback.
At the end of the 1960s, Keith Colley took a promotion working as an Artist & Repertoire representative for Four Star. In this role he signed and developed talent for the publishers record label. After awhile, Colley was promoted to be part Four Star Music Publishing's more senior administration.
"Shame, Shame" is a song about a guy who is in a relationship with a woman. However, he concludes he's been cast in the role of a fool and a clown. The bottom line is "you ran to his arms tonight." The guy who has been left out of the picture points out to her "he doesn't love you…he'll only break your heart, and leave you standing out in the rain."
"Shame, Shame" peaked at #1 in Vancouver (BC), #2 in Columbus (OH), Quincy (IL) and Worcester (MA), #3 in St. Thomas (ON) and Tulsa (OK), #4 in Reading (PA), Chicago, Memphis, Birmingham (AL), Toronto, Hannibal (MO), San Diego and New Haven (CT), #5 in Cleveland, Springfield (MA), Rochester (NY), Rapid City (SD), Billings (MT), and Los Angeles, #6 in Gary (IN), Louisville (KY), and Easton (PA), #7 in Indianapolis (IN), Milwaukee (WI), Orlando, Denver and Hamilton (ON), #8 in Wichita (KS), Lewiston (ME), Battle Creek (MI), and Hartford (CT), #9 in Lethbridge (AB), Phoenix and Holland (MI), and #10 in Pittsburgh and Kansas City (MO). "Shame Shame" charted into the Top 40 in about 35 states across the USA and peaked at #29 on the Billboard Hot 100.
Following "Shame, Shame", the Magic Lanterns struck out with their release "Melt All Your Troubles Away" in 1969. And a track from their 1968 album, "Give Me Love", was also a commercial flop as a single. Lead singer Jimmy Bilsbury quit the band in 1970. A final album in 1971, titled One Night Stand, spawned a title track single and "Let The Sun Shine In". During this time Albert Hammond was briefly involved with the Magic Lanterns, having written "One Night Stand" and several other songs on the album. He was also in the recording studio with the Magic Lanterns. But neither these, or several non-album singles that followed got anywhere on the pop charts. Subsequently, the Magic Lanterns disbanded.
Albert Hammond moved to the United States and had a #5 hit on the Billboard Hot 100 in 1972 titled "It Never Rains in Southern California". Hammond wrote numbers of songs for other recording artists including "Gimme Dat Ding" for the Pipkins, "Little Arrows" for Leapy Lee, "Nothing's Gonna Stop Us Now" for Starship, "The Air That I Breathe" for the Hollies and later Simply Red, "When I Need You" for Leo Sayer, "One Moment in Time" for Whitney Houston, "I Don't Wanna Live Without Your Love" for Chicago, and many others.
Jimmy Bilsbury formed Les Humphries Singers in 1970. They charted singles into the Top Ten variously in West Germany, Switzerland, Austria, Netherlands, New Zealand, and Sweden. The group appeared in the 1976 Eurovision Song Contest where they performed "Sing Sang Song". Bilsbury left the group in 1977, but returned for reunions in 1982 and 1992. In 1977 Bilsbury co-wrote "Belfast" for Boney M, a number-one hit in Belgium, France, Ireland, Switzerland and West Germany, #2 in Austria, #3 in the Netherlands and Spain, and #8 in the UK. By the late 1990s Bilsbury had been living on social welfare. He died of heart failure in 2003 at the age of 60.
The other members of the Magic Lanterns left the music industry after they disbanded in the early 70s.
June 14, 2021
Ray McGinnis
References:
"Jimmy Bilsbury," Wikipedia.org.
Michael Shelley, Interview of Keith Colley, Podcast, April 8, 2017.
Joe Knapp, New Oldies: Tonight I'm Telling You by Keith Colley, Music Master Oldies.com, April 18, 2013.
George O'Leary, Keith Colley – Forgotten Teen Idol, Amazon.com, March 3, 2015.
Keith Colley, "Shame, Shame", Columbia Records, 1967.
"Albert Hammond," Wikipedia.org.