#2: She May Call You Up Tonight by the Left Banke
City: Cranbrook, BC
Radio Station: CKEK
Peak Month: August 1967
Peak Position in Cranbrook ~ #5
Peak position in Vancouver ~ did not chart
Peak Position on Billboard Hot 100 ~ #120
YouTube: "She May Call You Up Tonight"
Lyrics: "She May Call You Up Tonight"
Carmelo Esteban "Steve" Martin Caro was born in Madrid, Spain, in 1948. His birth name was Carmelo Esteban Steve Martin. His father was a Spanish Consul General to the state of New York, but died just six months after taking up his new position. Steve Martin added "Caro" to his surname in the 1980s to avoid confusion with the popular comedian and actor, Steve Martin. Michael David Lookofsky was born in 1949 in Brooklyn, New York. He later took the surname of Brown. The Guardian writes "15-year-old Brown worked as a part time engineer at his father Harry Lookofsky's recording studio in New York. In photos he looked mournful and out of time, with King Charles spaniel hair. He looked as if he would have felt at home in a Victorian drawing room, but the studio was where he met George Cameron, Tom Finn and singer Steve Martin (not the comedian). They became fast friends, forming the Left Banke in 1965." Carlemo Esteban Steve Martin had met Tom Finn in front of the City Squire Hotel, in New York, after a Rolling Stones concert in May 1965. Finn told Martin about a mid-town recording studio which needed singers for session play. Before Michael Brown met up with his future bandmates, he had written one song for Reparata and the Delrons, as well as playing piano on some of their recording. Tom Finn had previously been in a group called the Magic Plants.

Carmelo "Steve" Martin was the lead singer for the Left Banke, and also played tambourine and guitar. Thomas Joseph Finn was born in New York City in 1948. Finn played guitar. On percussion, drums and backing vocals was George Cameron, born in 1947 in New York City. The bands' second drummer was Warren David-Schierhorst.
Renée A. Fladen was the girlfriend on Left Banke member Tom Finn. Michael Brown, who was also a member of the band, had a crush on Fladen and wrote "Walk Away Renée". The song was turned down by "at least ten record labels," according to Tom Finn. The debut single for the Left Banke climbed to #5 on the Billboard Hot 100, #2 on the Cashbox Singles chart, #5 in New Zealand, and #6 in Vancouver (BC). The single became an iconic pop song that showcased baroque pop. "Walk Away Renée" was one of a series of love songs the infatuated Brown wrote for his muse. Fladen was associated with the band for a few weeks, and was described as a free-spirited and tall blonde. Michael Brown wrote the song in one month after he met her. Renée Fladen was looking on during the Left Banke's recording of the song, and her presence nearly prevented its completion. In an interview, Brown stated, "My hands were shaking when I tried to play, because she was right there in the control room … There was no way I could do it with her around, so I came back and did it later." The song features a flute solo played during the instrumental bridge of the middle portion of the song. Brown was inspired to add it by the Mamas & the Papas song "California Dreaming'" which had been recorded in November 1965, but was not an immediate hit until early 1966. The arrangement for "Walk Away Renée " also includes a lush string orchestration, a jangling harpsichord part, and a descending chromatic bass melody. The song included Browns' lyrics of fleeting love: "Your name and mine inside a heart, upon a wall/ Still find a way to haunt me, though they're so small."
The Left Banke's commercial success got them a contract with Coca-Cola to record a commercial jingle in 1966.
Fladen was the subject of the next two songs Michael Brown wrote for the band. "Pretty Ballerina" featured an oboe over the instrumental portion of the track, joining the string quartet, before the music pauses, and goes back to the refrain of the song. In the lyrics, Brown writes "I begged for her to tell me if she really loved me. Somewhere a mountain is moving. Afraid it's moving without me." The single peaked at #4 in Vancouver (BC), #13 in New Zealand and #15 on the Billboard Hot 100.
NPR reports that at this point, "The Left Banke was set. Well, except for one detail: Its members still couldn't play their instruments. They were booked on rock package tours and were really only capable of playing three of their own songs — two of which were the hits. By the end of this experience, they all hated each other."
Tensions were building in the band, and Michael Brown – along with some hired musicians – released "Ivy Ivy" credited to the Left Banke. The remaining members of the band hired attorneys to issue a cease and desist order and urged their fan club to boycott the record. This led to confusion among radio stations over which "Left Banke" to support. The other bandmates released "She May Call You Up Tonight". "Ivy Ivy" stalled at #119 beneath the Billboard Hot 1oo, while "She May Call You Up Tonight" stalled at #120. Had the band been united, they could have released each single separately over time and had a chance at better chart runs for each song. But it was not to be.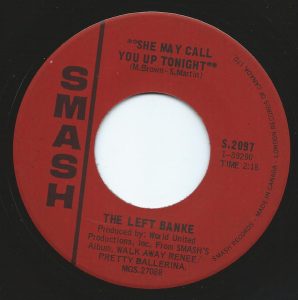 "She May Call You Up Tonight" was written by Michael Brown. The song is about a guy who is "telling lines" to potentially woo someone who is actually interested in someone else. As much as he tries to get her attention with his "lines" (perhaps flattery, adoration, promises, boasting…), the page will turn when she calls up the guy who is really on her mind. Once she starts to connect to the other guy and calls him "up tonight," the suitor who has been "telling lines" will be in the rearview mirror. "She May Call You Up Tonight" peaked at #5 in Cranbrook (BC), #11 in Daly City (CA), #14 in Syracuse (NY), and #19 in Arlington (VA).
The followup single was "Desiree", regarded by the Guardian as possibly the groups' best song. It is a masterpiece of baroque rock. Perhaps the melancholic lyrics put off some radio Deejays. "Desiree" evoked an Eleanor Rigby-esque sound. The recording was pace-setting, and it was musically innovative. It deserved a better fate than stalling at #98. In local radio markets, "Desiree" peaked at #9 in Grand Junction (CO), #10 in Ypsilanti (MI), #12 in Orlando and #14 in Philadelphia. But Smash Records spent little effort promoting the groups' releases after "Pretty Ballerina", and so they floundered.
In disbelief that "Desiree" stalled at the bottom of the Hot 100, Brown split from the Left Banke in 1968. Before he left he co-wrote "And Suddenly", a minor hit for the Cherry People in 1968. It had made the Top Ten in Quincy (IL) for the Left Banke in the spring of 1967 as a B-side to "Ivy Ivy".
A second album titled Left Banke Too featured the singles "Desiree", "Dark Is The Bark" and "Goodbye Holly". The latter two releases got airplay in Orlando, Florida, but got a pass elsewhere.
After the Left Banke split up, Michael Brown formed the Stories in 1971. In 1973, the Stories covered the Hot Chocolate song "Brother Louie", and took it to number-one on the Billboard Hot 100. Though Brown left the Stories before June 1973 when "Brother Louie" began its chart run and peaked at #1 for two weeks starting August 25, 1973.
In 1973, after Michael Brown left the Stories, he joined California, along with former bandmates Martin and Cameron. They were joined by former Raindrops ("The Kind of Boy You Can't Forget") vocalist Beverly Warren, and Leslie Fradkin who'd recorded with MGM Records. In 1973, California released a cover of the Happening (1966) and Tempos (1960) hit "See You In September", backed with "Ivy Ivy". California continued to release singles of covers of hits like the David Dundas tune "Jeans On", Dion's "Abraham, Martin and John", and Van Morrison's "Brown Eyed Girl". They split up in 1985.
In 1985, Michael Brown recalled some of the challenges, including legal ones with his bandmates and his father who ran the music studio. "The group was not able to know what they didn't know, and if we'd had a good manager maybe everyone would've done better. But I think the others would've done better if they'd had better parents. That can be the blockbuster if you're trying to be clean on the road, trying not to stay up all night drinking and then be on the road the next night. All of that comes down to discipline or lack of discipline, and if you're disciplined, you went to school and if you went to school you could read contracts. I was straight on the road. I was a hard worker on every project, on this one in particular because it was the first. I was very demoralized going on the road with them. Nobody tried to better themselves as far as their playing goes, and I stayed with them longer than I should have. As I remember, they got some lawyers in order to have a meeting with my father…" According to Tom Finn, Michael Brown was not interested in touring and wanted to stay home and write new material while the rest of the bandmates toured. This is what prompted them to get lawyers and terminate the contract they had with Michael's father.
Decades later, Michael Brown reunited with the Left Banke for a reunion in 2013. He died at the age of 65 in 2015 of a heart attack.
Steve Martin Caro released a single in 1971 titled "Two By Two (I'm Losing You)" was a Top 30 hit in Boston. Martin Caro was interviewed in 1985 to discuss the Left Banke. He recalled, "Looking back, the Left Banke was only a positive experience for a few months. Mostly it was negatives – bad management, bad vibes. The initial talent was there on my part; I gave it all I had, but I came from European ancestry and I wasn't ready for New York in the sense of everyone lyin' and cheatin'. The way we did things in Europe wasn't cut-throat. I don't want to mention any names, but here were several people in the organization who were not looking out after my best interests." Steve Martin Caro died from heart disease in January 2020 at the age of 71.
George Cameron recalls "We were pretty tight, all of us, in those days, and it worked pretty well. We just loved playing, that's what started the whole trip. The four of us got along so well that we started working together. Mike's father liked it, so he believed we should record since they had their own studio. We were soon jamming that place twenty-four hours a day. We fell behind after the first album, we were on the road so much. When we had to finish the second album the whole thing was rushed. Mercury even gave us a schlock producer. Mike didn't want to go on the road, he just wanted to stay home and produce. After a while we accepted it, and got a really good piano player and it was really fine. Then it became a battle of songwriters, 'cause all of us wrote, the four of us. Mike wanted to be guaranteed a certain number of songs and that was another bummer on everybody's head. Everything we did in the beginning was a group effort. It started out something to do to have fun, then it became a hassle we didn't even like writing. The business end loused up a lot of it."
The Left Banke made one concert appearance in Fredericton, New Brunswick, in February 1968. Otherwise, they restricted their touring schedule during their brief life from 1966 to 1968 to the USA.
October 25, 2023
Ray McGinnis
References:
Bob Stanley, "Michael Brown: a fragile talent, but one of the highest order," Guardian, March 20, 2015.
Left Banke, "Things Go Better With Coca-cola," Coca-Cola, 1966.
Left Banke, "Walk Away Renée", Smash Records, 1966.
"Renée Fladen-Kamm," Wikipedia.org.
"The Left Banke's Steve Martin Caro Dies," Best Classic Bands, January 15, 2020.
"The History of the Left Banke: Steve Martin Caro's Story," leftbanke.nu, 1985.
"The History of the Left Banke: George Cameron's Story," leftbanke.nu, 1985.
"The History of the Left Banke: Michael Brown's Story," leftbanke.nu, 1985.
"The History of the Left Banke: Tom Finn's Story," leftbanke.nu, 1985.
Ed Ward, "The Left Banke: Teenage Pioneers Of Jangle-Pop," NPR, December 19, 2011.
Left Banke, "Desiree", Smash Records, 1967.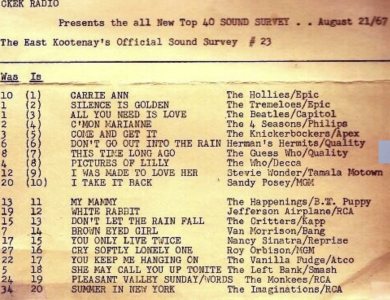 CKEK, Cranbrook, BC, Top 20 – August 21, 1967