#462: She's Looking Good by Rodger Collins
Peak Month: April 1967
10 weeks on Vancouver's CFUN
Peak Position #5
Peak Position on Billboard Hot 100 ~ did not chart
YouTube.com: "She's Looking Good"
Lyrics: "She's Looking Good"
Rogers Collins Jr. was born in Santa Anna, Texas, in 1940. His family moved to California and while still in high school won a talent contest in Oakland, which included doing an Elvis impersonation. He was mentored by early rock era R&B singer Brook Benton, who encouraged Collins to sing his own material. Rodger studied drama in San Francisco at the Actor's Laboratory. After graduation, he moved to Los Angeles and hoped to become a star in either film or television. But instead he ended up washing Rock Hudson's silver Chrysler Imperial. and by 1963 got a contract as a recording artist. His first release in 1963 was a jazz-infused, blues-tinged single titled "The World Can't Do Me No Harm". It resembled a late 50s sound of Ray Charles. His B-side, "Working Girl", was a Collins composition copying the sound of Chuck Berry. And in 1964 released "Give The Kids A Chance". These two singles were both commercial flops.
Yet, it is notable that on both of these early singles, Collins either recorded or co-wrote one side of the 45 RPM with the jazz saxophonist Kermit Scott. Born in Texas in 1913, Kermit Scott played with Fats Waller, Coleman Hawkins, Billie Holiday, Earl Hines and Thelonious Monk. His background in jazz, swing and bebop gave Rodger Collins early singles a freshness that, unfortunately, was out of synch with what radio deejays were spinning at the time.
But in 1967 he had a hit in several regional markets with "She's Looking Good".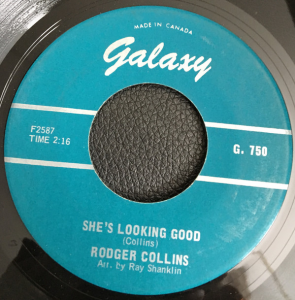 In the recording studio, Collins danced while he sang "She's Looking Good". At one point Collins spun around and missed the microphone. Consequently, this caused him to memorably stutter at the beginning of a verse around a minute and a half into the song "Ma-ma-mama get your mojo…" Joel Selvin, reporter for SF Gate, writes that Collins "was the inventor of the short-sleeved suit ("I didn't like people sitting in the audience with suits that looked like my suits"), a fashion innovation that failed to spread. He also liked to wear custom-tailored trousers with different-colored legs." In the YouTube.com video (see above link) Rodger Collins is wearing a short-sleeved avocado green suit, with the sleeves ending above the elbow.
Rodger Collins wrote "She's Looking Good". The song is about a woman whose nickname for her lover is "Mr. Clean." When they go out on the town she puts on a wig, a tight dress and a "foxy fur." As a metaphorical way to describe the intensity of the attraction, he declares "mama get your mojo, and papa get your gun. I'm gonna steal your daughter, and I'm gonna be your son." This is all because she makes him want to "walk right… talk right" and "holler."
Collins first name on his singles didn't adhere to the same spelling. On his U.S. pressing on "She's Looking Good", his first name was spelled "Roger." On his Canadian pressing his first name was spelled "Rodger." On some of his single releases his first name was also spelled "Rogers."
On the Top 40 radio stations "She's Looking Good" climbed to #2 in San Francisco, #3 in San Jose (CA), #4 in San Bernardino (CA), #5 in Vancouver (BC), Seattle, Lowell (MA), Los Angeles, Bakersfield and Merced (CA), #6 in Tucson and #7 in Philadelphia. On KDIA, an R&B radio station in Oakland, California, "She's Looking Good" peaked at #1 on January 20, 1967, and spent the next three weeks at #2.
In 1968 Wilson Pickett covered "She's Looking Good", taking the song to #15 on the Billboard Hot 100, and the Top Ten in Ottawa and Toronto. Others who recorded "She's Looking Good" include Tyrone Davis and Howlin' Wolf.
Rodger Collins released three more singles in 1967, hoping one of them might be a breakout hit. One of these, "Soulful Train", was the most critically acclaimed. Another, "She's A Good Woman" made the Hit Bound list on CKLG in June '67. That single also made the Top 100 on KOL Seattle for their year-end list.
On January 4, 1969, Rodger Collins came to Vancouver to perform at Diamond Jim's at 1129 Howe Street.
But fame was elusive. He released "Foxy Girls In Oakland" in 1970, which got airplay in San Francisco and Oakland. A 1973 release, "You Sexy Sugar Plum", made the Top 30 on the UK chart in 1976. In 1972 a few of his songs made it onto the soundtrack for the blaxploitation film Black Girl, along with tracks by Betty Everett. Black Girl, a film about a poor black girl who wants to be a dancer, starred Brock Peters who had been cast as Tom Robinson, the man falsely accused of raping a white girl in the 1962 film To Kill A Mockingbird. He played opposite Claudia McNeil (A Raisin In The Sun) and Leslie Uggams (Inherit The Wind, The Leslie Uggams Show).
In 1973 Collins went on tour with Joe Tex. During the tour he converted to Islam, as a result of conversations with Tex, who was Muslim. Rodger Collins took the name Rajah Kasim Sabrie. In 1974 Sabrie bid farewell to the music business. With a few exceptions, he dedicated his work to the appliance business starting as out as an apprentice. He has owned Trustworthy Appliance Repair in Oakland for over four decades. Sabrie has made two pilgrimages to Mecca to pray in the holy precincts.
In 1986, with his own record company, Garden Tree, he released a rap single titled "Welfare – I'm Leaving You". In 2008 he released a single titled "I'm Standing Up With Barak Obama". That year he also released his first album which included a new version of "She's Looking Good". In 2012 he released the single "Just One More Time". This was the title track from his 2013 album, which also included another rendition of "She's Looking Good".
April 6, 2020
Ray McGinnis
References:
Bob Eagle and Eric S. LeBlanc, Blues: A Regional Experience, (Praeger, 2013) 341.
Joel Selvin, "One Record Gave Singer Rodger Collins a Taste of Fame, but No Fortune. That was Long Before he Became Haji Sabrie," SF Gate, March 9, 2004.
"Rodger Collins," Discogs.com.
Jesse Hamlin, "Kermit Scott – Sax Player and Bebop Pioneer," SF Gate, February 14, 2002.
"C-FUNTASTIC FIFTY," CFUN 1410 AM, Vancouver, BC, April 8, 1967.
For more song reviews visit the Countdown.