#1426: Ship Of Dreams by The Quiet Jungle
Peak Month: March 1967
10 weeks on Vancouver's CFUN ALL CANADIAN TOP TEN chart
Peak Position #2
Peak Position on Billboard Hot 100 ~ did not chart
YouTube.com link: "Ship Of Dreams"
In 1962, 1963, 1964 and 1967 the Toronto Maple Leafs hockey team won the Stanley Cup in the National Hockey League (NHL). One of their star players was Eddie Shack. He joined the Maple Leafs in 1961 as a left-winger. He scored the winning goal in the deciding game for Toronto in 1963 against the Detroit Red Wings. In the seven seasons Shack played for the Maple Leafs, his best was in the 1965-66 season where he scored 26 goals. This inspired a band named Douglas Rankine and the Secrets to record "Clear The Track, Here Comes Shack". The song was a novelty record about Eddie Shacks playing hockey. The song became a #1 hit on CHUM-AM in Toronto for two weeks starting February 28, 1966. Douglas Rankine and the Secrets kept being asked to play the novelty tune. In order to get a chance to play different material the band decided to change their name to The Quiet Jungle.
The Quiet Jungle was comprised of Douglas Rankine on lead vocals and guitar, Bob Mark on guitar, Henry S. on electric piano, Mike Woodruff on bass and Rick Felstead on drums. The Quiet Jungle got a record deal with Yorkville Records. And in early 1967 they released "Ship Of Dreams".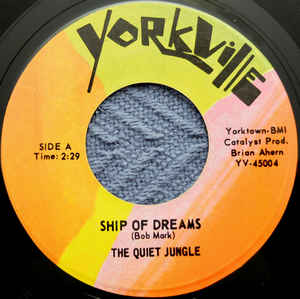 "Ship Of Dreams" is a song written by the Quiet Jungle's Bob Mark. It is about a woman who thinks she's very hip. It turns out she's sailing on a ship of dreams, metaphorically speaking, and not very grounded. The guy in the song vows he's going to find a way to pull her back down to earth.
In the mid to late '60's there was a rash of songs where the subject was tuned out, spaced out, ungrounded and/or generally in need of correction. In 1966 Tom Northcott Trio sang about a woman who was tuned out in "Goin' Down": "Babe growing up you're on a throne/Looking at another goin' down/Look out girl, I know you're gonna fall/I hope you land the hardest of them all." And the Rolling Stones sang in "Under My Thumb" about "a girl who once had me down… who once pushed me around." Jagger brags that the woman is now under his thumb. The psychedelic-tinged "Mind Excursion" by the Trade Winds, also in 1966, invited listeners to use the power of their mind to dream whatever they fancy as a "slight diversion" from their everyday reality. In "Didn't Want To Have To Do It", the Lovin' Spoonful had to break it to a gal that a relationship was over. And in "Out Of Time" Chris Farlowe sang about a woman who is preoccupied with her social world: "You don't know what's going on/You've been away for far too long/You can't come back and think you are still mine." Meanwhile, The Beatles in "Norwegian Wood (This Bird Has Flown)" sang about a manipulative woman who gives mixed messages when she has a guy stay overnight, who ends up sleeping in the bathtub. While there were other portrayals of women in pop songs, "Ship Of Dreams" was part of a niche of songs exploring dispirit head-spaces between romantic partners and the general fascination with the psychological worlds different people occupied.
"Ship Of Dreams" broke into the Top 40 on CHUM-AM in Toronto and also made the Top 40 in Belleville, Ontario. It climbed to #6 on CKLC in Kingston, Ontario. "Ship Of Dreams" also received airplay on CFUN in Vancouver, charting for ten weeks on the CFUN ALL CANADIAN TOP TEN.
Douglas Rankine was interviewed later about the Quiet Jungle. He recalls after the release of "Ship Of Dreams", "Our bookings increased and we were playing right across Canada. Everyone booking us however, wanted the "Secrets" to play "Clear The Track Here Comes Shack" and not the group that just released "Ship Of Dreams". I was 17 at the time and the money being offered was pretty good, so we decided to take the bookings and pocket the money!"
The Quiet Jungle released another single titled "Too Much In Love" which was not a hit. In a 2019 article online, Brian Parkinson at whatever not.com wrote that "In 1967, Arc Records in Toronto decided to cash in on The Monkees craze, and so they put out the LP "A Little Bit Me" which was an album with tracks by The Quiet Jungle covering Monkee's hits (the band name does not appear on the album). From the liner notes: "… we know you will find this salute to the fabulous four right out of sight". Arc Records released "The Story Of Snoopy's Christmas" in 1968, again with The Quiet Jungle as band (credited this time) doing Christmas songs."
The twilight of the Quiet Jungle came through exposure to other recording acts they shared billing with in concert. Rankine discloses, "There were a few reasons the band broke up. After four years (having the time of my life), I came to the realization that "I personally" was not a good enough singer to hit the big time. While traveling the country, I got to hear bands and singers that were 10 times better than I was and realized that even they would not make it. We were playing the "Red River Exhibition" in Winnipeg one summer when I got to hear a young guy by the name of Burton Cummings sing. As soon as he opened his mouth, I knew I was in the wrong business. There was no mistaking, he had a voice from the Gods and was truly destined for stardom. Bob Mark and Henry Taylor were the true talent of our band. Both were extremely accomplished, Bob on the creative side (writing original material) and Henry as the musical side (arranging). Both Rick and Mike were very solid on drums and bass but it was Bob and Henry who carried the band."
In his 2007 interview with Chris Bishop at Garagehangover.com, Douglas Rankine said at the time, "Bob retired some years ago and lives somewhere up North. Rick lives in the Durham area. I believe Mike is somewhere in Toronto. Henry is in Toronto and is still active in the music business playing part time with a Doors tribute band."
July 12, 2019
References:
Brian Parkinson, "The Quiet Jungle", whatever not.com, May 12, 2019.
Chris Bishop, "The Secrets/The Quiet Jungle," Garage Hangover.com, December 8, 2007.
"Eddie Shack," Wikipedia.org.
"C-FUNTASTIC FIFTY," CFUN 1410 AM, Vancouver, BC, March 18, 1967.
For more song reviews visit the Countdown.