#139: Shy Guy by the Crystalettes
Peak Month: October 1962
12 weeks on Vancouver's CFUN chart
Peak Position ~ #2
Peak Position on Billboard Hot 100 ~ did not chart
YouTube: "Shy Guy"
The Crystalettes initially recorded under the name The Dispoto Sisters. They grew up in Reseda, California, a suburb of Los Angeles. The sisters began singing at a very young age, and performed in the Wee Voice group in 1957. At the time Patty (born 1950) was 7, Diana (born 1947) was 10, and Tina (born 1945) was 12. They took part in numbers of choral events while, including at Whitney High School in Los Angeles. They performed with Martha Tilton and many others. They recorded their first single in 1959 on the Verve label, credited to The Dispoto Sisters. It was a two-sided Christmas disc: "Whistling Neath' The Mistletoe/ Will Clause". A local paper ran a photo with the byline "Pleasing Voices: The three young daughters of Mr. and Mrs. Carl Dispoto are well on the way to a career as a trio. Patty, 9, Diane, 13, and Tina, 14."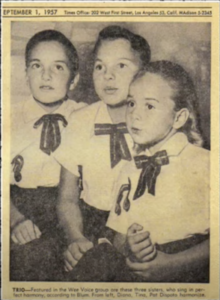 The Dispoto Sisters – 1957
A followup single on Verve was in 1960 titled "Timber". The trio waited for two years before they returned to the recording studio as The Crystalettes. Their name may have been a snap decision by record management where they had signed at Crystalette Records. mentioned in Billboard Magazine (October 27,1962) page 42 add by Crystalette Records. They produce three recordings on this label, there first being "Shy Guy".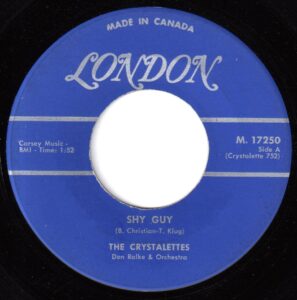 "Shy Guy" is a song by a young girl who hopes that her 'shy guy' will "be a little bolder" when he gets "a little older." They are both very young, and still live in their parents homes. Still, she hopefully sings to him "don't think love has passed you by, I love you shy guy." Is this because her 'shy guy' has taken on the cares of single adults years ahead of his time? Do teenage boys worry that love has passed them by forever? Before they've graduated from high school?
It seems fate has brought them together, at least almost. We learn from the lyrics "there's a boy next door who was meant for me. He's the one I'm dreaming of." Though she's got her dreamboat in the next yard her dilemma is described thus: "Life would be worthwhile, but he's too shy to smile." So, each day she walks by his home, "hoping I can catch his eye." After all "he's so handsome, what a guy." Given his aversion to make eye contact, she's counting on a transformation and in time he'll get a little bolder.
Many people have written about shyness. Here are several quotes:
"So many people are shut up tight inside themselves like boxes, yet they would open up, unfolding quite wonderfully, if only you were interested in them." ~ Sylvia Plath, from Johnny Panic and the Bible of Dreams: Short Stories, Prose and Diary Excerpts
"I wondered how many people there were in the world who suffered, and continued to suffer, because they could not break out from their own web of shyness and reserve, and in their blindness and folly built up a great distorted wall in front of them that hid the truth." ~ Daphne du Maurier, from the novel Rebecca.
"A man's vanity is more fragile that you might think. It's easy for us to mistake shyness for coldness, and silence for indifference." ― Lisa Kleypas, Devil in Winter
"I never wish to offend, but I am so foolishly shy, that I often seem negligent, when I am only kept back by my natural awkwardness. […] Shyness is only the effect of a sense of inferiority in some way or other. If I could persuade myself that my manners were perfectly easy and graceful, I should not be shy." ― Jane Austen, Sense and Sensibility
"We met a great many other interesting people, among them Lewis Carroll, author of the immortal "Alice"–but he was only interesting to look at, for he was the silliest and shyest full-grown man I have ever met except "Uncle Remus." ― Mark Twain, Autobiography of Mark Twain: Volume 1
"Shy people are my favorites. The unmistakable glint of shyness in someone's eyes can mesmerize me for years!"
― Avijeet Das
"I am the son and the heir of a shyness that is criminally vulgar…" Morrissey, from "How Soon Is Now?" by The Smiths
In an article titled "Shy Guys: Their Psychology and Recovery," it is explained that shy "guys feel anxious in social situations and they feel particularly anxious around girls, especially the ones they find attractive. They have trouble engaging in conversations and keeping them going, they hide their sexual side, they are often invisible to the girls they like, and if they're not they often get friend-zoned by these girls. Unsurprisingly, their social life in general and their dating life in particular look pretty gloomy." In general, shyness is the consequence of overestimating the risks social situations pose for you. The perceived risks vary from shy guy to shy guy.
The article highlights two factors that contribute to shyness in guys. The first is that shy guys see themselves as "losers." They compare themselves to other males who seem to them to be more ambitious, socially and materially successful. Since success and status are relative, shy guys misrepresent and twist reality in their minds, making themselves the ones who come out looking unappealing to others. Consequently, they become more and more timid. The guy next door in "Shy Guy" is handsome, according to the girl who is dreaming about him. But, he is too timid to look her in the eye.
But, what if a guy who is shy is successful? What if he has paid off his mortgage on a home, had a successful career, is positively regarded by others? What could contribute to being shy? The answer is they don't believe they are sexy to others. Deep down they don't believe anyone would find them sexually attractive. But beauty is in the eye of the beholder. There are many people in society who are in a relationship that based on fashion magazine standards one might expect to remain single. The problem with guys who are shy is not based so much on objective shortcomings in their sexual attractiveness, success or status. It is their faulty thinking.
"Shy Guy" peaked at #2 in Vancouver, #13 in Worcester (MA) and #20 in Twin Falls (ID).
A local paper in Reseda, California, captured the brief stardom of the Crystalettes with a caption that read "Crystalettes Perform at School." "Singing during assembly at Grover Cleveland High School in Reseda the Crystalettes, the Dispoto Sisters, from left Tina, 17, Patti, 12, and Diana, 15. (The) Girls shared the spotlight with Johnny Mathis at two assemblies which marked beginning of football season. Tina and Diana are students at Cleveland, and Patti attends Northridge Junior High School."
Another local California paper in Sherman Oaks featured a photo of the girl trio with this caption: "Add Songs, Beauty to Picnic Concept." The news story announced "Dispoto Sisters will be among talent to be seen and heard at today's first annual picnic-concert at Sousa Park, Notre Dame High School, Riverside Drive at Woodman Avenue. Old-fashioned concert will be family affair with blankets, picnic baskets order of the day."
In early January 1963, the girl group's followup single "Just Think Of Me" got some airplay in Philadelphia and San Bernardino (CA). While the flip-side "Billy, My Billy", was also given a spin in San Bernardino and in Trenton (NJ). Later in 1963, even further off the radar was the girl group's third single credited to the Crystalettes, "I've Got Everything". A final release came in 1964 titled "Archibald". The Crystalettes had left Crystalette Records, and signed with the Almo International label. But, the disc was a commercial flop.
From comments on YouTube below "Shy Guy", Diana later got married and her married surname is Bennett. Tina Dispoto also got married, and her grown up daughter, Rye Randa, has posted rare Crystalettes songs on YouTube. Likely Patty got married too, but I'm waiting for more information to fill in the gaps about this very obscure girl group.
July 20, 2022
Ray McGinnis
References:
"Shy Guys: Their Psychology and Their Recovery," Peopleskillsdecoded, December 6, 2012
"Crystalettes: We're In love," White Doo-Wop Collector, October 17, 2011.
"C-FUNTASTIC FIFTY," CFUN 1410 AM, Vancouver, BC, October 13, 1962.
For more song reviews visit the Countdown.