#630: Both Sides Now by The Johnstons
Peak Month: December 1968
8 weeks on CKLG's Vancouver Charts
1 week Hit Bound
Peak Position ~ #6
Peak Position on Billboard Hot 100 ~ did not chart
YouTube.com: "Both Sides Now"
Lyrics: "Both Sides Now"
The Johnstons were a close-harmony Irish folk group from the village of Slane in northeastern Ireland. Originally they were a family trio consisting of Adrienne, Lucy and Michael Johnston. Talking to B.P. Fallon in the September 19, 1968 issue of Spotlight brother Michael said, "Adrienne and Lucy started off together as a duo with Aidey on piano." said Michael. "They did their own versions of current pops like Roses are Red and all the Del Shannon numbers like Searchingand Swiss Maid." Michael joined a short time later around mid- 1965 playing guitar. Said Michael, "We used to do stuff like If I Had A Hammer and a country and western version of I Hear A Bluebird Sing."
In 1965, they signed to Pye Records in the UK and had a #1 hit on the Irish charts with Ewan McCall's song, "The Travelling People". In 1967, Michael left the band and they added both Mick Moloney and Paul Brady to become a foursome. Paul Brady was born in Belfast in 1947. Mick Moloney was born in Limerick, Ireland, in 1944. In 1967 the Johnstons had two substantial hits in Ireland with "The Curragh of Kildare (#11 on the Irish charts) and "I Never Will Marry" (#8 on the Irish charts). Their fourth single release in 1968, "Both Sides Now," was a cover of the original by Canadian folk singer Joni Mitchell.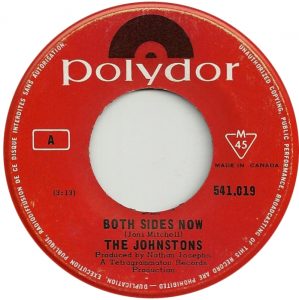 The Johnstons "Both Sides Now" was their only single release that had any limited success in North America. Their version charted into the Top Ten in Dayton, Ohio (#1), Troy, NY (#2), Sarasota, FL (#6), San Bernardino, CA (#10) and here in Vancouver peaking at #6. With such limited exposure the song missed the Billboard Hot 100 and did not appear on the Canadian RPM Singles chart.
"Both Sides Now" is a poetic masterpiece with cascading images as similes for clouds, love and life. The singer considers a multitude of experiences and concludes that they really don't know clouds, love or life at all. The clouds they saw in the shapes of angel hair, feathered canyons and ice cream castles now only block the sun. What were once ferris wheels and fairy tales are now revealed as "love's illusions." In the game of life, old friends notice a shift in the narrator of the song and observed they've "changed." Life itself involves constant change and the reflective wisdom of Joni Mitchell's lyrics struck a chord with radio listeners. Judy Collins recorded a version of the song which peaked at #6 in Vancouver and #8 on the Billboard Hot 100 in the winter of 1968. Her version won the Grammy Award for Best Folk Performance in 1969.
In 2014, Joni Mitchell told the Irish Times, "Well, I wrote it at 21. And I took a lot of flak for. 'What do you know about life? You're only 21.' And it's not an ingenue's song. And I think I gave my best performance of that song with the London Philharmonic. It's not an ingenue's role. I grew into that song." For listeners the song can speak to us at any age. But the impact is different if we are ten or twenty-one, then when we are fifty or seventy-five.
Asked if she have anticipated the depths of "Both Sides Now" over the decades, Mitchell replied, "Well, you know how hard my life is. You know how much crap I went through by the time I was 21. How much bad behaviour I witnessed in people by the time I was 21. I had a menacing outlook, kind of unthinkable. I managed to ride through a lot. I knew, oddly enough – I don't know if I was older than my years – I think it's farsightedness rather than anything else. If you see sprouts coming out of the ground you can tell what kind of weed they're going to grow into. You know? But people don't even see the sprouts coming out of the ground. People aren't very aware. We live in a shortsighted culture. You're generally viewed as an alarmist until it's proved in the future that you were right."
The song has been recorded by over 75 artists including Pete Seeger, Hugh Masekela, Willie Nelson, Nana Mouskouri, Cassandra Wilson, Carly Rae Jepsen, The Tokens, Cilla Black, Glen Campbell, Dion, Neil Diamond and Susan Boyle.
After "Both Sides Now" the Johnstons recorded more singles. They released a version of the Gordon Lightfoot song "Wherefore and the Why". The Johnstons covered Spanky and Our Gang's "Give a Damn" that had been banned in a lot of American radio markets because of the word "damn". They also released a cover of Ralph McTell's song "Streets of London". On their Both Sides Now album, they also recorded Leonard Cohen's "Hey, That's No Way To Say Goodbye". In the late 1960's the Johnstons toured in Germany, the Netherlands, Scandanavia and in 1971 appeared at the Philadelphia Folk Festival. For a number of years they toured as many as nine months of the year. They disbanded in 1973 though they did perform at one reunion concert in 1976 in Canada. It would be their last.
Adrienne Johnston, the bands lead singer, died under mysterious circumstances on May 27, 1981, in Minneapolis, Minnesota, when she was 35 years old. Over the past six years in her marriage to Chris McCloud she was unreachable when friends and family tried to let her know about the death of her father and other close relatives. The official verdict was that she had died of a broken neck after an accidental fall at her home. However, a medical examiner expressed "concerns about this case" to a family member.
Chris McCloud met Adrienne Johnston at a concert backstage in 1969. In time he became the bands manager. This turn of events led Mick Moloney to leave the band. An article in the Irish Independent from December 16, 1989, suggested that Adrienne Johnston was a victim of domestic violence.
Mick Moloney has continued to perform over the past five decades. He earned a Ph.D. in Folklore and Folk Life from the University of Pennsylvania. At that university he has taught ethnomusicology, folklore and Irish studies courses. He has also taught at Georgetown University and Villanova University. More recently, Moloney has taught Irish Studies at New York University. He leads the Washington Square Harp and Shamrock Orchestra. He spends half the year living in Thailand and assisting with an orphanage. In 2002, Moloney published a book titled Far From the Shamrock Shore: The Story of Irish American History Through Song.
Paul Brady, who learned piano at six and guitar at eleven, left the Johnstons in 1974 to form the Irish folk group Planxty. The group had opened for Donovan in Galway, Ireland, in 1972, and had a solid fan base. But Planxty split in 1975. Brady was known as one of Ireland's best traditional folk singers. In 1978, he released his first solo album. In 1985, Bob Dylan remarked on the liner notes of his box set Biograph, "…people get too famous too fast these days and it destroys them. Some guys got it down-Leonard Cohen, Paul Brady, Lou Reed, secret heroes, John Prine, David Allen Coe, Tom Waits. I listen more to that kind of stuff than whatever is popular at the moment. They're not just witchdoctoring up the planet, they don't set up barriers …" Over the decades Paul Brady has released a dozen studio albums. His songs have been recorded by Tina Turner, Santana and Dave Edmunds.
The Johnstons Folk Music Festival was launched in 2011 in Slane, County Meath, Ireland. It featured a reunion with Lucy & Michael Johnston, Mick Moloney and Paul Brady playing together for the first time in almost 40 years. The Johnstons Folk Music Festival
February 25, 2019
Ray McGinnis
References:
John Lynch, "The Irish Ballad Boom of the 1960's," Trad Folk Ireland.com .
"The Johnstons Story (1964-1974)," Irish Showbands.com, 2007.
Dierdre Morrissey, "An Irish Woman's Diary," Irish Times, Dublin, June 21, 2011.
"2018 Festival Announced!," Johnston Music Festival, August 8, 2018.
"The Johnstons-What Might Have Been?," Derek's Music Blog, December 4, 2017.
Una Mullalley, "Both Sides Now: Joni Mitchell Looks Back," Irish Times, Dublin, November 29, 2014.
"Boss 30," CKLG 730 AM, Vancouver, BC, December 20, 1968.
For more song reviews visit the Countdown.