#1259: Sie Liebt Dich by The Beatles
Peak Month: July 1964
5 weeks on Vancouver's CFUN chart
Peak Position #8
Peak Position on Billboard Hot 100 ~ #97
Youtube.com: "Sie Liebt Dich"
Lyrics: "Sie Liebt Dich"
In his book, The Beatles Encyclopedia: Revised and Updated, Bill Harry writes about the background to the song "She Loves You." In June 1963, The Beatles were on a tour of the UK with Gerry and the Pacemakers and Roy Orbison. While they were on the tour bus, Paul McCartney and John Lennon got the idea for "She Loves You". It was in their hotel room after their June 26th concert at the Majestic Ballroom in Newcastle upon Tyne they made expanded on the lyrics and the melody for "She Loves You". According to Kenneth Womack in his book, Long And Winding Roads: The Evolving Artistry of The Beatles, "She Loves You" was finished the following day at Paul McCartney's Forthlin Road home in Liverpool.
Paul McCartney was interviewed by Laura Davies about the songs origins of "She Loves You". She published her article in the Liverpool Daily Post in on February 23, 2003. McCartney told Davies the initial idea for the song began while on their tour bus while hearing songs on the transistor radio in June 1963. On May 29, 1963, American teen idol, Bobby Rydell, released a single in the UK called "Forget Him". (McCartney's story of the Bobby Rydell "Forget Him" influence on the creation of "She Loves You" is also repeated in Kenneth Womack's Long And Winding Roads… book). As "Forget Him" was climbing the UK charts, McCartney and Lennon were intrigued by the songs' call and response pattern. McCartney told reporter, Laura Davies "as often happens, you think of one song when you write another … I'd planned an 'answering song' where a couple of us would sing 'she loves you' and the other ones would answer 'yeah yeah.' We decided that was a crummy idea but at least we then had the idea of a song called 'She Loves You.' So we sat in the hotel bedroom for a few hours and wrote it—John and I, sitting on twin beds with guitars." Once the song was complete, they played it for Paul's father, "Jim" McCartney. When Jim McCartney heard "She Loves You" performed in the family living room he encouraged John Lennon and Paul McCartney change the lyrics from "She loves you, yeah, yeah, yeah" to "She loves you, yes, yes, yes." Fortunately, John and Paul didn't go with Paul's father's suggestion.
Part of Lennon and McCartney's interest in finishing a song quickly, was that the Beatles had booked a recording studio for July 1st. "She Loves You" was composed, according to Jude Southerland Kessler, in just three days.
The title for "She Loves You" was framed around the use of personal pronouns. This was typical of Beatles song titles at the time that included "From Me To You", "Please Please Me", "Thank You Girl" and "Do You Want To Know A Secret". Most of these songs are sung from the perspective of someone who loves someone else. But, in the case of "She Loves You", it is a third party who is supportive of the relationship who tries to help mend an estrangement due to a misunderstanding:
You think you lost your love/well, I saw her yesterday.
It's you she's thinking of/and she told me what to say.
She says she loves you …
In The Beatles Anthology (2000), a 1980 interview is cited where John Lennon gives Paul McCartney the credit for the inspiration to not title the song "I Love You." "It was Paul's idea: instead of singing 'I love you' again, we'd have a third party. That kind of little detail is still in his work. He will write a story about someone. I'm more inclined to write about myself."
The first time John Lennon ever heard a song use the words "yeah yeah" was on "All Shook Up" by Elvis Presley. According to Ian MacDonald in his book Revolution in the Head: The Beatles' Records and the Sixties, John Lennon recalled "I don't know where the 'yeah yeah yeah' came from [but] I remember when Elvis did 'All Shook Up' it was the first time in my life that I had heard 'uh huh', 'oh yeah', and 'yeah yeah' all sung in the same song." "She Loves You" also included a number of "wooooo's" that Lennon credited the Isley Brothers' recording of "Twist And Shout" as the source of their inspiration, a song the Beatles would later record.
On August 23, 1963, "She Loves You" was released in the UK. It quickly climbed to the top of the UK singles charts on September 12th, remaining at #1 for four consecutive weeks. Then Brian Poole and The Tremeloes took the #1 spot on October 10th, with "Do You Love Me". After three weeks at #1, Gerry and The Pacemakers bumped the Tremeloes from the top spot when "You'll Never Walk Alone" took the Pacemakers to the top spot on October 31st. Amazingly, seven weeks after peaking at #1 on October 3rd, "She Loves You" re-entered the #1 spot on November 28th for two more weeks. In Vancouver the song debuted on the December 7th CFUN-TASTIC FIFTY chart and topped the chart on December 21, 1962. It would spend four weeks at #1. South of the border, "She Loves You" debuted on the 25 January Billboard Hot 100 chart in 1964, eventually peaking at #2 while The Beatles "I Want to Hold Your Hand" took the #1 spot.
According to the Official UK Singles chart, "She Loves You" is the biggest selling single for The Beatles in the UK. The Guardian reported November, 2012, about the sixty year old anniversary of the UK singles chart that began in 1952. "She Loves You" was the ninth biggest selling single in the UK between 1952 and 2012, with 1.9 million sales. "I Want To Hold Your Hand" was the fifteenth biggest all time seller in the UK at 1.77 million sales. At position #25, "Can't Buy Me Love" sold 1.53 million records in the United Kingdom. At #35 on the biggest hits list in the UK, "I Feel Fine" sold 1.43 million copies. Having sold 1.39 million copies, the #40 on the Official UK singles million-selling singles list was held by "We Can Work It Out"/"Day Tripper". And in position #95 on the all-time best selling singles in the UK between 1952 and 2012, was "Hey Jude", with a sales total of 1.06 million records.
In the UK it was Parlophone Records that recorded "She Loves You". Parlophone Records was owned by EMI. The German division of EMI believed the only way to sell Beatles records in Germany was to offer German translations of their songs. So the Beatles were pressed to re-record their songs German. The band was in France for a 19-day series of concerts at the Olympia Theatre. The recording session was scheduled for 27 January, but the Beatles were reluctant to attend it.
"Komm, gib mir deine Hand" ("I Want To Hold Your Hand") was the first song to be recorded. It took eleven takes, but the Beatles German vocals were mixed with the original instrumental track. In the case of "She Loves You" the instrumental recording was destroyed by EMI after it had been mixed for mono. As a result the Beatles had to re-record "Sie Liebt Dich" from the beginning. It took thirteen takes to record the instrumental and then the German vocals for "Sie Liebt Dich".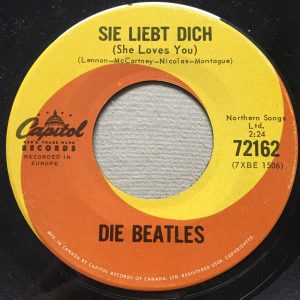 The song charted to #97 on the Billboard Hot 100. It went to #1 in San Bernardino, California, and Akron, Ohio. But outside these two record markets the song was mostly given a pass. It peaked at #6 in Regina and at #8 on CFUN in Vancouver.
Paul McCartney and John Lennon wrote "She Loves You" in English. As the pair weren't in a position to make a perfect translation of the song into German, several German speaking individuals were approached at the last minute to make the translations to German for both "I Want To Hold Your Hand" and "She Loves You". In the article, "Komm Gib Mir Deine Hand:" The in-depth Story Behind the Songs of the Beatles, some background is provided. On record label, the credits for "Sie Liebt Dich" are given to Lennon-McCartney-Nicholas-Montague. Of Nicholas, the article explains that EMI in Germany had a subsidiary called Odeon. George Martin remembers, "Odeon sent over a translator from Cologne to coach the boys, although they did know a little German from having played there." One of the persons assigned to the task was more than a translator. Camillo Felgen was a pop star, lyricist and television/radio presenter in Germany and France. In addition to being a translator for allied troops in World War II, Felgen mong was a contestant in two Eurovision Song Contests. His first appearance in 1960 was not successful, as he finished last. But in 1962, Camillo Felgen finished third with "Petit Bonhomme," which he sang in French. This resulted in a hit record in continental Europe.
According to Dave Rybaczewski, writing for The Beatles Bible on April 5, 2012, in 1964 Camillo Felgen was in the employ Radio Luxembourg in the capacity of program director. On January 28, 1964, Felgen got a phone call from the German producer of EMI, Otto Demmlar. He asked Camillo Felgen to translate from English to German both "I Want To Hold Your Hand" and "She Loves You." Demmlar told Felgen he would need to fly to Paris, to meet the Fab Four and coach them on proper pronunciation of the German syllables ahead of their recording session. Otto Demmlar stressed the urgency, as Camillo Felgen had only 24 hours to get the translations completed. Felgen flew at once to Paris and worked with George Martin, The Beatles and another translator credited as Lawrence Montague. Camillo chose to use an alias for his songwriting credit: J. Nicolas. Felgen's two middle names were Jean Nicolas. The Montague in the songwriting credits was Lawrence Montague. According to Diiscogs.com, Montague's real name was Lawrence M. Yaskiel. Born in London in 1936, Lawrence was a British specialist in English to German translation. He joined Deutshce Vogue Schallplatten, a German subsidiary of Vogue Paris, in 1962.
If George Martin had doubted a foreign language song could sell in another record market, he could have considered the success of several other charted songs from the late '50s and early '60s. In 1960, a German language song, "Seemann (Deine Heimat ist das Meer)" climbed up the charts internationally including in Australia, the United States and Canada under the English title "Sailor (Your Home is the Sea)". The song, written by Werner Scharfenberger and lyricist Fini Busch, was recorded by Austrian singer Edith `Ditta' Einzinger under the name "Lolita". It became an international hit over 1960-61, peaking at #1 on CFUN the last week of October 1960.
In 1963, Kyu Sakamoto had an international hit with his #1 hit in Japan, from 1961, called "Sukiyaki". The song was recorded in English by the pop group A Taste of Honey who had a Top Ten hit in North America in 1981. Also in 1963, the Singing Nun had a French language song called "Dominique" that was an international #1 hit.
December 6, 2016
Ray McGinnis
References:
Laura Davies, She Loves You Where? Where? Where?, Liverpool Daily Post, Liverpool, UK, February 26, 2003.
"C-FUNTASTIC FIFTY," CFUN 1410 AM, Vancouver, BC, July 11, 1964.
Harry, Bill. The Beatles Encyclopedia: Revised and Updated. Virgin Publishing, London, 2000.
The Beatles Anthology. Chronicle Books, San Francisco, 2000, p. 96.
Womack, Kenneth. Long And Winding Roads: The Evolving Artistry of The Beatles. Continuum International, New York and London, 2007, p. 67
Jude Southerland Kessler, The Composition of She Loves You: A New Look at Beatles History, Beatles Again.com, August 1, 2011.
Ian MacDonald, Revolution in the Head: The Beatles' Records and the Sixties, (Chicago Review Press, 2007).
Ami Sedghi, "UK's Million-selling Singles: the Full List," Guardian, November 4, 2012
Dave Rybaczewski, "KOMM, GIB MIR DEINE HAND", The Beatles Bible April 5, 2012
Lawrence Montague bio and credits, Discogs.com
C-FUN-Tastic 50, October 29, 1960 ("Sailor" at #1 on CFUN chart)
C-FUNTASTIC FIFTY, May 11, 1963 ("Sukiyaki" at #1 on CFUn chart)
For more song reviews visit the Countdown.