#1216: Sinful Wishes by Kon Kan
Peak Month: May 1993
Peak Position #19
9 weeks on Vancouver's CKLG Chart
Peak Position on Billboard Hot 100 ~ did not chart
YouTube: "Sinful Wishes"
Barry Harris was born in Toronto. In 1988 he envisioned a one-off project involving a synth-pop version of Lynn Anderson's 1971 hit "Rose Garden". Harris got Kevin Wynne to be a vocalist for the single. This was due to Wynne's ability to mimic the vocal drone found in singles by New Order (i.e. "Blue Monday"). The duo got their name – Kon Kan – from the phrase "Can Con" which is short for Canadian Content which is the name of a rule that enforces Canadian radio stations to at least play 30% music from Canadian musicians. "I Beg Your Pardon" peaked at #3 in New York City, #7 in Hamilton (ON) and Columbia (SC), #9 in Chicago, #10 in San Francisco, and #15 in Vancouver (BC). Internationally, "I Beg Your Pardon" peaked at #5 in the UK, #7 in New Zealand, and #8 in Germany. On March 18, 1990, at the Juno Awards, Kon Kan won an award for Best Dance Recording.

After the success of "I Beg Your Pardon", Harris and Wynne went on concert tours. This included Toronto singer Chrissy Lomax who sang the Lynn Anderson part of "I Beg Your Pardon" on stage. Barry Harris also contracted with Kevin Wynne to make an album titled Move to Move. Two more singles from Move to Move also appeared on the Canadian RPM Singles chart. "Harry Houdini" stalled at #39 on the national chart in Canada. It also charted to #33 on the Billboard Hot Dance Music chart. "Puss N' Boots/These Boots Are Made For Walkin'" included a re-sing session of "These Boots Are Made For Walking" originally sung by Nancy Sinatra. The recording also included an "Immigrant Song" 'wail' was sung by Barry Harris' co-producer Mark Goldenberg.. The single climbed to #13 in Milwaukee (WI), and #14 in San Francisco. On the Billboard Hot 100 the single climbed to #58, and #14 on the Billboard Hot Dance chart.
After Move to Move, Kevin Wynne left Kon Kan and Barry Harris carried on, recording a second Kon Kan album titled Syntonic. In 1990, the debut single from the album Syntonic, "Liberty!", cracked the Top 30 in Hamilton (ON).
In 1993 Kon Kan released its third studio album Vida!… The debut single was "Sinful Wishes".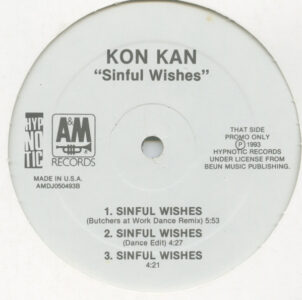 "Sinful Wishes" was written by Barry Harris. The song is about modern love and the singer hunches that though "modern love may be cool, only time will tell if I'm a fool." While getting involved, the guy wasn't sure he wanted "to care." However, now his romantic partner is always on his mind. In the refrain the singer confides "I go to bed with sinful wishes of you." In the video there are a pair of coral-lipstick coloured lips hovering in the sky above the band.
In an article titled Men's Top 15 Most Common Fantasies, 82 percent of men fantasize about watching two women make love; And 82 percent of men fantasized about having sex with a partner in an unusual place including a hospital bed, office space and golf course shower; 80 percent of men said they fantasized about sleeping with a woman with very large breasts; 75 percent of men fantasized about having an orgy with 3 or more women; 73 percent fantasized about having sex with a stranger; 72 percent fantasized about having their "antenna" stroked; And 66 percent fantasized about making love in a public place. Such is the stuff of men's nighttime fantasies when they are alone and thinking about their romantic partner (or other possibilities).
"Sinful Wishes" peaked at #19 in Vancouver during a ten week run on the CKLG chart. Nationally, the RPM Top 100 singles chart in Canada saw "Sinful Wishes" stall at #75.
After 1993, Barry Harris decided to create a techno\house music project. It was named Outta Control, with the other project members Rachid Webbi and Kimberley Wetmore. Outta Control released their Outta Control album in 1996. From the album came four hit songs on the Billboard Hot Dance Music\Club Play chart. These were "Tonight It's Party Time", "One Of Us", a cover of Kon Kan's "Sinful Wishes", and a cover of the mid-80s Philip Oakley and Georgio Moroder dance hit "Together In Electric Dreams".
In 1997, Barry Harris teamed up with DJ and remixer Chris Cox to form Thunderpuss. They collaborated to produce and remix dance hits for numbers of recording artists. When Cox and Harris parted in 2003, Barry Harris kept on working as a DJ. He remixed a song for Chaka Khan, Then he left the music industry in 2005, needing a break. But in 2009, Harris released a new song titled "Drama Queen (Texting You)." Then in 2011, Barry Harris assembled a rock band named Sick Seconds.
In June of 2013, Barry and Kevin Wynne briefly reunited as Kon Kan.
January 23, 2021
Ray McGinnis
References:
"Kon Kan Wins Canadian Juno Award (March 1990)," YouTube.com.
Natalie Gray, "Canadian Artists Kan Kan," March 18, 1990.
"Rare and Obscure Music: Kon Kan," music rare obscure blogspot, July 28, 2010.
Monica Deol, "Kon Kan on Electric Circus," Electric Circus, Toronto, 1989.
Bianca Lallito, "Men's Top 15 Most Common Fantasies," The Clever.com, August 27, 2017.
For more song reviews visit the Countdown.