#1273: Sing A Song by David Clayton-Thomas
Peak Month: April 1972
7 weeks on Vancouver's CKVN chart
Peak Position #12
Peak Position on Billboard Hot 100 ~ did not chart
YouTube.com: "Sing A Song"
In 1941 David Thomsett was born in Surrey, England. He immigrated with his family to Willowdale, a suburb of Toronto, when he was six years old. Living with an authoritarian father who physically beat him as a routine way of punishing his son, David left home and began to live on the streets at the age of 14. This led to a few years of petty crime, being in and out of juvenile detention centers, the Millbrook Reformatory and subsequently the Burwash Industrial Farm, an agricultural setting established in the 1910s to rehabilitate prison inmates, and next house Japanese-Canadians during World War II. While in jail a battered, old mail-order guitar was left to him by an outgoing inmate. It was then Clayton-Thomas discovered a talent for music that allowed him to believe in a different kind of life.
At the age of 18 he made his debut on stage in 1963 as Sonny Thomas at the Bluenote Club in Toronto. Ronnie Hawkins, a Canadian rockabilly artist who had modest success with hits in the late 50s ("Mary Lou") took "Sonny Thomas" under his wing. With Hawkins encouragement Thomas grew in skill and confidence. In 1964 he changed his name to David Clayton-Thomas and his band settled on the name The Shays. Their debut single was a tune by blues artist John Lee Hooker called "Boom Boom" peaked at #16 on CHUM in Toronto. The version that charted in Vancouver was by The Animals and it peaked on CFUN in January 1965 at #9. David Clayton-Thomas and The Shays first hit on the Vancouver charts was on CKLG. The song was called "Take Me Back" which peaked at #20.
In 1966 Clayton-Thomas formed a new band called The Bossmen. They had a new jazz-tinged pop sound and grew a loyal following in New York City's Greenwich Village and Toronto's Yorkville clubs. The band's piano player, Tommy Collacott, had been the accompanist for Sarah Vaughan at Carnegie Hall when he was 14 years old. The Bossmen released an anti-Vietnam protest song called "Brain Washed". The track peaked at #8 in Vancouver, #2 at CJCA in Edmonton, #6 on CHUM in Toronto and #11 on nationally on Canada's RPM singles chart. However, the Bossmen had an unsuccessful tour across Western Canada and Clayton-Thomas left the group.
He next found himself performing at "basket houses" in Manhattan where new artists sang songs to their audience and then a basket was passed around to make donations to the performer. Concurrently, in 1967, a new band had formed in New York City called Blood, Sweat and Tears. By 1968 they were looking for a new lead singer and were considering the lead singer for the recently disbanded Box Tops, Alex Chilton, whose vocals were heard everywhere in the summer of 1967 on their #1 hit "The Letter." Folk singer Judy Collins had seen Clayton-Thomas perform at one of the basket houses and was so impressed and moved by his performance that she told members of Blood, Sweat & Tears about him. At her insistence, guitarist Steve Katz and drummer Bobby Colomby went to see Clayton-Thomas in concert. They were so amazed that they asked David to front the band as lead singer.
Blood, Sweat and Tears next released a self-titled second album featuring Clayton-Thomas on lead vocals. His treatment of "You've Made Me So Very Happy", "Spinning Wheel" and "And When I Die", all shot to #2 on the Billboard Hot 100. They peaked on CKLG sequentially at #2, #18 and #5.
With its record sales successes Blood, Sweat and Tears headlined at major venues around the world including Royal Albert Hall, the Metropolitan Opera House, the Hollywood Bowl, Madison Square Garden, and Caesar's Palace. They also performed in 1969 at the Newport Jazz Festival and Woodstock. They were the first rock 'n roll band to play behind the Iron Curtain in Soviet Eastern Block countries, with the historic United States Department of State-sponsored tour of Eastern Europe in May and June 1970. With Blood, Sweat and Tears Clayton-Thomas lived on the road traveling across Europe, Australia, Asia, South America, the US, and Canada. But by 1972 the touring was leading to exhaustion and Clayton-Thomas left the band.
At that time David Clayton-Thomas came across a song written by Gary Wright called "Sing A Song."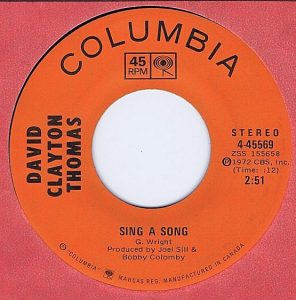 Clayton-Thomas liked "Sing A Song" and chose to release it as a single. David Clayton-Thomas knew firsthand the experience of having an abusive authoritarian father, living on the streets, being sent to reformatory and then to jail for breaking the law. He knew what it was to find one's life in a mess, painful and feeling like you've been dealt a dirty deal. The song's lyrics remark everything you do is always in extremes. Beyond the possibly cathartic outcome for Clayton-Thomas singing a song he could identify with, there were others hearing the song on the radio who found music a helpful focus to lift one out of stuck and difficult situations.
Gary Wright had been the keyboardist for the All Things Must Pass album by George Harrison in 1970, including the #1 hit single "My Sweet Lord". New Jersey born Wright was a child star on Broadway and had recently been a member of the UK band Spooky Tooth. He subsequently played keyboards on two hit singles for Ringo Starr, "It Don't Come Easy" and "Back Off Boogaloo", and for Harry Nilsson on his #1 hit in 1972 called "Without You". Wright would go on to have a successful solo career with a number of hit singles including "Love Is Alive".
"Sing A Song" charted to #17 on KSPD in Boise, Idaho, #22 on KYNO in Fresno, California, and got some airplay in Olympia, Washington, Tulsa, Oklahoma, and Sarasota, Florida. On CKVN-AM in Vancouver, BC, the song spent 7 weeks on the chart peaking at #12.
November 25, 2016
Ray McGinnis
References:
Blood, Sweat and Tears. Penguin Books, Toronto, Ontario, 2010.
Keith Sharp, Freed From a Legacy, Music Express, May 22, 2013.
"The Top 40 Hits," CKVN 1410 AM, Vancouver, BC, April 17, 1972.
For more song reviews visit the Countdown.