#505: Sit Down I Think I Love You by the Mojo Men
Peak Month: February 1967
9 weeks on CFUN's Vancouver Charts
Peak Position ~ #2 ~ CKLG
Peak Position on Billboard Hot 100 ~ #36
YouTube.com: "Sit Down I Think I Love You" ~ Mojo Men baroque rock cover
YouTube.com: "Sit Down I Think I Love You" ~ Buffalo Springfield original rock version
Lyrics: "Sit Down I Think I Love You"
Singer and bass guitarist Jim Alaimo was born James Charles Alamio in 1938. Jim was in a Coral Gables, Florida, band called the Redcoats with his cousin Steve Alaimo. They released a single in 1958 titled "Home By Eleven" on a label called Dade Records, which is also the name of the county that Coral Gables was located. In 1959 they released a doo-wop single titled "I Want You To Love Me". Subsequent singles in '59-'60 were rockabilly-infused "She's My Baby", a doo-wop tune "You Can Fall In Love", and teen ballad "Love Letters". Steve Alaimo went on to have a solo career and had a Top 30 hit in 1963 titled "Everyday I Have To Cry".
For his part, Jim Alaimo released a single in 1963 titled "Esmeralda" which charted in Miami. With guitarist Paul Curcio, drummer Dennis DeCarr (Potokar), and keyboardist Don Metchick, they were bandmates in Florida known as the Valiants. They backed up Steve Alaimo on quite a few of his single releases in 1960-64. The Valiants moved to San Francisco in 1964 to reform as new band with a new sound.
There they met Sylvester Stewart, later known as Sly Stone, then a record producer at Autumn Records for acts such as The Beau Brummels ("Laugh Laugh" and "Just A Little") and The Vejtables ("I Still Love You"). Stewart and the band recorded a few songs under the name Sly and the Mojo Men. However Stewart was not happy with the results, and decided not to release the recordings. Stewart continued working with the band as a songwriter and producer on "Dance with Me" (1965), the Mojo Men's first song to enter the Billboard Hot 100 chart. It peaked at #30 in Vancouver in November 1965, and was a Top Ten hit in San Jose (CA) and San Francisco.
On January 1, 1966, the Mojo Men performed in concert at the Seattle Center Coliseum in Seattle, Washington. That is as close geographically as they ever got to performing in Vancouver (BC).
DeCarr left the group in 1966 was was replaced by Jan Errico. She was the cousin of Greg Errico, a future drummer with Sly and the Family Stone. Janet Ericco was only 12 when she released a single titled "It Was A Lie". Her backing group was named the Twilights, which was a pseudonym for Joe Piazza and the Continentals, a house band for Dick Stewart's Dance Party on KPIX-TV in San Francisco. The band included Slyvester Stewart, who later went by the stage name Sly Stone. Jan Ericco later became the lead vocalist with the Vejtables and sang the lead on "I Still Love You", which climbed to #16 on CFUN in October '65.
The Mojo Men had a single in 1966 titled "She's My Baby", which was only marginally successful. But notably, the single was sampled on Kanye West's 2010 album track "Hell of a Life", from My Beautiful Dark Twisted Fantasy.
The next single release by The Mojo Men was "Sit Down I Think I Love You".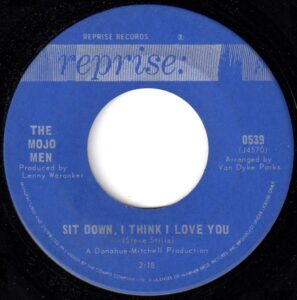 "Sit Down I Think I Love You" was written by Stephen Stills, and first recorded by Buffalo Springfield on their debut album, Buffalo Springfield. The album was released on December 5, 1966. Stills wrote the song before Buffalo Springfield was formed. At the time he composed the song, Stills had just moved to Los Angeles and had started to compose songs that he felt "were personal statements and had something to say." Though Stills had sold the song's publishing rights for a price, he never received any writer's royalties.
Stephen Stills went on to form the folk rock supergroup Crosby, Stills & Nash with David Crosby of the Byrds and Graham Nash of the Hollies. Neil Young had launched his successful solo career and reunited with Stills in Crosby, Stills, Nash & Young in 1969. Crosby, Stills and Nash continue to perform actively. Stills had a hit single with "Love The One You're With" in 1970. Though he didn't have any more notable hit singles, Stills released eleven studio albums between 1968 and 2005.
The song is an honest, straight forward statement expressing an interest in starting a romantic relationship. The singer confesses "I can't stop thinking of you…." Stills writes "Sit down I think I love you, pretty baby I'm your guy. It's not much I'm asking of you, just please give me a try." Stills lyrics were recorded as written in the original recording by the Buffalo Springfield. The lyrics present a very confident suitor who sings "pretty baby I'm your guy." But when the Mojo Men slowed the song down a bit, and gave it a baroque rock rendition, they revised the lyrics. In their recording they sang "If you want someone to love ya, pretty baby, make it me. It's not much I'm asking of ya. Just try me and you'll see." The nuance shifts the song to the singers' pitch as more pleading. In addition, while Buffalo Springfield next sing "Can't you see that I'm a desperate man," the Mojo Men sing "Baby, can't you see that I'm a desperate man." It's a subtle shift. But, by adding "baby" at the start of the line, The Mojo Men sound a bit more desperate than the Buffalo Springfield do.
In "Sit Down I Think I Love You" the singer makes hit pitch to the object of his affection, adding, "you know what they say about the bird in the hand…" In the 6th century BCE an Arabic saying in the Proverbs of Ahiqar instructed: "a sparrow in thy hand is better than a thousand sparrows flying." In the 13th century there was a Latin proverb: Plus valet in manibus avis unica quam dupla silvis." It translated into "a bird in the hand is worth two in the woods." In 1530 it was written in The Boke of Nurture or Schoole of Good Maners that "A byrd in hand is worth ten flye at large." Later in the 15th century, a variant of this was published in English by J. Capgrave in The Life of St Katherine. The revision, "a bird in the hand is worth two in the bush," caught on and has been an idiom repeated as common wisdom ever since.
At the website writing explained.org the definition of the phrase is given, and expanded on." A bird in the hand is worth two in the bush means "Having something for certain is better than the possibility of getting something better."
"A bird in the hand is a sure thing; it's in your hand. You already have the bird. If you try to catch another, however, you risk losing the bird in your hand and also whatever it was you were trying to catch. Now you have no bird in hand, and there is no guarantee that you will get the two in the bush. In other words, it's better to be sure about something smaller than to be unsure about something bigger.
This idiom can be used to talk about actual things, relationships, or even concepts like advantages and disadvantages. It is better to have one certain relationship rather than risk it by cheating with more; it is better to have a lesser but more certain advantage than the possibility of a greater one that may not actually come to fruition; it is better to take a smaller but certain return on investment than the possibility of a greater one that may never come to be."
And so, in "Sit Down I Think I Love You", the narrator of the song has decided that the person in front of him is hopefully available for a date. It is far better to try to make things work with the one who is making him "high just-a thinking about ya," then to chase castles in the air and fantasize about people who he hasn't met yet. In the song, the narrator is inviting the object of his desire to "sit down." Clearly, the person who they can't stop thinking of is just going about their business. They haven't stopped to sit down, but are likely going through their routines and attending to their list of things to do in an ordinary life.
"Sit Down I Think I Love You" peaked at #1 in Bakersfield (CA), Providence (RI), Troy (NY), Hamilton (ON), Grand Rapids (MI), Salt Lake City, and Erie (PA), #2 in Regina (SK), Ann Arbor (MI), Grande Prairie (AB), Greenville (SC), San Francisco and San Jose (CA), #3 in Vancouver (BC), Des Moines (IA), Jamestown (ND), Miami, Eugene (OR) Boston, and Hartford (CT), #4 in Honolulu, Fort Wayne (IN), Winston-Salem (NC), Battle Creek (MI), Toldeo (OH), Sioux Falls (SD), Phoenix, San Bernardino (CA), Toronto, Davenport (IA), Albany (NY) and Merced (CA), #5 in Monterey (CA) and Bellingham (WA), #6 in Seattle, Montgomery (AL), Los Angeles, Manchester (NH), Rochester (NY), Reading (PA), Oxnard (CA) and San Diego, #7 in Geneva (NY), Minneapolis/St. Paul, Boise (ID), West Palm Beach (FL), and Saginaw (MI), #8 in Sacramento and Vancouver (WA), #9 in Las Vegas, Topeka (KS) and Buffalo (NY), #10 in Fresno (CA), Lowell (MA), Flint (MI) and Orillia (ON).
In Australia, The Executives did a cover of "Sit Down I Love You" in a close cover of the Mojo Men's baroque rock treatment of the song.
The Mojo Men released a followup single titled "Me About You". It got some chart action in Saskatchewan, California, Pennsylvania, New York, Massachusetts and the Great Lake States. In late 1967 the Mojo Men became known as Mojo. This is because Janet Errico got tired of being known as a Mojo Man. Their sound increasingly showed they were strongly influenced by both Jefferson Airplane and The Mamas And The Papas. A subsequent release in March 1968 titled "New York City" climbed into the Top 20 in Montreal.
As The Mojo, the band did a baroque-rock version of Elvis' 1956 hit "Don't Be Cruel". They had an upbeat sunshine pop single titled "Should I Cry" that charted in Toronto in May and June of '68. And in the spring of '1969 "I Can't Let Go" by The Mojo peaked at #3 in Rochester (NY) and #11 in Fort Lauderdale (FL). The group's last gasp was a Top Ten regional hit in Rochester (NY) in the spring of 1970 titled "Everyday Love".
Curcio, Metchick and DeCarr were studio musicians for Sly and the Family Stone's recording of the 1971 number-one hit single "Family Affair". And in 1969 Steve Alaimo was the producer for the Florida-based one-hit-wonder band Mercy, who had a #2 hit on the Billboard Hot 100 with "Love Can Make You Happy".
In 1968, Paul Curcio established Pacific Recording in San Mateo, south of San Francisco. The facility was largely put together by two members of the Grateful Dead's sound crew, Bob Matthews and Betty Cantor. Other recording artists who came to Pacific Recording included Santana, Blue Cheer, the Doobie Brothers, Linda Rondstadt, Taj Mahal, Crazy Horse, and Herbie Hancock.
Curcio's left Pacific Recording in 1978. From 1978 to 1982 he set up and ran Arrow Recording Studio in Santa Rosa, CA. In 1982 Curcio returned to Rochester and establishing Music America Studios. In 1983 he was approached by Metallica's manager, Jon "Jonny Z" Zazula, founder of Megaforce Records. In a Billboard interview, Curcio recalled that Zazula chose him and Music America to record Metallica's debut album because he offered the band an inexpensive rate—reportedly $15,000 for 17 days. The sessions began May 10, 1983. Kill 'Em All, which heralded the arrival of thrash metal in the US, initially sold slowly, but was certified triple-Platinum in 1999. Curcio died of heart failure at age 74 in 2018.
Jim Alaimo later resurfaced in a seventies funk band called Jammer. He died in 1992 of a heart attack at the age of 62.
Composer of "Sit Down I Love You", Stephen Stills, appeared in concert with Judy Collins in Vancouver at the Vogue Theatre on both May 1st and October 5th, 2018.
References:
"Janet Errico and the Twilights," reverb central.com.
"KPIX Dance Party: The Dick Stewart Show," "KPIXdanceparty.org.
Michael Jack Kirby, "Steve Alaimo: Every Day I Have to Cry," waybackattack.com.
Zolland, "The Mojo Men – Lost Love (1965)," abitlikeyouandme.com, March 2017.
Steve Harvey, "Metallica Producer Paul Curcio, Dead at 74," prosoundnetwork.com, October 1, 2018.
"What Does A Bird in the Hand is Worth Two in the Bush Mean?" writing explained.org.
"Stephen Stills concerts Canada," setlist.fm.
"Stephen Stills bio," Biography.com.
"Boss 40," CKLG 730 AM, Vancouver, BC, February 11, 1967.
For more song reviews visit the Countdown.