#14: Six Days On The Road by Dave Dudley
City: Calgary, Alberta
Radio Station: CFAC
Peak Month: July 1963
Peak Position in Calgary ~ #1
Peak position in Vancouver ~ did not chart
Peak Position on Billboard Hot 100 ~ #32
Peak Position on the Billboard Hot Country Songs chart ~ #2
YouTube: "Six Days On The Road"
Lyrics: "Six Days On The Road"
David Darwin Pedruska was born in 1928 in the hamlet of Spencer, Wisconsin. His grandparents came to the USA from East Prussia. At the age of 11, he was given a guitar by his grandfather and learned to play the chords. He had a short career as a semi-professional baseball player for a semi-pro team in Texas. After he suffered an arm injury, he was no longer able to play baseball. He then decided to pursue a career in country music. In 1955, he released his first single titled "Cry Baby Cry". He was one of the earliest artists to record for the National Recording Corporation, with "Where's There's A Will" in 1959. Dudley was injured once again in 1960, this time in a car accident, setting back his career in music. By 1960, Dudley had released five singles and failed to crack the national country charts. He signed with Vee Jay Records and first appeared on the Country charts in 1961 with "Maybe I Do". He later moved to Golden Wing Records.
In 1962, Dave Dudley had a single titled "Under Cover of the Night" climb to #18 on the Billboard Hot Country Songs chart. But it was his followup, "Six Days On The Road", that became his biggest seller.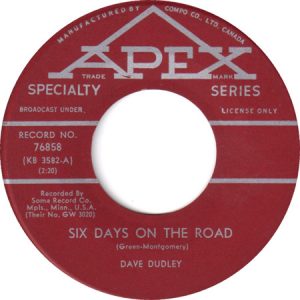 "Six Days On The Road" is a song written by Alabama truck drivers, Carlin Montgomery and Earl Green. The song is about a truck driver making a long-haul road trip, enduring the hardships of life on the road, and the anticipation of making it home for a much-needed break. The truck driver is feeling exhausted, yet motivated by the thought of being back with his family and loved ones. The lyrics also allude to the dangerous trucking lifestyle, from harsh driving conditions to the potential for getting caught by the authorities ("I don't see a cop in sight"). He meets some women who flirt with him, but he keeps his focus on his wife back home. Despite the potential difficulties, the singer perseveres, pushing through to make it home in one piece.
The song was originally recorded in 1961 by Paul Davis. After Dave Dudley recorded "Six Days On The Road", the song was covered by Ferlin Husky, the Youngbloods, Red Sovine, Steve Earle, Michael Nesmith, the Flying Burrito Brothers in the film Gimme Shelter, New Riders of the Purple Sage, Tom Petty, Gram Parsons, and Taj Mahal.
"Six Days On The Road" peaked at #1 in Calgary, #2 in Duluth (MN), #3 in Minneapolis/St. Paul, #4 in Eau Claire (WI), #5 in Muscle Shoals (AL), and Vancouver (WA), #6 in St. Louis, #7 in Seattle, and Rockville (MD), #8 in Dallas, and Waterloo (IA), and #9 in Toronto, and Manchester (NH). On the Hot Country Songs chart, the single peaked at #2.
Dave Dudley continued to to chart into the Top Ten on the Billboard Hot Country Songs chart. His hits include "Cowboy Boots" (1963), "Mad" and "Last Day in the Mines" (1964), "Truck Drivin' Son-Of-A-Gun" and "What We're Fighting For" (1965) – the latter a pro-Vietnam War song. In 1966, Dudley charted "Viet Nam Blues", another pro-Vietnam War song, to #12 on the country charts.
He continued to chart into the Top Ten, especially in Canada with "There Ain't No Easy Run", "I Keep Coming Back for More", and "Please Let Me Prove (My Love for You)" (1968), "George (And the North Woods)" (1969), his only number-one country hit, "The Pool Shark" (1970), "Listen Betty (I'm Singing Your Song)" and "Fly Away Again" (1971), "Keep On Trucking'" (1973) and "Me and Ole C.B." in 1975. Dudley's last charting single on the country charts was in 1980 with "Rolaids, Doan's Pills and Preparation H".
Following the Sept. 11 terrorist attacks, Dudley returned to the studio to record "Dave Dudley, American Trucker," a hard-edged tribute to truckers that included two songs talking to terrorists who might want to tangle with the folks who drive big rigs.
Throughout his career, Dave Dudley recorded 70 albums. Dudley died on December 22, 2003, aged 75, after suffering a heart attack in his car in a parking lot in Danbury, Wisconsin.
September 22, 2023
Ray McGinnis
References:
"Dave Dudley, 75; Performed 'Six Days on the Road' and Other Truck Driving Songs," Los Angeles Times, December 25, 2003.