#30: Six Months In A Leaky Boat by Split Enz
Peak Month: June 1982
15 weeks on Vancouver's CFUN chart
Peak Position #1
Peak Position on Billboard Hot 100 ~ #104
YouTube.com: "Six Months In A Leaky Boat"
Lyrics: "Six Months In A Leaky Boat"
Split Enz is a folk-rock band that formed in 1972. For the first several years they spelled their name The Split Ends. They released their first single in New Zealand and Australia in 1973. The co-founders of the band were Tim Finn and Phil Judd. Finn was the lead vocalist and played acoustic and electric guitar and piano. Phil Judd also played guitar and added vocals. Judd eventually left the band in 1978. In the late 70's and early 1980's, Split Enz' membership consisted of Tim Finn, his younger brother Neil Finn on vocals and guitar, bass player Nigel Griggs, drummer Malcolm Green, keyboard player Eddie Rayner and percussionist Noel Crombie. During the 1970's, they had two singles in the Top 50 in New Zealand which made the Top 20 in Australia.
Tim Finn was born in Te Awamutu, New Zealand. Phil Judd was born in Hastings, New Zealand. The pair relocated to Melbourne, Australia, in 1975. Judd left the band in 1978 to form a punk band in New Zealand named the Suburban Reptiles. Split Enz became a more mainstream rock band with an In 1980, the band released the chart-topping "I Got You," which went to #1 in New Zealand and Australia. The single was #1 in Australia for eight weeks.
In 1981, Split Enz released their sixth studio album titled Waiata, a which is the Māori word for song. They released three singles from the album, the first being "One Step Ahead." Coinciding with their hit single in Vancouver (BC), Split Enz performed in concert at the Kerrisdale Arena on August 11th and 20th, 1981. They returned to the Kerrisdale Arena on May 13, 1982, with the Payola$.
A second single from Waiata, "History Never Repeats," became a Top Ten hit in New Zealand and Australia. However, it failed to gain international exposure. Their debut single from the album, Time And Tide, in 1982, called "Dirty Creature," found Split Enz boxed in with Top Ten success in Australia and New Zealand but nowhere else. In 1982, the band released the single "Six Months In A Leaky Boat."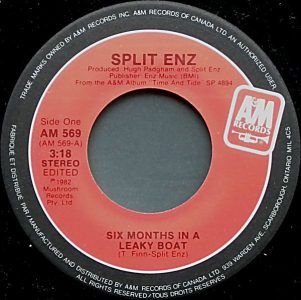 The title is a reference to the time it took pioneers to sail to New Zealand (hence the reference to Aotearoa and The Tyranny of Distance – a history by Geoffrey Blainey), and a metaphor that refers to lead singer Tim Finn's nervous breakdown. In the UK the song was banned as the government thought Split Enz were making a political comment on the Falklands War at the time. The song was recorded prior to the outbreak of the Falklands War. However, government officials in Britain presumed the lyrics contained coded language that was critical of the UK war with Argentina. It was also argued that references to leaky boats were inappropriate during the naval action in the war.
Was this lyric about the war: "The tyranny of distance didn't stop the cavalier. So why should it stop me, I'll conquer and stay free." Later on the lyrics tell "shipwrecked love can be cruel. Don't be fooled by her kind." The opening lines concern a man remembering someone who he associates with "thunderclap," "lightning," and "tempers flare." This is the impact of first meeting someone who he has chemistry with. As well, there is emotional tension in the mix. The leaky boat is a metaphor for a romantic relationship that is doomed to sink, or run ashore – a shipwreck. The tyranny of distance concerns the haunting memories of the ex-lover the man is now no longer in relationship with. But, this was too hard for the BBC and/or members of Prime Minister Margaret Thatcher's government to wrap their heads around.
"Six Months In A Leaky Boat" peaked at #1 in Vancouver (BC), and Winnipeg (MB), #2 in Toronto, Edmonton (AB), and Ottawa (ON), #3 in Halifax (NS), and Moose Jaw (SK), #5 in Yellowknife (NWT), and #9 in Kitchener (ON). Internationally, "Six Months In A Leaky Boat" climbed to #2 in Australia, #7 in Canada and New Zealand, #83 in the UK and stalled at #104 below the Billboard Hot 100.
In 2001 the Australian Performing Rights Association (APRA) released their list of the Top 100 New Zealand Songs of All Time. "Six Months In A Leaky Boat" was ranked at #5 on the list.
While the song made the Top Ten in Vancouver, Split Enz hoped for international hit failed to materialize when the BBC blacklisted the song during the Falklands War. The BBC acknowledged this eventually in 1999, as reported in The Q Encyclopedia of Rock Stars by Dafydd Rees and Luke Crampton.
In 1983 and '84, Split Enz released their final studio albums, Conflicting Emotions and See Ya 'Round. Both albums garnered singles that made the Top 20 on their continent. After the album, Split Enz split up. Neil Finn and recent Split Enz drummer, Paul Hester, went on to found Crowded House, who had international hits in the later half of the decade, including "Better Be Home Soon." Crowded House was active as a band until 1996. And since 2006, Neil Finn has headed a reformed Crowded House that continues to tour. Paul Hester, who had suffered from depression for years, died by suicide at the age of 46 in 2005.
Tim Finn has mostly pursued a solo career after leaving Crowded House in the late '80's. In 1989, Finn won two New Zealand music awards for his solo performance of "Parihaka." His song to the 2005 soundtrack of The Chronicles of Narnia: The Lion, the Witch and the Wardrobe, entitled "Winter Light." Imaginary Kingdom won Tim Finn a New Zealand music award for Best Male Solo Artist in 2007. The song was one of the tracks on Finn's Imaginary Kingdom album in 2006. In late 2015, Tim Finn wrote the music and lyrics for the musical, Ladies In Black, premiered in Brisbane. He collaborated with Carolyn Burns on the production. The musical was based on the 1993 novel, The Women in Black, by Madeleine St John. The musical won a Helpmann Award in Australia in 2016 for Best New Australian Work.
Nigel Griggs released a solo album in 2002 titled Sleeper. He has appeared at most of the Split Enz reunion tours over the decades. Malcolm Green left Split Enz in 1981 after disagreements regarding Green's songwriting and inclusion of his songs on the band's albums. He moved to Australia and helped produce and mentor other recording artists in his own studio. Green took part in Split Enz 2005 tour. Eddie Rayner ended up as music director for a TV show called New Zealand Idol. He has also been part of Spit Enz reunion tours, as well as touring with another band named Space Waltz. Noel Crombie released a solo single in 1983. He also helped with the stage set design for the final concert in Sydney, Australia, for the Crowded House Final World Tour.
May 1, 2023
Ray McGinnis
References:
Peter McAlpine,"Interview Tim Finn – Crowded House, Split Enz," Ezra Magazine, March 4, 2015
The Phil Judd Interview, Stuff.co.nz, June 30, 2009
Peter Wilmoth, The Reinvention of Tim Finn, Domain.com, February 6, 2017
Neil McCormick, "Neil Finn interview: 'Music is a mystery'," Telegraph, London, UK, February 7, 2014
Split Enz – Tim Finn, Tim Finn.com
Crowded House ~ about, Crowded House.com
Georgia Westgarth, A Roaring Finn: Tim Finn Returns to the Theatre and Back in Time, Daily Review, Fitzroy North, Australia, November 11, 2014
Former Split Enz drummer, Mal Green, to Sell his Castle Cove Home, News.com.au, Surry Hills, Australia, March 5, 2014
Rees, Dafydd and Crampton, Luke. The Q Encyclopedia of Rock Stars. Darling Kindersley, London, 1999, page 938.
Bruce Sergent, "ARPA Top 100 New Zealand Songs Of All Time," Australia Performing Rights Association, 2001.
"C-FUN Top Thirty," CFUN 1410 AM, Vancouver, BC, June 5, 1982.
For more song reviews visit the Countdown.