#831: Snoopy's Christmas by The Royal Guardsmen
Peak Month: December 1967
5 weeks on Vancouver's CKLG chart
Peak Position #1
Peak Position on Billboard Hot 100 ~ did not chart
YouTube.com link: "Snoopy's Christmas"
Lyrics: "Snoopy's Christmas"
The Posmen were a band from Ocala, Florida. They were all students at Lake Weir High School. With the British Invasion, they decided to change their name to the Royal Guardsmen, giving themselves a British sounding name. When their debut single, "Snoopy Vs. the Red Baron," became a hit single late in 1966, they began touring. The band consisted of Billy Taylor on organ, Tom Richards and Barry Winslow on guitar, drummer John Burdett, bass player Bill Balough and singer Chris Nunley. Their first single, "Baby, Let's Wait", climbed to #11 in Sarasota, Florida in the fall of 1966. They recorded "Snoopy vs. the Red Baron" which became a #2 hit in the US and a #1 hit in Vancouver. This got Vancouver hooked on the Royal Guardsmen sending their follow-up single, "The Return of the Red Baron", to #2 while it only peaked at #15 in the USA. Initially, the Royal Guardsmen got into legal trouble with their records about Snoopy since they hadn't got permission from Peanuts cartoonist, Charles Schultz, to use Snoopy and the Red Baron in their songs.
The band released a third Snoopy-themed song titled "Airplane (My Airplane)", which was a #1 hit in Orlando (FL), Stevens Point (WI) and Worcester (MA). Though the song never had a national breakout in America, though it went Top Ten in New Zealand, South Africa and Australia. Their fourth Snoopy-themed single was a Christmas song. It was listed on the Billboard Christmas song list, but didn't make the Billboard Hot 100.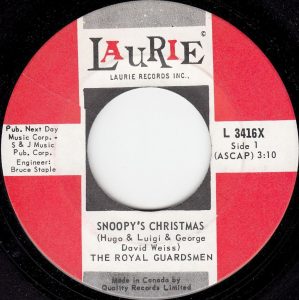 "Snoopy's Christmas" is about a dogfight Snoopy has with the Red Baron in their First World War biplanes. At one point, the Red Baron has Snoopy beat. But instead of shooting Snoopy's biplane, the Baron forces Snoopy to land behind the German lines. Snoopy thinks it's over for him. But once they are on the ground, the Red Baron calls out "Merry Christmas, mein friend." The Baron offers Snoopy a holiday toast.
The fictional song is based on the historic event of the first Christmas eve during World War I referred to as the Christmas Truce. The truce spread across German and British lines with infantry men coming out of their trenches to barter cigarettes, sing Christmas carols, play football, exchange prisoners, exchange seasons greetings and hold joint burial ceremonies. The truce extended for days and included fraternization between enemy troops in broad daylight and involved over 100,000 soldiers. The Germans placed candles on their trenches and on Christmas trees. The truces extended to German and French troops as well as German and Belgian troops. Truces were in evidence from November 1914 well into January 1915 and again in December 1915. But with the introduction of poison gas in warfare in 1916 the practice of a Christmas Truce ended. As in the song's lyrics, the Christmas truce was initiated by the German soldiers. With the Vietnam War into it's third year and no end in sight, the Royal Guardsmen had a peace positive Christmas hit on their hand.
"Snoopy's Christmas" was a regional breakout hit in numerous radio markets. It climbed to #1 in Vancouver (BC), Orlando (FL), Bakersfield (CA), Syracuse (NY), Columbus (OH), Birmingham (AL), Phoenix (AZ), Pittsburgh and Reading (PA), #2 in Denver, Missoula (MT), Honolulu and St. Louis, #3 in Hartford (CT), Cincinnati (OH) and Seattle, #4 in Milwaukee (WI) and #5 in New York City, Salt Lake City and Chicago.
"Snoopy's Christmas" was written by George David Weiss and Hugo & Luigi. Weiss wrote other much more famous songs, including "What A Wonderful World" for Louis Armstrong, "Wheel Of Fortune" for Kay Starr, "That Sunday, That Summer" for Nat King Cole and "Can't Help Falling In Love" for Elvis Presley. Weiss also wrote the jazz standard "Lullaby Of Birdland". Weiss met Luigi Creatore and Hugo Peretti in the 1950's and they co-wrote hundreds of songs. Weiss, Hugi & Luigi re-wrote the lyrics to the South African song, "Wimoweh," and gave The Tokens a #1 hit in 1961 called "The Lion Sleeps Tonight". They also produced a number of hits for Jimmie Rodgers including "Honeycomb", "Oh-Oh, I'm Falling In Love Again" and "Secretly". Later the pair worked with Van McCoy on his single, "The Hustle", which became a #1 hit in 1975.
While the Royal Guardsmen were serious musicians, Laurie Records kept giving them more Snoopy songs to record. When they performed in concert they'd play their Snoopy set: "Snoopy vs. The Red Baron", "The Return Of The Red Baron", "Snoopy's Christmas", "Snoopy For President" and "Airplane (My Airplane)". "Snoopy For President" was released the week that Robert F. Kennedy was assassinated and few were in the mood for poking fun at politicians who ran for president in that context. In 1969, one of their last songs was "The Smallest Astronaut", was about Snoopy flying a decoy space ship in order to help the American's win the race to land on the moon. The end of the song featured spoken word roll call of the surnames of the American astronauts who were part of the space race: Aldrin, Armstrong, Collins, Stafford, Young, Cernan, MacDivott, Scott, Schweikert, Borman, Lovell, Anders, Schirra, Cunningham, Eisell, Grissom, White, Chaffee, Cooper, Carpenter, Glenn and Shepard.
The band was losing members by 1969 and broke up in early 1970. Tom Richards died in 1979. For decades they didn't play again, but in 2004 they had a reunion at Lake Weir High School with the original five bandmates and In 2006 they performed on an oldies cruise ship. And in 2010 they had a third reunion in Las Vegas. This time is was at the invitation of KKLZ radio's End of Summer Bash. The Royal Guardsmen were in a lineup with Jimmy Gilmer and The Fireballs of "Sugar Shack" fame, Eddie ("Hey There Lonely Girl") Holman and The Vogues at the Cannery Hotel and Casino.
Over the past decade Billy Taylor has been the mandolin player for Backwater, a bluegrass band based in Ocala.
April 13, 2018
Ray McGinnis
References:
Dave Schlenker, A Royal Reunion, Ocala.com, September 4, 2010.
Sam Roberts, Luigi Creatore, Songwriter and Producer for Presley and Sam Cooke, Dies at 93, New York Times, December 15, 2015.
Gillian Brockell, "The Christmas Truce Miracle: Soldiers Put Down Their Guns to Sing Carols and Drink Wine," Washington Post, December 24, 2017.
David Laing, "George David Weiss Obituary: US Writer of Many Memorable Hit Songs," Guardian, London, UK, August 24, 2010.
"Star of Broadway's HELLAZPOPPIN, June Winters, Dies at 96," Broadway.com, New York, NY, September 8, 2015.
"Boss 30," CKLG 730 AM, Vancouver, BC, December 23, 1967.
For more song reviews visit the Countdown.