#338: So You Are A Star by the Hudson Brothers
Peak Month: December 1974
10 weeks on Vancouver's CKLG chart
Peak Position #2
Peak Position on Billboard Hot 100 ~ #21
YouTube: "So You Are A Star"
Lyrics: "So You Are A Star"
William Louis Hudson Jr. was born in 1949. Mark Jeffery Anthony Hudson was born in 1951. Brett Stuart Patrick Hudson was born in 1953. The three brothers were all born in Portland, Oregon. Their father left the family when the boys were young after he told their mother he "was going out for a pack of cigarettes." Bill and Mark formed a band in 1963. Brett was eleven and recalls he was "too young and overweight and I wasn't in the band." But when Brett got sick with a virus, his older brothers decided he could join the band if he got better (they were afraid Brett was going to die). Brett got better and joined the My Sirs. In 1964 they added a guitarist named Kent Fillmore to their group. Bill also played guitar, Brett played bass guitar, and Mark played drums and keyboards. All three Hudson brothers sang vocals, with Bill as lead vocalist. After winning several local "battle of the bands"-type contest, the group recorded several songs at a local recording studio, where they received the attention of a local promoter, who offered them a contract promoting Chrysler automobiles.
As a result they got renamed the New Yorkers. They released a single titled "When I'm Gone" that was a minor hit in the Pacific Northwest in the spring of '67. In August they released a single co-written by Bill and Mark Hudson titled "Mr. Kirby". It climbed to #4 in Salem (OR) and #8 in Vancouver (WA). A couple more singles got little attention. The New Yorkers were one of the emerging popular bands in the Pacific Northwest, along with the Springfield Rifle. The New Yorkers followed up with "Show Me The Way To Love", written by Bill Hudson. It was a Top 30 hit in Vancouver (WA) in early '68. During this time the New Yorkers toured as an opening act variously for the Buffalo Springfield, the Supremes, the Who, Herman's Hermits, Mitch Ryder & The Detroit Wheels, the Buckinghams and Johnny Nash.
On the Jerden label the New Yorkers released a sunshine pop single titled "Adrianne" which climbed into the Top 30 in the Oregon towns of Coos Bay and The Dalles in early 1969. Another single with Jerden was a commercial failure, as was "Lonely" with Warner Bros. Records. So the New Yorkers switched labels again to record with Decca Records the Harry Nilsson tune "I Guess The Lord Must Be In New York City". In the fall of '69, the single went Top 20 in Salem (OR) and Top 30 in Vancouver (WA). Then the New Yorker's manager left and took all the money. Brett Hudson, recalling these events referred to this as "an age old story," which happened to numerous recording acts.
In 1970 Decca renamed the brothers Everyday Hudson. "Love Is A Word" met with minimal success, as did several singles credited to Hudson on Lionel Records and then Playboy Records. When the Hudson Brothers were on a visit to France they got connected with Bernie Taupin and were asked to sign with Taupin and Elton John's Rocket Record Company label. Then in 1973 Bernie Taupin produced "If You Really Needed Me" on MCA Records, as well as "Straight Up And Tall" on the Rocket Record Company label. But neither single was a hit.
After appearing as guests on the The Sonny & Cher Comedy Hour in early 1974, a producer for CBS was impressed by the Hudson brothers' stage presence. As a result, they were offered a chance to appear on their own variety show on CBS that summer. The Hudson Brothers Show aired Wednesday nights on CBS from July 31, 1974 to August 28, 1974. The Hudson Brothers got paid $5,000 USD per week ($26,425 in 2021 dollars). The show was so successful that CBS created The Hudson Brothers Razzle Dazzle Show. This ran for a half-hour on Saturday mornings, from September 7, 1974 to August 30, 1975. The group's television exposure resulted in the brothers becoming teen idols. Although, the youngest – Brett Hudson – was 21-years-old.
As well, the Hudson Brothers appeared on The Mike Douglas Show on twenty occasions between September 4, 1974, and February 23, 1979. During this stretch they co-hosted three shows (November 11, 12 and 13, 1974). Just prior to this on November 7th, the brothers appeared as guests on Dinah! hosted by Dinah Shore. Three days later on November 10, 1974, the Hudson Brothers appeared on Sonny Bono's The Sonny Comedy Revue.
In the fall of 1974 the Hudson Brothers released their second album Hollywood Situation on Casablanca Records.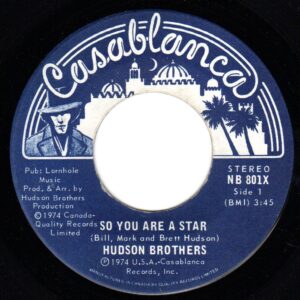 "So You Are A Star" was cowritten by Bill, Mark and Brett Hudson. The vocal and musical style resembled some of the Beatles final songs. When the song first came out, listeners on CKLG in Vancouver (BC) were invited to take part in vote in a poll. Were the Hudson Brothers a pseudonym for a reunited Beatles? Yes or No. Some hoped four years after their breakup that the Fab Four had reunited.
"So You Are A Star" is a song narrated by someone who knows a celebrity who is a star (presumably a pop star). And the narrator is intimately letting the star know that "nobody knows you like I do." While the star "will go far," and "play the part," the narrator reminds the star: "you've got to love only me….'Cause nobody knows you, nobody shows you the way, like I do."
Of course, when radio listeners were singing along with "So You Are A Star", anyone could imagine themselves as "a star." And Sly & The Family Stone had a number-one hit in the USA in 1970 titled "Everybody Is A Star". The sentiment in that song encouraged listeners to consider this:
"Everybody is a star, I can feel it when you shine on me
I love you for who you are, not the one you feel you need to be"
However "So You Are A Star" resonated with radio listeners, there was a vibe in the air offering everyone to think of themselves as a star, at least in the eyes of someone who loved them.
"So You Are A Star" peaked at #1 in Hamilton (ON) and Charlottesville (VA), #2 in Vancouver (BC) and Ottawa (ON), #6 in Buffalo (NY) and Auburn (ME), #7 in Louisville (KY), #8 in Erie (PA) and Springfield (MO), #9 in Cleveland (OH), and #10 in Rochester (NY) and Topeka (KS).
Between September 16, 1974, and April 16, 1976, the Hudson Brothers appeared on 18 episodes of Hollywood Squares.
In late 1974 the Hudson Brothers released "Coochie Coochie Coo" which climbed to #7 in Vancouver (BC), but got scant attention outside of Pennsylvania and Ontario. In the spring of '75 the Hudson Brothers released a studio album titled Ba-Fa on the Rocket Record Company label. In June '75 the Hudson Brothers released their first single from the album titled "Rendezvous". It got a bit more attention airing on radio stations in New England, the Great Lakes States, and from Louisiana to California. While another second track from the album released in the fall titled "Lonely School Year" was a minor hit across ten states in the USA. A third release from the album titled "Spinning The Wheel" went nowhere in early '76.
On September 28, 1975, the Hudson Brothers appeared on Cher. On November 3, 1975, the Hudson Brothers appeared as guests on the children's TV show Captain Kangaroo. Three days later the brothers were on The Bobby Vinton Show. The following month the Hudson Brothers appeared on American Bandstand on December 6th. Then on December 21, 1975, the Hudson Brothers performed "Here Comes Santa Claus" and "Silent Night" on Cher. On May 11, 1976, the Hudson Brothers appeared on The Rich Little Show. That year they also appeared on a Wolfman Jack TV special. As well Bill Hudson and actress Goldie Hawn got married.
The Hudson Brothers switched labels again to release "Help Wanted" on the Arista label. The single preceded the one studio album with Arista titled The Truth About Us, which was released in 1978. On August 24, 1978, the Hudson Brothers performed on The Tonight Show Starring Johnny Carson.
In June 1978 a comedy film starring Joan Collins and the Hudson Brothers was released titled Zero to Sixty. In November 1978 the Hudson Brothers were on a Pat Boone Thanksgiving TV special, and returned to a Pat Boone hosted Thanksgiving special in 1979. In addition, in 1979 the Hudson Brothers hosted 19 episodes of a family comedy show called Bonkers!
In 1980 the Hudson Brothers were signed with Electra Records and released a studio album and a couple of singles. But the former teen idols had been left behind by radio listeners who were now tuned into the latest hits by Blondie, Pink Floyd, Michael Jackson, Queen, Rupert Holmes, the Pretenders and Tom Petty & The Heartbreakers. That year Bill Hudson appeared on an episode of the TV series The Love Boat. Meanwhile, Bill Hudson filed for a divorce from Goldie Hawn. He married Cindy Williams, a star in the TV series Laverne & Shirley.
In 1983 the Hudson Brothers were in a comedy spoof about horror titled Hysterical. They acted alongside former Catwoman on the Batman TV series – Julie Newmar, character actor Keenan Wynn and Cindy Pickett (who played Ferris Bueller's mother in the 1986 film Ferris Bueller's Day Off). In 1986, Mark Hudson was the in-house bandleader on Fox's short-lived The Late Show Starring Joan Rivers. Joan Rivers referred to the band as, "Mark Hudson, The Party Boys and The Tramp."
In 1987 Bill Hudson appeared in a comedy-adventure film titled Big Shots. And in 1988 Bill Hudson campaigned for Democratic presidential candidate Michael Dukakis. Over the next three years Bill Hudson appeared in three episodes of the TV medical drama Doogie Howser, M.D.
Between 1988 and 2014 Brett Hudson produced and/or directed over a dozen documentaries and TV shows. This includes The Chris Montez Story in 2014.
In 1993 Mark Hudson won a Grammy Award for co-writing "Livin' on the Edge", recorded by Aerosmith. In 1996 interview with Entertainment Weekly, Mark Hudson said ""I'm not only surprised we survived the '70s, I'm surprised anyone wants to revisit it." And Brett Hudson added, "A pink satin shirt with white platforms — would I save those clothes? I don't think so."
In 2006 Brett Hudson co-produced the Burt Reynolds film Cloud 9. For their work on Ringo 5.1: The Surround Sound Collection, Mark Hudson and Ringo Starr were nominated for Best Surround Sound Album in the 51st annual Grammy Awards for the year 2007–2008. It was the ninth album by Ringo Starr that Mark Hudson had produced since 1998. In 2011 Bill Hudson published a memoir titled Two Versions: The Other Side of Fame and Family.
March 12, 2021
Ray McGinnis
References:
Brett Hudson, "The Hudson Brothers Story," RockTalkTV.com, January 2, 2015.
John Rockwell, "Hudson Brothers Blend Hard Rock At the Bottom Line," July 9, New York Times, 1975.
"The Hudson Brothers," Imdb.com.
A.J. Jacobs, "Catching up with the Hudson Brothers: We Chat With the '70s Variety-show Team About What they're Up to Today," Entertainment Weekly, July 12, 1996.
Bill Hudson and Dave Smitherman, Two Versions: The Other Side of Fame and Family, (Daily Swan Publishing, 2011).
"CKLG Thirty," CKLG 730 AM, Vancouver, BC, December 13, 1974.
For more song reviews visit the Countdown.