#1257: Sole Sole Sole by Siw Milmkvist and Umberto Marcato
Peak Month: August 1964
8 weeks on Vancouver's CFUN
Peak Position #12
Peak Position on Billboard Hot 100 ~#58
YouTube.com: "Sole Sole Sole"
Lyrics: "Sole Sole Sole"
On December 31, 1936, Siw "Siwan" Gunnel Margareta Malmkvist was born. She is a Swedish singer who has been popular in Scandinavia and West Germany. She had a number one hit in West Germany in 1964 with "Liebeskummer lohnt sich nicht" ("Lovesickness Is Not Worthwhile"). On July 18, 1964, she became the first Swede to have a hit on the Billboard Hot 100 chart, when "Sole Sole Sole", a duet with Italian singer Umberto Marcato, entered the chart, peaking at #58. The song is sung in Italian and German.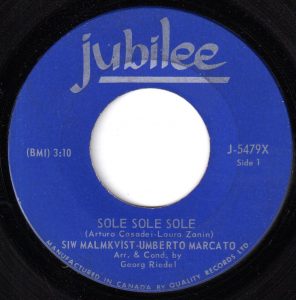 Here is a song using the sun as a metaphor for the love between two people in love. Whenever they are together it is like the brightness of the sun ("again and again it seems when I come to you"). Even when it rains the sky is blue and like the suns warmth kisses keep them hot when they are together, all day long. Sometimes a translation from another language offers us a concept, an image, that is not exactly what we might say in everyday conversation here in North America. An example of that is found in the endearing line translated as "I have eyes in the sky if you look, and a concert in my heart when I hold you to me." It is as if every instrument in the orchestra within each of their hearts is playing the same score. The song charted to #9 on KJR in Seattle, #12 in Vancouver and #16 on KFXM in San Bernardino, California. Elsewhere in North America it was a very minor hit, for example peaking at #32 on CHUM AM in Toronto.
There were few foreign language songs in 1964 on AM radio in Vancouver. The Ray Charles Singers sang the Italian entry for the 1961 Eurovision contest, "Al Di La" ("Beyond" in English). However, they sang the verses in English. In Vancouver "Al Di La" peaked at #27. There was "The French Song" by Lucille Starr that spent 5 weeks on the CFUN chart peaking at #37. French verses were followed by English verses translating the French. Bobby Darin had a minor hit with "Milord" sung entirely in French and peaking at #35. The song was first performed by the French sensation Edith Piaf. From Brazil, Stan Getz and Astrud Gilberto had a minor hit in Vancouver peaking at #28 called "The Girl From Ipanema." South of the border their bossa nova jazz song peaked at #5 on the Billboard Hot 100 and spent two weeks atop the Billboard Adult Contemporary Song chart. Consequently, "Sole Sole Sole" was the biggest foreign language song that charted on AM radio in Vancouver in 1964.
Siw Malmkvist has had over 40 hit singles on Swedish radio chart Svensktoppen and 20 on the German singles chart. Over her career she has recorded 600 songs. Since 1960 she has made recordings in ten different languages: Swedish, Danish, Norwegian, Finnish, Dutch, German, English, French, Italian and Spanish. She is among the most famous Swedish female singers.
In addition to being a recording artist, Siw performed in a variety of plays and musicals. She played Pippi Longstocking in the popular children musical production of Astrid Lindgren's novel, Pippi Longstocking, in 1980. She was part of the cast in a musical version of the 1959 romantic comedy Some Like It Hot, that starred Marilyn Monroe, Jack Lemmon and Tony Curtis. The musical adapted from that film, called Sugar, took place in 1983. That same year she played the part of Luisa in the original Swedish production of Maury Yeston's musical Nine in 1983, about a man turning 40 and having a midlife crisis. In 2002 Siw Malmkvist was cast in the role the Mother in comedian and film director Hasse Alfredson's stage play Lille Ronny at Maximteatern. Together with actor Thorsten Flinck, she recorded a popular Swedish cover of Nick Cave/Kylie Minogue's 1995 hit "Where the Wild Roses Grow". In 2008/2009, she played the part of Fräulein Schneider in the musical Cabaret at Stockholms Stadsteater.
The other half in the duet, "Sole Sole Sole", is Umberto Marcato. He was also born 1936. His birthplace is in Padova, Italy. Marcato is an Italian singer, who also has lived at times in Sweden. In 1958 he was one of over a half a dozen Italian recording artists to have a hit in Italy with "Nel blu dipinto di blu". The song was 3rd in the final of the Eurovision Song Contest 1958 after a performance by Domenico Modugno. The song is also known as "Volare." Mercato has also sung popular song including the Italian Eurovision entry for 1959, "Ciao Ciao Bambina." Other songs he is known in Italy for are "Tintarella di Luna", a song written by Franco Migliacci who co-wrote "Volare". Marcato has also recorded "Romantica", the 1960 Italian entry for the Eurovision contest that year. He's also known for his recording of the 1955 tune from the film the Seven Hills of Rome, "Arrivederci Roma". In the 1990's Marcato has had his own record company. He continues to perform in Italy and goes on tours to Scandinavia.
December 9, 2016
Ray McGinnis
References:
Siw Malmkvist, Wikipedia.org
Viktoria Solen, Siw Malmkvist, Eurovisionary, August 6, 2008.
Umberto Marcato bio, Discogs.com.
"C-FUNTASTIC FIFTY," CFUN 1410 AM, Vancouver, BC, August 1964.
For more song reviews visit the Countdown.