#1110: Something Better by Chilliwack
Peak Month: September 1977
9 weeks on Vancouver's CKLG chart
Peak Position #12
Peak Position on Billboard Hot 100 ~ did not chart
YouTube.com: "Something Better"
Lyrics: "Something Better"
Bill Henderson was born in Vancouver in 1944. He learned guitar and became the guitarist for the Panarama Trio that performed at the Panarama Roof dance club on the 15th Floor of the Hotel Vancouver. He formed the psychedelic pop-rock Vancouver band, The Collectors, in 1966. After a half dozen local hits including "Looking At A Baby" and "Lydia Purple" the band disbanded by 1970. Henderson (vocals, guitar), Claire Lawrence (saxophone, keyboards), Ross Turney (drums) and Glenn Miller (bass) were all Collectors bandmates. After Howie Vickers left The Collectors, they changed their name to Chilliwack. The name was a Salish First Nations name that means "going back up" and is the name of a city in the Fraser Valley in British Columbia.
Chilliwack appeared in concert at the Agrodome in Vancouver on August 6, 1971. They had their first Top Ten hit in Vancouver with "Lonesome Mary" in 1971. In 1974 their single, "Crazy Talk" peaked in the Canadian RPM singles Top Ten. In 1977 the band recorded their sixth studio album, Dreams, Dreams, Dreams. At the time the band members were all Scientologists and there was a dedication to the founder of the Church of Scientology, Ron L. Hubbard, on the back of the album. By 1977 the bands musicians consisted of Henderson, Turney, Miller and Howard Froese on guitar, vocals, solina and piano.
"Something Better" was the third of four singles off the album after the earlier single releases of "California Girl" and "Fly At Night". Dylan S. Keating, in BeatRoute Magazine, that "Something Better" was inspired by the bandmates dedication at the time to the teachings of Ron L. Hubbard in Scientology.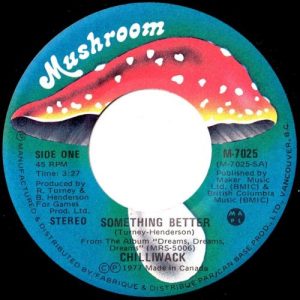 Chilliwack's Ross Turney and Bill Henderson co-wrote "Something Better". The song concerns the state of society full of people tired from the rat race of their lives. The people are equated with lemmings, and what lemmings do according to popular culture is commit mass suicide by running over cliffs. Lemmings have been getting a bad rap since the 1530s, when geographer Zeigler of Strasbourg proposed the theory that lemmings fell out of the sky during stormy weather and then died suddenly when the grass grew in spring. What is now known is that strong biological urges in some species of lemmings cause them to migrate in large groups when population density becomes too great. They can swim and may choose to cross a body of water in search of a new habitat. In such cases, many may drown if the body of water is too wide, exceeding their physical capabilities.
Significantly, the 1958 Disney film White Wilderness, which won an Academy Award for Documentary Feature, in which staged footage was shown with lemmings jumping into certain death after faked scenes of mass migration. A Canadian Broadcasting Corporation documentary in 1982, Cruel Camera, found the lemmings used for White Wilderness were flown from Hudson Bay to Calgary, Alberta, Canada, where they did not jump off the cliff, but were in fact forced off the cliff by the camera crew. But in 1977 the exposé regarding the film, White Wilderness, and its staging of suicidal lemmings was five years from the making. So in 1977 the popular notion of lemmings being suicidal was an unchallenged urban legend. In "Something Better" people in our society are like lemmings and their imaginations prevent them from seeing things that would cause them harm.
While the people in society are stunted by their limited imagination and undermining habits, there are ancient guards in fortresses protecting old ideas and a treasure that is no longer of any use. Contrasted with the ancient guards are knights in blazing armor with shafts of gleaming light who the people do not notice. There is hope in stories, poems, books and songs that are clear and resounding that still resonate today. However, people are under the spell of time and are living in the past. The chorus invites the listeners to find something better.
Chilliwack continued to release albums and singles over the next few years. In 1978 they charted "Arms Of Mary" into the Top Ten in Vancouver.
But it was their ninth album, Wanna Be A Star, that definitely made them stars. They charted their only two Top 40 hits on the Billboard Hot 100 with "My Girl (Gone, Gone, Gone)" and "I Believe". In 1982 Bill Henderson won the Juno Award for Producer of the Year for the Chilliwack album Opus X. Chilliwack continues to appear in concert in 2017.
References:
Chilliwack bio ~ thecanadianencyclopedia.ca
Bill Henderson bio ~ gonegonegone.com
Dylan S. Keating, Chilliwack, BeatRoute Magazine, November 3, 2013
Dreams, Dreams, Dreams ~ revolvy.com
Cruel Camera, Fifth Estate, CBC, Toronto, Ontario, May 5, 1982 (minute 18 and following)
White Wilderness, Disney Films.
"Vancouver's Official Music Survey," CKLG 730 AM, Vancouver, BC, September 7, 1977.
For more song reviews visit the Countdown.