#920: Something Good by Utah Saints
Peak Month: December 1992
9 weeks on CKLG's Vancouver Chart
Peak Position ~ #13
Peak Position on Billboard Hot 100 ~ #98
YouTube: "Something Good"
Lyrics: "Something Good"
Jez Willis was born in 1968 in Brampton, UK. With Tim Garbutt, Willis formed the electronic music duo the Utah Saints in 1991. The duo met as music promoters and DJs for the Mix club in Harrogate, a 40 minute drive north of Leeds. In 1990 they formed Mega Dance Metal Allegiance. The duo were asked years later in an interview if they'd ever been to Utah in the United States. Tim Garbutt commented, "we did play there once in about 1996 and we had a stage invasion. It's very different to Dubai; everyone should go there once in their lives. We often get emails from people in Utah with very weird requests." Their work involved sampling other recordings and weaving them into their tracks. Jez told Digital Spy, "music is all about opinions, but we always try to do something interesting with a sample and put it in a different context, because that's what's interesting to us… people recognise it sonically, but they can't place it initially."
The Utah Saints released their debut self-titled album in 1991. From the album came their debut single titled "What Can You Do For Me". It included samples of the 1985 Eurythmics hit "There Must Be An Angel (Playing With My Heart)". It was a familiar song to sample, as it had made the Top Ten in over 15 countries, peaking at number-one in Finland, Ireland, Norway and the UK. The Utah Saints also sampled a Top Ten hit from 1986 by Gwen Guthrie titled "Ain't Nothing Going On But The Rent", a number-one hit in New Zealand and Zimbabwe.
Their follow up release from the album was "Something Good".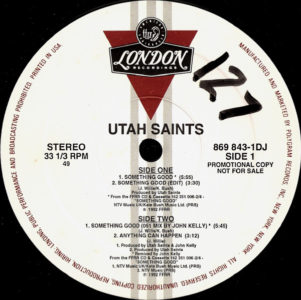 "Something Good" is a song written by Jez Willis which contained samples from the 1985 Top 20 UK single "Cloudbusting" by Kate Bush. ("Cloudbusting" also peaked at #3 on the Polish singles chart). In the song "Cloudbusting" Kate Bush reflects on the very close relationship between psychiatrist and philosopher Wilhelm Reich and his young son, Peter, told from the point of view of the mature Peter. The father and son experiment with a cloudbusting machine to try to make it rain. The line "I [just] know that something good is gonna happen" is the chorus for "Something Good".
In "Cloudbusting" the line used for the chorus in "Something Good" is preceded by "But every time it rains, you're here in my head. Like the sun coming out. Ooh, I just know that something good is gonna happen." And in the "Cloudbusting" video with Kate Bush and Canadian actor Donald Sutherland, the father is arrested by government officials – "a threat to the men in power" – for experimenting with his cloudbusting machine. But, as he is taken away, Kate Bush runs up a hill to operate the machine which causes it to rain. This results in jubilation in the faces of the father and child.
"Something Good" peaked at #13 in Vancouver (BC). The single was listed as the #33 hit song of the year for 1992 on KROQ-FM in Los Angeles. But, for the most part the Utah Saints were charting on Alternative radio markets whether in Toronto, Boston or San Francisco. Internationally, "Something Good" climbed to #4 in Ireland and the UK, #10 in Australia and #13 in Finland. The song was remixed and re-released in 2008 as "Something Good '08", climbing to #4 in Scotland and #8 in the UK.
A third single from Utah Saints titled "Believe In Me" climbed to #8 in the UK and #9 in Ireland in 1993. It also enjoyed Top 20 chart action in both Finland and Sweden.
The Utah Saints took a break for a few years before releasing a second studio album in 2000 titled Two. Different tracks from the album featured samples variously from "Enter Sandman" by Metallica, "Pick Up The Pieces" by the Average White Band, and "I Go To Sleep" by the Pretenders. However, the album failed to chart.
Willis and Garbutt then ran a dance party they named the Sugarbeat club night from 1998 – 2010. It had yearly incarnations in Leeds, Edinburgh and London. In 2012 the Utah Saints did a remix of "What Can You Do For Me" which peaked on the UK singles chart at #28.
December 19, 2020
Ray McGinnis
References:
Mayer Nissim, "Utah Saints interview: 'We Want to Finish Our Third Album this Year'," Digital Spy, January 3, 2012.
Becky Lucas, "Utah Saints Interview," TimeOut, Dubai, May 18, 2010.
Sarah McGee, "Famous North Yorkshire Musicians- How Many do you Recognise?," The York Press, October 1, 2020.
"Vancouver's Official Top 40," CKLG 730 AM, Vancouver, BC, December 14, 1992.
For more song reviews visit the Countdown.