#822: Something To Live For by Barney Bentall and the Legendary Hearts
Peak Month: August 1988
12 weeks on Vancouver's CKLG chart
Peak Position #12
Peak Position on Billboard Hot 100 ~ did not chart
YouTube.com link: "Something To Live For"
Lyrics: "Something To Live For"
Barney Bentall was born in 1953. His father was a Baptist minister in Vancouver. The Bentall family were well known in Vancouver for some real estate properties. Bentall wanted to get away from the identification with his family. He moved to Calgary and in formed a group named Brandon Wolf, his new alias. He went on to form a band called the Revengers who covered popular songs. By 1984, he'd moved to Vancouver to form Barney Bentall and the Legendary Hearts. The backing bands name was taken from a 1983 Lou Reed album. The bandmates included several former Brandon Wolf musicians: guitar player Colin Nairne and drummer Jack Guppy. Bass player, Barry Muir, and keyboard player, Cam Bowman, rounded out the lineup. After several years of touring British Columbia and Alberta, the band was ready to go to the recording studios to make an album. Before recording Barney Bentall and the Legendary Hearts, a single was released titled "Something To Live For".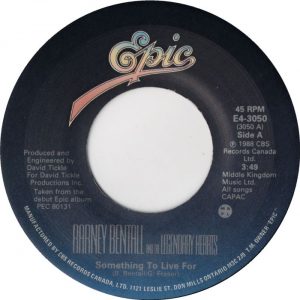 "Something To Live For" is a song about a working class guy named Bobby. Though he's 28 and married, he lives at home at age 28. He got married to a gal named Yvonne. Like a lot of guys in his circumstance, Bobby has big plans. But, in his case, the plans don't take him far from what he already knows. He gets a raise, but his career path remains the same. His uncle makes more in an hour than Bobby does in a week. His uncle advises Bobby not to be like his Dad who always was nickel and dimmed to death. Clearly, Bobby's upbringing was one where his family was exposed to financial hardship through the accumulation of small expenses. However, Bobby doesn't end up forging a new path. He sticks to what he knows and keeps on driving a pickup truck for the corner store.
A study done by the Federal Reserve Bank of St. Louis found that social mobility is higher in Canada than in the USA or the UK. In America, children born in the bottom 20% of household wealth have a 7.5% chance in their lifetime of climbing into the top 20% financial bracket. While in Canada 13.5% of children born in the bottom fifth of household wealth are able to climb into the top 20%. In Denmark, a child in the poorest family households have a 11.7% chance of advancing into the top 20% of households in a lifetime. While a lot of "Bobby's" may aspire to climb beyond the station they were born into, the majority remain in the economic zone their parents existed in, trying to make ends meet.
"Something To Live For" climbed to #16 in Hamilton and #12 in Vancouver. A follow-up single, "Come Back To Me," helped the debut album go Gold in Canada. The debut album earned Barney Bentall and the Legendary Hearts a Juno Award for Most Promising Group of the Year in 1990.
A second album, Lonely Avenue, produced several more singles. "Crime Against Love" made the playlist on CKLG in Vancouver, but not the Top 40. However, it peaked at #17 in Hamilton. Another single, "Life Could Be Worse," made it to #10 in Hamilton early in 1991. In 1990, Barney Bentall, Colin Nairne and songwriter, Gary Fraser, were nominated for a Genie Award. Fraser and Bentall have cowritten numbers of songs. Their song, "Restless Dreamer," appeared in the Canadian film, American Boyfriends, a sequel to Sandy Wilson's 1985 movie, My American Cousin. During the 1990's, Barney Bentall and the Legendary Hearts enjoyed several Top 30 hits on the Canadian RPM singles chart. Among these were "Living In The 90s" at #11, "I'm Shattered" at #7 in 1995, and "Gin House" at #14 in 1996. They released five studio albums between 1988 and 1997 and a Greatest Hits album in 1996. The band officially split up in 1997.
However, Bentall has continued to work on solo records. Alongside musical projects and touring, Barney Bentall has become a rancher in the Cariboo in the Interior of British Columbia. In 2017, Bentall released his most recent solo album, The Drifter & The Preacher. According to Wikipedia, bandmates have moved onto interesting careers while still doing the occasional gigs. Barry Muir became stockbroker. Songwriter, Gary Fraser became a lawyer. And Cam Bowman became a plastic surgeon.
April 27, 2018
Ray McGinnis
References:
Barney Bentall bio, Canadian Bands.com
Barney Bentall bio, Barneybentall.com
Tom Harrison, Barney Bentall Started Out Struggling, Vancouver Province, June 5, 2013.
Barney Bentall and the Legendary Hearts, Wikipedia.org.
Pedro Nicolaci de Costa, "You're Twice As Likely To Live the American Dream in Canada," Business Insider, March 10, 2017.
"Vancouver's Top 40 Hot Hits," CKLG 730 AM, Vancouver, BC, August 17, 1988.
For more song reviews visit the Countdown.