#842: Do Something To Me by Tommy James And The Shondells
Peak Month: November 1968
9 weeks on Vancouver's CKLG chart
Peak Position #7
Peak Position on Billboard Hot 100 ~ #38
YouTube.com: "Do Something To Me"
Lyrics: "Do Something To Me"
Thomas Gregory Jackson was born in Dayton, Ohio, in 1947. From infancy his mother recalled the only thing she could do to stop him from crying was to turn on the radio where he'd listen to the music. Living in South Bend, Indiana, when he was ten Tommy got his first guitar. When he was fourteen, he formed a rock 'n roll band called the Tornadoes. They were the namesake of a popular instrumental group from the UK who had a #1 hit that year titled "Telstar". The family moved to Niles, Michigan, and at the age of 17 Tommy was going by the stage name of Tommy James. He was the lead singer of The Shondells. In 1964, they recorded a B-side recorded in 1963 by The Raindrops called the "Hanky Panky". The song was composed by Jeff Barry and Ellie Greenwich of Brill Building fame. Tommy James' version charted well in Michigan, Illinois and Indiana. However, Snap Records had no national distribution, so the single failed to chart elsewhere.
However, in April, 1966, "Hanky Panky" was play-listed on KDKA AM in Pittsburg and soon after in Cleveland and Los Angeles. Tommy James' band, the Shondells, had split up in 1965. In order to tour on the strength of his surprise #1 hit single, Tommy James found a group playing in the Pittsburgh area called the Raconteurs. They were guitarist Joe Kessler, keyboard player Ron Rosman, saxophonist George Magura, bass player Mike Vale and drummer Vinnie Pietropaoli. James asked them to become the new Shondells.
The band had several more Top Ten singles in 1967: "I Think We're Alone Now" and "Mirage". Signed to Roulette Records, Tommy James penned an autobiography in 2010 called Me, The Mob and The Music. It detailed the shady relationship that Morris Levy of Roulette Records had with Tommy James and the Shondells and other recording artists signed with Roulette. As Roulette hardly ever paid royalties to their recording artists, Tommy James documented that Roulette owed he and The Shondells royalties in the $30 million to $40 million range. While singles like "Do Something To Me" sustained a fan base to attend Tommy James and the Shondells in concert, the purchase of singles by record buyers didn't result in any income for the group.
In 1967 Tommy James and other bandmates were arguing with Morris Levy that Roulette Records owed them royalties for "Hanky Panky", "I Think We're Alone Now", "Mirage," and four other Top 40 singles they'd charted between 1966 and 1967. There had been an unfortunate incident with fellow Roulette Records recording artist, Jimmie Rodgers.
On December 1, 1967, Rodgers was driving down the San Diego freeway, I-405, in Los Angeles, when he was stopped by a police officer, allegedly for erratic driving. Rodgers rolled down the window and the officer hit him with a steel bar across the head. In addition to the one officer, two other officers approached Rodgers. He was severely beaten and had multiple skull fractures. Rodgers sued the City of Los Angeles for being beaten by the officers. The LAPD claimed that Rodgers had fallen and hit his head. The physicians who treated him in hospital, after Rodgers was taken to emergency by Rodgers conductor, after the police officers had left the scene, claimed that Rodgers had been beaten. Rodgers conductor said he'd been left for dead. Eventually, the City of Los Angeles paid Rodgers $200,000 in an out of court settlement. On page 205 of his memoir, Tommy James describes how Morris Levy bragged that the mob had arranged for the attack on Rodgers when Jimmie Rodgers sued Roulette Records for unpaid royalties for "Honeycomb", "Kisses Sweeter Than Wine", "Secretly" and other hits he'd recorded. Levy told Tommy James that the same could happen to him and his bandmates if they pressed for royalty payments they were owed. Levy was known for intimidating all the recording artists on Roulette Records. James recalls, "They let us know, in no uncertain terms, that what happened to Jimmie could happen to us."
After a big Top Ten hit with "Mony Mony", inspired by seeing a neon sign for Mutual of New York on the Mutual of New York building, the band released "Do Something To Me".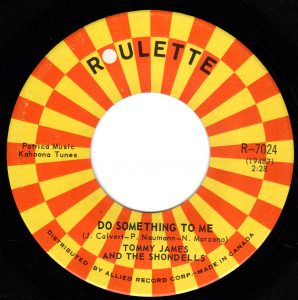 "Do Something To Me" was originally released as a single by ? and The Mysterians in July 1967. That garage band, also from Michigan, had a #1 hit in 1966 called "96 Tears". But the band from Saginaw, Michigan, had a commercial failure with the tune when it stalled at #110 below the Billboard Hot 100. Still, ? And the Mysterians original version was a regional breakout in a number of radio markets. It climbed to #3 in Saginaw (MI) and Burlington (VT), and #2 in Phoenix and #5 in Tucson (AZ) and Augusta, Georgia. It also peaked at #6 in Jacksonville, Florida, and Honolulu. The fate of ? And The Mysterians single was largely due to faltering financial situation at Cameo-Parkway Records which shut down in September, 1967.
Tommy James saw potential for a hit and released cover version in the fall of 1968. It peaked at #38 on the Billboard Hot 100. The single did better in Canada than in America, and "Do Something To Me" peaked in Vancouver at #7. It climbed to #1 in San Bernardino (CA) and Madison (WI), #4 in Los Angeles, #5 in Ann Arbor (MI) and Akron (OH), #7 in Toronto, #8 in Windsor (ON) and St. Louis (MO), #9 in Detroit and Buffalo, #10 in Rochester (NY) and #11 in Pittsburg.
However, in 25 states across America, the song got virtually no airplay. "Do Something To Me" continued the hand-clapping, high energy sound of "Mony Mony." The song was a simple appeal to kick-start a worry-free romance. It was the debut single from the bands album, "Crimson and Clover". And became the second of six consecutive Top Ten hits in Vancouver for the band in 1968-69. The following Top Ten hits Tommy James And The Shondells had in Vancouver after "Do Something To Me" were "Crimson and Clover", "Sweet Cherry Wine", "Crystal Blue Persuasion" and "She".
"Do Something To Me" is about anticipation of getting something physical happening with your lover. "Do Something To Me" was co-written by Jimmy Calvert, N. Marzano and Paul Naumann. The latter songwriter composed "Ball of Fire", a Top 20 hit for the band in 1969.
On January 18, 1969, a week before "Crimson And Clover" became a number-one hit in Vancouver (BC) for three weeks, Tommy James and the Shondells performed in concert at the Kerrisdale Arena.
The band split up in 1969 and Tommy James had one last Top Ten solo hit in 1971 called "Draggin' The Line". He moved away from New York City, fearful of being a fatality from a mob hit. Later in the 1980's Tommy James toured on oldies reviews. After Morris Levy died in 1990 James thought about writing a memoir.
In 2010, Tommy James wrote a memoir about his experience with Roulette Records, it's owner, Morris Levy and other key staff involved with the underworld. He gave it the title, Me, the Mob, and the Music: One Helluva Ride. Rolling Stone Magazine listed James memoir on their Top 25 Greatest Rock Memoirs of All Time list. The memoir is the subject of a movie that, so far, has a script completed.
April 5, 2018
Ray McGinnis
References:
Tommy James, Me, the Mob, And the Music: One Helluva Ride, (Scribner, 2010).
Rob Sheffield, "The 25 Greatest Rock Memoirs of All Time," Rolling Stone, August 13, 2012.
Anthony DeCurtis, "Jimmie Rodgers: Where Are They Now," Rolling Stone, September 11, 1986.
Pamela Glasner, "Tommy James' New Movie, His Music, the Mob, and a Whole Lot of Hanky Panky," Huffington Post, February 210, 2016.
Scott Mervis, "Tommy James and the Shondells Story is Ripe with Hollywood Drama," Pittsburg Post-Gazette, Pittsburg, PA, June 15, 2016.
"Boss 30," CKLG 730 AM, Vancouver, BC, November 29, 1968.
For more song reviews visit the Countdown.