#1015: Song Instead Of A Kiss by Alannah Myles
Peak Month: November 1992
11 weeks on Vancouver's CKLG chart
Peak Position #12
Peak Position on Billboard Hot 100 ~ did not chart
YouTube.com: "Song Instead Of A Kiss"
Lyrics: "Song Instead Of A Kiss"
Alannah Byles was born in Toronto in 1958. She rode horses in the Royal Winter Fair by the age of twelve. At age nine she began to play musical instruments and write songs. She performed some songs at a Kiwanis Music Festival in Toronto when she was twelve. Later, in her teens, she formed a band and began to perform in concert by her late teens. At the age of 19, she changed her surname from Byles to Myles. In 1984, she made a guest appearance in the Canadian TV show, The Kids of Degrassi Street. Her role was a single mom who wanted to become a singer. In 1989, Alannah Myles released her self-titled debut album with the single, "Black Velvet", a power ballad that became an international hit. For that performance she would win a Grammy Award in 1991 for Best Female Rock Vocal Performance. Another single, "Love Is", was a prior single release in Canada, but was released after "Black Velvet" in America.
Her next single off the album was "Still Got This Thing". It only peaked at #28 on the Canadian RPM singles chart. "Still Got This Thing" made it to #29 in Hamilton, while its best chart run in Canada was in Vancouver where it peaked at #10. Myles next single release from her debut album was "Lover Of Mine".
Her next album, Rockinghorse, produced her biggest hit in Canada, "Song Instead of a Kiss", which climbed to #1 on the Canadian RPM singles chart.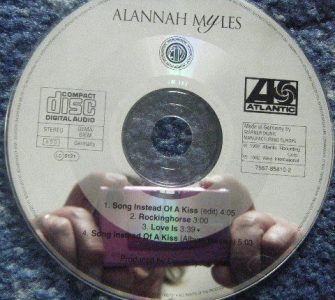 "Song Instead Of A Kiss" is a song dedicated to all the people who aren't in a relationship. For those whose lives are absent of kisses, touch and someone to clutch, Alannah Myles confides "it is to those I sing."
In 1992 there were a growing number of adults in Canada who were single. But in 2019 Statistics Canada reported that the nation now had its largest percentage of single adults in history. Fully 28 percent of adults lived on their own in Canada in 2019. The government agency also reported "Individuals living alone reported lower levels of self-rated health, mental health and satisfaction with life overall than people living with others. It is important to note that indicators such as life satisfaction and self-rated health also depend on other factors, such as family relationships, social networks and socioeconomic characteristics." In 2019 there are more single adults in Canada who might appreciate a song instead of a kiss, when kisses are hard to come by.
Between 1989 and 1997 Alannah Myles released four studio albums. Her recording career went dormant until she released two more albums in 2009 and 2014. In America she is thought of as a one-hit-wonder. But in Canada, Alannah Myles managed to chart nine Top 40 hits on the Canadian RPM charts in six years.
On Canada Day, on July 1, 2011, local Toronto AM station, CFTR, reported "The crowd at Woodbine Park cheered loudly as Canadian rocker Alannah Myles was about to take the stage at one of the summer festivals taking place on Canada Day. However, the tone changed as the "Black Velvet" singer was carried on and helped seated onto the piano bench using two canes. Although she seemed unable to move her head or neck, her voice sounded great as she played a few songs that really got the crowd rocking. Finally, Myles explained to the audience that she had overdone chiropractic treatments, having some 500 treatments over three years, and had suffered some severe spinal damage. She is unable to move her neck and head. Despite her physical ailment, Myles was in good spirits and put a show that had the crowd cheering."
She still is available to appear in concert, though she has no current dates scheduled.
April 22, 2019
Ray McGinnis
References:
Alannah Myles bio, Alannah Myles.com
Where Are They Now? Pop's Class of 1990, Rolling Stone, New York, NY, July 10, 2012
Alannah Myles Shares Tragic Health News with Canada Day Crowd, CFTR, 680News.com
"Study: Living alone in Canada," Statistics Canada, March 6, 2019.
"Vancouver's Official Top 40," CKLG 730 AM, Vancouver, BC, November 30, 1992.
For more song reviews visit the Countdown.