#561: Soul Dance by Tommy Leonetti
Peak Month: February 1964
9 weeks on Vancouver's CFUN's chart
Peak Position #4
Peak Position on Billboard Hot 100 ~ #105
YouTube.com: "Soul Dance"
Nicola Tomaso Lionetti was born in 1929 in North Bergen, New Jersey. He had a talent for singing and changed his name. He sang with the Charlie Spivak jazz band and the Tony Pastor jazz Band. In the early fifties, Arthur Godfrey remarked on his television show that, when told they had booked Tommy Leonetti, he thought that it was a trio called "Tommy, Lee, and Eddy." Leonetti had a minor hit in 1954 on the Billboard Pop chart titled "I Cried", which peaked at #30. His biggest hit in the USA was in 1956 with "Free", which peaked at #23 on the Billboard chart. He was a singer with the 1957‐58 cast of Your Hit Parade. He had several appearances on The Steve Allen Show in the 1958-59 season.
Tommy Leonetti released over a dozen singles between 1954 and 1963 on several record labels, including Capitol and RCA. "On A Blanket On The Beach" was a minor summer hit in Sydney, Australia, in July 1958. Earlier that year "Ring On A Ribbon" made it to #10 in Toronto (ON). In 1959 he had a regional hit in Boston with the old Glenn Miller hit "Moonlight Serenade" which peaked at #3. In 1963 he released "Soul Dance".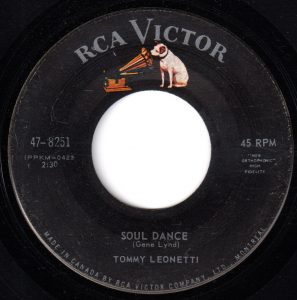 In 1964 "Soul Dance" was offered up by Tommy Leonetti as a new slow dance for people who were "tired of twisting." "The Twist" was a big dance sensation that became an international phenomenon from 1960-62, thanks to Chubby Checker's cover of Hank Ballards' "The Twist". Checker's song peaked at number one in September 1960 and again in January 1962. It spawned a Twist dance craze with many songs recorded to cash in on the fad. These include Kissin' and Twistin'" (Fabian), "Twistin' USA" (Danny and the Juniors), "Dear Lady Twist" (Gary "U.S." Bonds), "Let Me Do My Twist" (Jo Ann Campbell), "Let's Twist Again" (Chubby Checker), "Oliver Twist" (Rod McKuen), "The Peppermint Twist" (Joey Dee and the Starliters), "Spanish Twist/Twist Español" and "Florida Twist" (all by Bill Haley & His Comets), "Tequila Twist" (The Champs), "Twist And Shout" (Isley Brothers and later The Beatles), "The Alvin Twist" (The Chipmunks), "Arkansas Twist" (Bobby Lee Trammell), "The Basie Twist" (Count Basie), "Bo's Twist" (Bo Diddley), "Bristol Twistin' Annie" (The Dovells), "Do You Know How To Twist?" (Hank Ballard and The Midnighters), "Everybody's Twistin'" (Frank Sinatra), "Hey, Let's Twist" (Joey Dee & the Starliters), "Jungle Twist" (The Fortune Tellers), "Kissin' Twist (Kiss 'n' Twist)" (Connie Francis), "Percolator (Twist)" (Billy Joe & the Checkmates), "Slow Twist" (Chubby Checker and Dee Dee Sharp), "Soul Twist" (King Curtis) "Twist-Her" (Bill Black's Combo), "Twistin' All Night Long" (Danny and the Juniors), "Twistin' Matilda (And The Channel)" (Jimmy Soul), "Twistin' Postman" (The Marvelettes), "Twisting Bells" (Santo and Johnny), "Twisting The Night Away" (Sam Cooke), "Twist, Twist Senora" (Gary "U.S." Bonds) and "Little Miss Twist" (Beau-Marks). While in film there were several 'Twist' movies: Twist All Night, Twist Around The Clock, (Hey) Let's Twist and Don't Knock The Twist.
By 1964 "The Twist" was fading from the dance scene as hipsters looked to The Beatles and other British Invasion recording artists for inspiration. In "Soul Dance" Tommy Leonetti gives listeners instructions for how to do his dance. "You move to the left, right, left, and you stand there so still, moving your shoulders. And again to the left, right, left, while you wait for the thrill (then do a little twist). Then once more to the left, right, left, keep the movement so still. Then you turn to each other and you stand toe to toe, just rubbing your noses, keep the motion so slow. Then raise your arms easy and you're ready to go." Leonetti tells us at the end of the song "yes, the Soul Dance means romance, when the lights are down low." "Soul Dance" is unique as the only pop song that instructed dancers to rub noses together. "Soul Dance" climbed to #3 in Seattle, and #4 in Phoenix and Vancouver (BC).
Leonetti acted in minor roles in a variety of TV shows. He was cast in the 1964-1965 season of Gomer Pyle, USMC, as 'Corporal Nick Cuccinelli'. He also was cast in the a 1965 alien invasion film titled The Human Duplicators. In 1966 he appeared in a few episodes of the espionage and secret agent TV show, I Spy, with Bill Cosby and Robert Culp.
After years of singing spots on various American TV variety shows, Leonetti took a singing gig in Sydney, Australia in 1966, having had some success on the Australian music charts there during the 1950's. He loved Sydney enough to move there in 1968 with his wife and stepdaughter. He soon had his own popular TV show there called "Sydney Tonight." Leonetti achieved cult fame in Sydney, Australia, for singing "My City of Sydney" as station ID for Channel ATN7-TV. He also starred in station ID spots, admiring Sydney Opera House, skipping pebbles in Sydney Harbour, wandering around Kings Cross. Meanwhile, back in North America, Tommy Leonetti charted "Kim Bah Ya" to #54 on the Billboard Hot 100, and the Top 20 in Regina.
In 1970 Tommy Leonetti appeared in an Australian comedy about an Italian monastery titled Squeeze A Flower.
In April 1971, Leonetti flew to LA for surgery to remove a kidney tumor. The cancer had spread so much that the entire kidney had to be removed. He and his family left Australia and he returned to America for singing engagements. He also bought a recording studio in Los Angeles. Leonetti also was a featured guests on multiple occasions in The Tonight Show Starring Johnny Carson between 1971 and 1973.
In 1976, just before he left for a six-week gig in Honolulu, he had a five-year check-up at UCLA Medical Center. He then flew to Honolulu for not only the singing gig, but also a guest role in an episode of "Hawaii 5-0." Two days after filming began, his doctor called and said they now had found a tumor in his right lung near his heart. Surgery was successful with a removal of the top lobe of his lung. He began treating at the Center for the Healing Arts in LA, a clinic that specialized in holistic medicine. In 1978 Leonetti wrote the music for an adventure film titled She Came To The Valley, which was released in January 1979. In 1978 he also appeared in an episode of The Waltons and an episode of The Eddy Capra Mysteries titled "The Intimate Friends of Jenny Wilde," on November 10, 1978. Despite his determination to be creative, he could not beat the recurring cancer. He died in the City of Angels in 1979 at the age of 50.
September 13, 2019
Ray McGinnis
References:
"Tommy Leonetti, 50, a Singer On 'Your Hit Parade' in 1957‐58," New York Times, September 18, 1979.
"Tommy Leonetti Biography," IMDb.com.
"C-FUNTASTIC FIFTY," CFUN 1410 AM, Vancouver, BC February 8, 1964.
For more song reviews visit the Countdown.