#4: Soul Time by Shirley Ellis
City: Belleville, ON
Radio Station: CJBQ
Peak Month: May 1967
Peak Position in Belleville ~ #6
Peak Position in Vancouver ~ #20
Peak Position on Billboard Hot 100 ~ #67
YouTube: "Soul Time"
Lyrics: "Soul Time"
Shirley Marie O'Garra was born in The Bronx in 1929. In 1954, the doo-wop group The Chords recorded two of Shirley's compositions "Pretty Wild" and LV – LV". In the early 1960's, Shirley Ellis was the lead singer of the Metronomes. In 1961, she released "Love Can Make You Know" credited to Shirley Elliston. And in 1962 under the name Shirlee May, she released "Lonely Birthday". In 1963, Ellis had the first of a series of novelty R&B crossover hits. "The Nitty Gritty" climbed to #4 in the Billboard Hot R&B Singles chart and #8 on the Billboard Hot 100. In January 1964, the single peaked at #7 on CFUN in Vancouver. It was stuck behind four Beatles songs and one by Cliff Richard which were higher up the FUNTASTIC FIFTY.

Next up was her Top Ten hit "The Name Game" in 1965. The lyrics to the song explain how to play the name game. For example
Russell, Russell, bo-bussell,
Banana-fanna fo-fussell,
Fee fi mo-mussell, Russell!
Or
Sherry, Sherry, bo-berry,
Banana-fanna fo-ferry,
Fee fi mo-merry, Sherry!
OR
Norman, Norman, bo-borman,
Banana-fanna fo-forman,
Fee fi mo-morman, Norman!
OR (dropping the "f" in Freda when the "f" in the song appears)
Freda, Freda, bo-breda,
Banana-fanna fo-reda,
Fee fi mo-meda, Freda!
"The Name Game" peaked at #2 in Vancouver, #3 on the Billboard Hot 100, and #4 on the Billboard Hot Rhythm and Blues Singles chart. A third novelty hit by Ellis was "The Clapping Song". It peaked at #6 in the UK, #7 in Vancouver, and #8 on the Billboard Hot 100.
Shirley Ellis struggled to crack the Hot 100 with her single releases after her three successful Top Ten hits. Of her seven subsequent single releases, only two managed to crack the bottom third of the Billboard Hot 100. One song that bubbled below the Hot 100, peaking at #135 was "Ever See A Diver Kiss His Wife While The Bubbles Bounce Above The Water?". In Edmonton, Alberta, the song made it to #12 in February 1966. One of the singles to crack the Billboard Hot 100 was "Soul Time".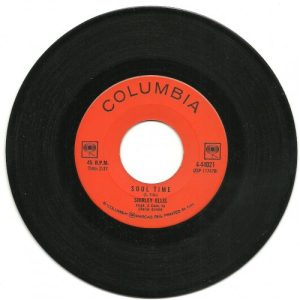 "Soul Time" is a song about synchronizing your soul with someone else. It's a feeling that gets to two people and their souls are suddenly in synch with each other.
"Soul Time" peaked at #4 in Trois Rivieres (PQ), #6 in Belleville (ON) and #13 in Quincy (IL).
Later in 1967, Ellis released the single "Sugar, Let's Shing-A-Ling". It failed to chart. Shirley Ellis retired from the music business in 1968. She died in 2005 at the age of 76.
The closest she ever got to Vancouver, BC, was Spokane, Washington. She was part of a Dick Clark Caravan of Stars tour, and performed on April 3, 1965, at the Spokane Coliseum.
There is surprisingly little online about Shirley Ellis. Obituary notices in the press about her death in 2005 are, at this time of writing in August 2023, off the radar.
References:
Harry Young, "Shirley Ellis: Three Six Nine! The Name Game | Soul Time Home Page"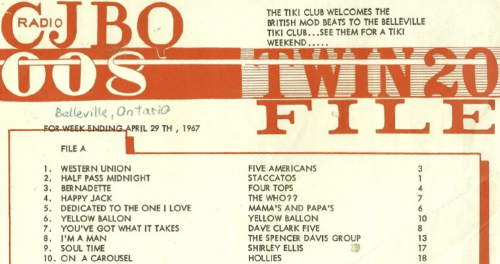 CJBQ 800 AM, Belleville, Ontario, April 29, 1967 (Top Ten)