#697: Spanish Eyes by Al Martino
Peak Month: January 1966
9 weeks on CFUN's Vancouver Charts
Peak Position ~ #3
Peak Position on Billboard Hot 100 ~ #15
YouTube.com:"Spanish Eyes"
Lyrics: "Spanish Eyes"
Jasper Cini was born in 1927 in Philadelphia. His first name was an Anglicization of his father's name, Gasparino. His parents were immigrants from Abruzzo, Italy. His family were bricklayers. He worked in his father's construction business. When he was still in his teens he joined the United States Navy. But during World War II he got a shrapnel injury and was sent back home. Next, he was inspired by his boyhood friend, Alfredo Cocozza, and hoped to pursue a singing career. Alfredo Cocozza later changed his name to Mario Lanza. At night, Jasper Cini sang in local Philly bars and clubs. Mario Lanza convinced Jasper Cini to change his name to Al Martino. Al moved to New York City in 1948 and became roommates with Eddie Fischer and Guy Mitchell, fellow crooners also hoping for a big break. Martino got noticed and was invited to appear on the Arthur Godfrey's Talent Scout Show in 1952. He won the context singing a #1 hit from 1951 by Perry Como titled "If (They Made Me A King)". In 1952 Al Martino had a breakthrough #1 hit in America, Canada and Britain with "Here In My Heart".

Martino flew to England and played at the London Palladium. In the UK he got a record deal with 20th Century Fox Records and in the USA he got a deal with Capitol. He had three more Top 40 singles on the Billboard pop charts in 1953. However, Al Martino's fame got him on the radar of the Mafia. Two thugs from the mob showed up at the home of Al Martino's manager. They demanded that the manager let them buy Al Martino's contract. When the manager's life was threatened, Martino recalls "he just gave them my contract for free." Next, two thugs showed up at the 500 Club in Atlantic City. They beat up Martino and gave him a promissory note for $80,000. The note stated the sum of money was for "future earnings, the money we could've made off of you." Al Martino signed the note and made a down-payment toward what he was ordered to pay to throw the mob off. Then Al Martino fled to England.
In the 1950's, Al Martino was more successful in the UK than in North America. He had six Top Ten hits that decade in the UK, but only one in the USA. After 30 more single releases, Al Martino was finally back in the Top Ten in 1963 with "I Love You Because", which peaked at #3 on the Billboard Hot 100 and #17 on CFUN in Vancouver. (Only three of his singles after "Hear In My Heart" had made the Top 40). In 1964 he had a #9 hit with "I Love You More And More." His next nine singles through 1964-65 all struggled to climb the Billboard Hot 100, with only two cracking the Top 40. But Al Martino managed to break into the Top 20 in the USA with "Spanish Eyes".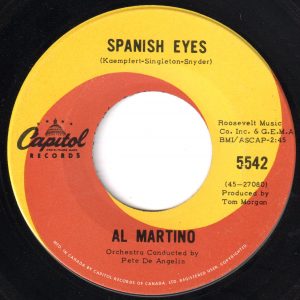 German orchestra conductor and composer, Bert Kaempfert, wrote an instrumental titled "Moon Over Naples" in 1964. He recorded it the following year. The tune was given lyrics by African-American composer, Charles Singleton. It was recorded by Al Martino in 1965 as "Spanish Eyes". (Kaempfert and Singleton also co-wrote "Strangers In The Night" in 1966, a #1 hit for Frank Sinatra).
"Spanish Eyes" is a song about a romantic couple. They do not live in the same community. The person with the Spanish eyes is a woman who has the "prettiest eyes in all of Mexico." She is crying because the person she loves is leaving. He is encouraging her to consider his departure as "adios but not goodbye." He promises to return, and asks her to "wait for me." When he returns he promises to bring her all the love her heart can hold. He asks her to say "si, si," (yes, yes in English). The lyrics make it clear he is going away. His focus on her ethnicity as "Spanish" and "Mexican," suggest he comes from a different ethnic background and is likely a foreigner from another country. In asking her to say "si, si," it appears her native language is Spanish. Though, unlike the majority of brown-eyed Mexicans, her eyes are blue. Perhaps she has a mixed heritage.
In the mid-60's, Mexico was becoming a tourist destination. Accompanying the tourist boom, it was not uncommon for tourists to fall in love with Mexicans on their vacations. Sometimes this resulted in only a fling. But, sometimes it resulted in the foreigner moving to Mexico. And as often as not, when the romance led to marriage, the couple moved to the country where the tourist came from.
In her article for Parlour Magazine titled "Love Internationally: How To Do Long Distance Relationships 101," Shannon Washington offers some tips for those who want to attempt a successful relationships between foreigners. First, she reminds readers that the relationship will involve long breaks between physical and visual connection. While Skype, Tango, Viber and Face Time may provide virtual visual contact, it isn't the same as being there in person. So decide if you can handle that. One person Shannon interviewed named Jackie, advised, "Have a gauge of what you and your partner are willing to sacrifice before even considering a long distance relationship because it will require more of your time, money and patience than you can imagine. Budget for spontaneity, it's the gateway to romance, excitement and bonding with your partner–especially during the times where you both get absolutely sick of video chatting."
A woman named Tracy told Shannon Washington that one of the topics that a prospective long distance couple need to address is infidelity. If you really want the long distance relationship to work, you both need to sacrifice side involvements between your own "in person" get togethers. Otherwise, trust will be sacrificed and the long distance relationship will go south. Another deal-breaker is having a commitment to communication. Since you aren't there in person all the time, each person in the long distance relationship needs to be committed to talking. A lot. Daily. After all, between visits all you have is your lifeline of phone calls or chats on the web. So remember: technology is your friend!
Shannon Washington also found from her interviews with people in long distance relationships that it is important to expect and respect differences. The differences will be cultural, reflect different upbringings based on class, education or religion, sense of humor and other things. Try to identify and understand the differences. Try not to be threatened by them, but be curious about them. Meanwhile, ask for and surround yourself with support from friends and family members who are excited for you. Finally, as you get to know the person, consider what the real worth of this relationship is. Is this person the real deal? What are you discovering about your physical and sexual chemistry, rapport socially – including with each others friends and family, mutual interest (or not) in what your romantic partner cares about, and the degree you admire and respect each other.
From the two verses in "Spanish Eyes", we only know that the guy is asking the Mexican lady to "wait" for him. This suggests he has a desire to leap into her life for the duration, returning to be with her in Mexico. And so, it is likely that she has tears in her Spanish eyes because she is sad to see him go because she loves him.
In Mexico the dominant language is Spanish, however there are 68 other indigenous dialects spoken in the nation. Mexican heritage includes indigenous native Mexicans, Afro-Mexicans who are a mixture of indigenous and slaves brought from Africa to Mexico by Spain. Another group in the general population are offspring from Native American Mexicans and Spaniards. It is likely that the woman in the song "Spanish Eyes" got her blue eyes from this background.
"Spanish Eyes" charted best in Houston at #2, a city with a large Hispanic population. The song peaked at #3 in Vancouver, Columbus and Cleveland, and #5 in Toronto and Providence (RI). "Spanish Eyes" climbed to #6 in Milwaukee and Pittsburgh. Much as the song did well in some radio markets in America, it was passed over by DJ's in over twenty states and given only scant airplay in another ten states.
Al Martino released 36 more singles between 1966 and 1982. Of these, only one made the Top 20, "To The Door Of The Sun (Alle Porte Del Sol)," in 1975.
Al Martino was cast in the role of the wedding singer, Johnny Fontane, in the Academy Award winning film from 1972, The Godfather. He acted alongside Marlon Brando, Al Pacino, James Caan and Diane Keaton. He played the role of Johnny Fontane again in the 1990 film The Godfather Part III, and the 1992 DVD The Godfather Trilogy: 1901-1980.
In 1976, cashing in on the disco craze, Al Martino recorded a disco version of the Domenico Modugno's #1 1958 hit, "Volare (Nel blu, Dipinto di Blu"). It peaked at #1 in Italy and Belgium, and climbed into the Top 10 in France, the Netherlands and Spain.
In 1979, Al Martino and his manager, Daniel J. DeJohn Jr., shoplifted under $100 worth of men's socks and shirts at a department store in Framingham, Massachusetts. Appearing before the court, Al Martino was sentenced by the judge to probation and fined $300.
On October 14, 2009, the New York Times reported that Martino "fell backstage on Oct. 3 while acting as M.C. of a concert on Staten Island, commemorating the 50th anniversary of the death of the opera star Mario Lanza, a friend and boyhood idol of his. He had canceled a performance for a television broadcast of the Columbus Day parade in New York." But on Columbus Day, October 11, Al Martino was in a studio recording songs for a new album. Joe Vulpis, the producer of the album, told reporters, "We literally just finished the record." The album was posthumously titled Thank You. The album featured a new version of "Spanish Eyes". Between 1959 and 2011, Al Martino recorded thirty-six studio albums. In his obituary in the Telegraph, it was reported that in 2009 "Spanish Eyes" was one of the Top 50 most played songs internationally.
December 7, 2018
Ray McGinnis
References:
Michael Freedland, "Al Martino Obituary: Italian-American Crooner with a String of Hits and a Role in The Godfather," Guardian, October 14, 2009.
A. E. Velez, "Al Martino, Singer of Pop Ballads, Is Dead at 82," New York Times, October 14, 2009.
Chris Morris, "Singer-Actor Al Martino Dies at 82," Variety, October 14, 2009.
"Al Martino Obituary," Telegraph, October 14, 2009.
"Moon Over Naples," Secondhandsongs.com
Shannon Washington, "Love Internationally: How To Do Long Distance Relationships 101," Parlour Magazine, April 2, 2015.
"C-FUNTASTIC FIFTY," CFUN 1410 AM, Vancouver, BC, January 29, 1966.
For more song reviews visit the Countdown.