#1298: Spanish Twist by The Roller Coasters
Peak Month: April 1963
9 weeks on Vancouver's CFUN chart
Peak Position #17
Peak Position on Billboard Hot 100 ~ #82
YouTube.com: "Spanish Twist"
On May 1, 1961, Billboard magazine reported that the Holiday Inn motel chain had begun a record label in Memphis, Tennessee, called Holiday Inn Records. The head of the Holiday Inn label was Wayne Foster. It was reported the record company "would sell entirely through distributors, who would most likely receive tie-in advertising from the motel chain, which uses 50 radio stations and numerous consumer magazines nationwide for its own promotion." Billboard added that Holiday Inn records debut single release was "Rimshot Pt. 1" by the Roller Coasters. The single was released on April 1, 1961. Foster told Billboard that "Rimshot Pt. 1" already had "sales figures totaling 6,000 for an eight-day period in the Memphis and New Orleans area." It was reported the instrumental was receiving airplay as well in Atlanta. It was anticipated that the Memphis-area Roller Coasters would be made use of in the Holiday Inns "promotion work for the motel chain." "Rimshot Pt. 1" climbed to #10 in Memphis and #13 in Shreveport, LA.

The Roller Coasters second single release in 1961 was "You Torture Me" credited to Tookie Collum with The Roller Coasters. The doo-wop tune featured Collom on vocals. Wayne "Tookie" Collom was born in 1937 in Vivian, in northwestern Louisiana. His family worked on a cotton farm. He bought his first harmonica when he was eleven years old. he bought his first "harp," a Hohner Marine Band harmonica for a dollar. His grandfather taught him how to play. Tookie learned the blues from listening to the radio and playing records. He developed a style that became compared Little Walter, Sonny Boy Williamson, and Junior Parker. Growing up, he also learned Anglo-Scots Irish songs in school and from parents and grandparents, and later played in a country music band. Tookie was lead singer, juiceharp player, and later bassist in the "blue-eyed soul band" and instrumental band the Rollercoasters. The band performed throughout the Deep South and Texas.
In 1962 The Roller Coasters backed local rockabilly singer Kenny Lund on "Rip It Up Potato Chip". The band also released several more instrumentals on the Holiday Inn label that generated little commercial response. In 1963 they released another instrumental titled "Spanish Twist".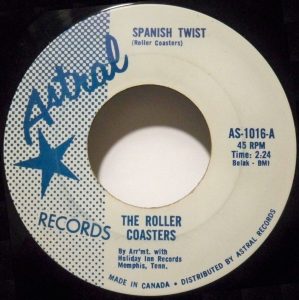 The Roller Coasters hoped to cash in on the twist craze with their instrumental "Spanish Twist". "Spanish Twist" was a regional hit in just a few radio markets across the USA and Canada. It climbed to #10 in Hartford (CT), #17 in Vancouver (BC) and #18 in Minneapolis/St. Paul.
In 1959 Hank Ballard and The Midnighters had released a dance tune titled "The Twist." It was successfully covered by Chubby Checker in 1960 and Checker took his version to #1 in both 1960 and again in early 1962. In the midst of the 'Twist" craze, there were many songs recorded to cash in on the fad. These include Kissin' and Twistin'" (Fabian), "Twistin' USA" (Danny and the Juniors), "Dear Lady Twist" (Gary "U.S." Bonds), "Let Me Do My Twist" (Jo Ann Campbell), "Let's Twist Again" (Chubby Checker), "Oliver Twist" (Rod McKuen), "The Peppermint Twist" (Joey Dee and the Starliters), "Spanish Twist/Twist Español" and "Florida Twist" (all by Bill Haley & His Comets), "Tequila Twist" (The Champs), "Twist And Shout" (Isley Brothers and later The Beatles), "The Alvin Twist" (The Chipmunks), "Arkansas Twist" (Bobby Lee Trammell), "The Basie Twist" (Count Basie), "Bo's Twist" (Bo Diddley), "Bristol Twistin' Annie" (The Dovells), "Do You Know How To Twist?" (Hank Ballard and The Midnighters), "Everybody's Twistin'" (Frank Sinatra), "Hey, Let's Twist" (Joey Dee & the Starliters), "Jungle Twist" (The Fortune Tellers), "Kissin' Twist (Kiss 'n' Twist)" (Connie Francis), "Percolator (Twist)" (Billy Joe & the Checkmates), "Slow Twist" (Chubby Checker and Dee Dee Sharp), "Soul Twist" (King Curtis) "Twist-Her" (Bill Black's Combo), "Twistin' All Night Long" (Danny and the Juniors), "Twistin' Matilda (And The Channel)" (Jimmy Soul), "Twistin' Postman" (The Marvelettes), "Twisting Bells" (Santo and Johnny), "Twisting The Night Away" (Sam Cooke), "Twist, Twist Senora" (Gary "U.S." Bonds) and "Little Miss Twist" (Beau Marks). While in film there were several 'Twist' movies: Twist All Night, Twist Around The Clock, (Hey) Let's Twist and Don't Knock The Twist.
"Spanish Twist" was one of a number of "Latin" sounds spilling onto the pop charts in the late '50s and early '60s. Other tunes included "Tequila" by The Champs, "La Bamba" by Ritchie Valens, the 1961 instrumental "Mexico" by Bob Moore, and "Maria Elena" by Los Indios Trabajaras in 1963. There was a different song with vocals titled the "The Spanish Twist" by Bill Haley And His Comets released in 1961. The song was a commercial failure.
For many years Tookie Collom repaired voting machines in Richland Parish in northeastern Louisiana to supplement income from performing gigs. In 1986 he began to play in an interracial duo with "Po' Henry" (Henry Dorsey), who was born into an African-American sharecropping family in Louisiana in 1928. Po' Henry told the Washington Post in 1997 about his childhood. "We picked all day. Got out there pretty early, about 7. . . Fifty cents an hour. If you had $10 saved up, you had some money. You know, a pair of four-button overalls, that'd be back then maybe $2.50. . . . Those burrs and thorns off a boll would get in your nails. . . Oooh. So painful. You'd pick them out at night."
When he was still a child, he made a one-string guitar from a broom with wire strung up on the side and bottles for a bridge. Po' Henry recalls "I heard of peoples doing that. I just got me a wire and put it up and tightened it up so I could reach it good from the bottom to the top of it. [The wire ran] straight up and down and put a bottle on the bottom of it and one on the top [between the wall and the wire to form a bridge]. . . . I would get a little old stick in my right hand and pick it and I'd have a bottle in my left hand, and I'd chord it. . . . Lot of people liked to hear me play it. . . I had one on the porch." He learned to play acoustic guitar at age 15 and listened to records by Lightnin' Hopkins, Muddy Waters and Elmore James.
Starting in 1986 Po' Henry and Tookie Collom began to play together and were soon featured at the Louisiana Folklife Festival and the New Orleans Jazz and Heritage Festival. Since 1986 they've returned to these two festivals multiple times. The duo has also performed at the blues festival in Greenville (NC), the Mississippi Delta Blues and Heritage Festival, the Baton Rouge Folk and Heritage Festival, and the Rayville Southern Pickin' and Ginnin' Festival. They were also on the bill at the Smithsonian Institution's Festival of American Folklife in 1997. That Washington D.C. festival for two weeks. The duo have opened concerts for Gatemouth Brown, Buckwheat Zydeco, the Preservation Hall Jazz Band and Bobby Blue Bland. In 2005 they received the Louisiana Governor's Arts Award for Folk Artist of the Year. Wayne "Tookie" Collom and Po' Henry have continued to play as a duo at blues and folk festivals since 1986 and as recently as 2016.
Note: Aside from Wayne "Tookie" Collom, I have no other information about other band members in the Roller Coasters.
August 25, 2019
Ray McGinnis
References:
"Motel Chain to Bow Own Label," Billboard, May 1, 1961.
Susan Roach, "Po' Henry And Tookie: Delta Blues Duo," Louisianafolklife.org, Baton Rouge, LA, 2012.
"Collom, Wayne 'Tookie'," Louisiana Folklife Center, November 30, 2016.
"C-FUNTASTIC FIFTY," CFUN 1410 AM, Vancouver, BC, April 6, 1963.
For more song reviews visit the Countdown.