#945: Star-Crossed Lovers by Eddy and Teddy
Peak Month: March 1961
8 weeks on Vancouver's CFUN chart
Peak Position #6
Peak Position on Billboard Hot 100 ~ did not chart
Peak Position on Music Vendor (USA) ~ #112
YouTube.com: "Star-Crossed Lovers"
Ted Cooper and Edward Zolas were obscure composers who also recorded as Eddy and Teddy. Ted Cooper was born in 1938 and turned 23 in 1961. The pair were songwriters for Aldon Music in New York, located at 1650 Broadway. Ted Cooper went on to be an arranger and producer in New York.
Aldon Music was housed at 1650 Broadway, where many Brill Building writers wrote their songs. Aldon Music was a music publishing company, founded by Don Kirshner and Al Nevins in 1958. The "Al" in Aldon Music came from Nevins first name and the "Don" in Aldon Music came from Kirshner's first name. Aldon is regarded as having played a significant role in shaping the Brill Building Sound in the late 1950s and 1960s. Al Nevins was a music industry veteran with "money, reputation, experience and connections." He had been a member of a popular instrumental trio The Three Suns for over twenty years and was also the co-writer of their 1944 hit "Twilight Time," which sold over three million copies. At the time Aldon was founded, Nevins had recently been forced to leave the group due to heart trouble. Kirshner, who was many years younger than Nevins, had recently achieved some success in partnership with singer-songwriter Bobby Darin, although they did not work together for long. Seeking to break into publishing, Kirshner approached two major songwriting teams, Doc Pomus and Mort Shuman and then Jerry Leiber and Mike Stoller before convincing Nevins to become his partner.
Aldon enjoyed enormous success in the late 1950s and early 1960s with scores of hits written by its contract songwriters, such as Neil Sedaka, Howard Greenfield, Carole King, Gerry Goffin, Jeff Barry, Ellie Greenwich, Neil Diamond, Paul Simon, Phil Spector, Barry Mann, Cynthia Weil and Jack Keller. Ted Cooper and Edward Zolas were acquainted with some of these fellow songwriters under contract with Aldon Music.
Eddy and Teddy had one single release called "Star-Crossed Lovers" that Amy Records bought ads for in successive Billboard Magazine issues on February 20, February 27 and March 13, 1961, billing the song as "another original smash."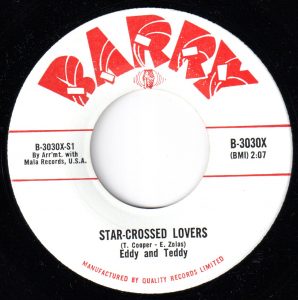 Here is the story of a boy and a girl
who tried to find happiness in an unfriendly world.
Two young lovers running away,
they don't care what people say.
They were told they were wrong for each other,
by her father, by his mother.
Star-crossed lovers crossed by fate,
they tried to wait but temptation was too great.
Two young lovers in an old car,
they don't care just where they're going,
just so long as it's good and far,
from their folks who need some showing.
Star-crossed lovers prayed to heaven above,
to keep them safe and protect their love.
Hiding all day, driving all night,
cold and hungry holding tight,
they looked to heaven to find their star,
they never see the oncoming car.
Star-crossed lovers fate was unkind,
they ran out of money and they ran out of time.
Two young lovers on their way back,
four sad parents dressed in black,
and in heaven two stars shine bright,
who's to say who's wrong or who's right.
"Star-Crossed Lovers" was co-written by Ted Cooper and Ed Zolas and recorded under their stage name, Eddy and Teddy. The song concerns a couple not approved of by the boys mother or the girls father. They speed away in a car, hiding away from view in the daytime and driving at night. As they drive they search for their star, but they don't see the oncoming car. Their four parents dress in black, a sign of their grief at the death of their respective son and daughter. The song was part of the teen tragedy song genre that was popular in the late 50's into the mid-60's. Other examples of this genre were "Teen Angel" by Mark Dinning, "Tell Laura I Love Her" by Ray Peterson, "Black Denim Trousers And Motorcycle Boots" by The Cheers, "Ebony Eyes" by The Everly Brothers, "A Thousand Feet Below" by Terry Tyler and "Leader Of The Pack" by the Shangri-Las. It peaked in Vancouver in March 1961 at #6. It didn't make the Billboard Hot 100, but it did register on an alternate USA Top 40 record magazine, Music Vendor, where it climbed to #112 on its national chart.
Aside from Vancouver, BC, "Star-Crossed Lovers" was only a Top 30 hit in Seattle where it peaked at #12. "Star-Crossed Lovers" was covered by The Mystics who managed to have a minor hit with the tune in San Antonio in March, 1961, concurrent to Eddy and Teddy.
In 1962, Cooper and Zolas wrote "Tear for Tear", recorded by Gene Chandler. In 1963 Ed Zolas co-wrote the song "Outside City Limits" for a girl group named The Cashelles. In 1962 Cooper co-wrote "Ronnie, Call Me When You Get A Chance" for Shelley Fabares. He also wrote songs that were recorded by The Belmonts, Major Lance, The Flamingos, Denise LaSalle, J. Frank Wilson And The Cavaliers and others.
In 1966 Cooper released a doo-wop tune called "For Loving You". By 1966 Cooper was also involved in producing records in New York City. In 1967 Cooper was featured with the group Halee's Comet in their psychedelic anti-war pop tune "From A Parachute," which made the Top 30 in a number of radio markets in Washington State, Arizona, New York and California. Cooper went on to be an arranger and producer. Among the artists he worked with during his career were Sly & The Family Stone, Terry Jacks, the Staple Singers, the Drifters, Damita Jo and Maxine Brown. By the mid-60's he began holding down executive positions at firms like Epic Records, Shapiro/Bernstein Music Publishing, Mills Music and the Wes Farrell Organization. In 1973, Cooper formed his own company, Fiddler Ted Productions, to concentrate on independent production, songwriting and arrangement. On August 24, 1975, Ted Cooper died of a heart attack at the age of 37.
There is no current information about whatever became of Ed Zolas, or the backgrounds of either of these songwriters.
November 29, 2017
Ray McGinnis
References:
"Ted Cooper Dies of a Heart Attack," Billboard, p. 64, September 13, 1975.
Halee's Comet, From a Parachute, YouTube.com, Epic Records, 1967
Shelley Fabares, Ronnie Call Me When You Get A Chance, Colpix Records, 1962.
The Mystics, Star Crossed Lovers, Laurie Records, 1961.
Robert Pruter, Chicago Soul, (University of Illinois Press, 1992) 94.
"C-FUN-Tastic 50," CFUN 1410 AM, Vancouver, BC, March 18, 1961.
For more song reviews visit the Countdown.